Bank Exams 2020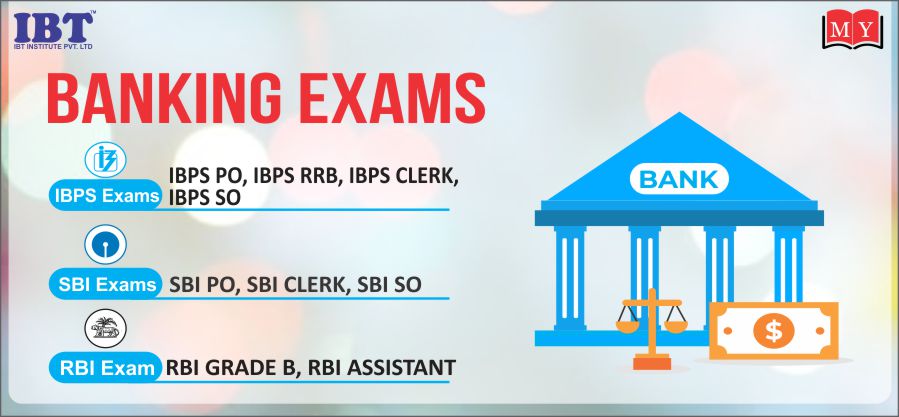 Banking is one of the fastest-growing industry in India. The government is focusing on providing banking facilities in every village and town under its Financial Inclusion scheme. Hence, branches of banks are mushrooming in even in remote areas of the country. Therefore, it requires manpower. Consequently, recruitments in the banking sector happen every year for various posts.
Every year, government banks recruit more than 1,00,000 candidates for various roles. So, in the terms of the employment in the government sector, Banking is the most lucrative sector to grab a government job. 
Now, CET (Common eligibility test) is going to be the only online exam that will be conducted by the NRA- National Recruitment agency. Every year govt. job seekers appear in multiple exams held by multiple agencies & Students pay recurring fees several times a year. NRA will eliminate this soreness with a common admission test for the Tier 1/Phase-1 exam for multiple Government job exams. NRA will conduct CET twice a year. CET to be held for three levels -Graduate, Higher Secondary (12th), and Matriculate (1Oth pass).Common eligibility test to be held in multiple Indian languages and score is valid for 3 years.
Name of Upcoming Bank Exams

 

February 22nd, 29th & March 1st and 8th 2020

 

 

Prelims- 

Mains-

 

 

 

IBPS RRB 2020 notification apply online from 1 -July to 21 July- 2020

Officer Scale-1 & Assistant 

Prelims-

12,13, 19, 20 & 26 Sep 2020

Officer Scale-1 & Assistant  

Mains- 

Officer Scale-II & III single examination: 18 October 2020

 

 

IBPS PO 2020 notification released on 4 Aug 2020.

Online start from 05-08-2020 to 26-08-2020

 

 

IBPS Clerk 2020 Notification released on 1st Sep 2020

Apply Online from 2 to 23 Sep 2020

December 5th,12th, &13th, 2020

FRON 

 

IBPS SO 2020 notification will be released in Dec 2020

 

 

RBI  Assistant notification will be released in Dec 2020

Prelims – February 2021

Mains –  To be notified later

 

 

RBI  Grade B Officer  notification will be released in Nov 2020

Phase I Exam- Nov 2020

 
Institute of Banking Personnel Selection (IBPS) conducts exams for the recruitment of Probationary Officers (PO), Clerical Cadres, Marketing Officers, IT Officers, and HR Officers etc. IBPS also conducts exams for all Regional Rural Banks of India (RRBs) for the posts of Probationary Officers, Clerical Cadres, and Special Officers. State Bank of India (SBI) also conducts its own exam for recruitment of Probationary Officers and Clerical Cadres. Along with IBPS and SBI, Reserve Bank of India (RBI) also recruits Grade B Officers and Clerical Cadres through an All India exam. 
Starting Salary as a Bank PO ranges from Rs. 30,000 - Rs. 40,000, depending upon bank to bank and location of posting. Usually, the grade and the starting salary of Specialist Officer is in the same range as Probationary Officers. Salary of a Bank Clerk is generally in the range of Rs. 20,000-25,000 depending on bank to bank and posting location.
Click here for detailed information about Upcoming Government Exams 2020
Click here to download Bank, SSC and Government Exam Preparation App
Here's the list of all the upcoming bank exams 2020.
IBPS Exams
IBPS Stands for - Institute of Banking Personnel Selection. IBPS is an autonomous body, constituted by the Government of India, which has been given the task of conducting recruitment exams of various Public Sector Banks, State Bank Of India, Reserve Bank of India, Life Insurance Corporation & General Insurance Companies. IBPS came into existence in 1984, when the Personnel Staff Selection Unit of NIBM was converted into an autonomous Institute of Banking Personnel Selection.
Important IBPS Exams
Institute of Banking Personnel Selection Announced Yearly Exam Calendar. Generally, the first IBPS notification is IBPS PO, IBPS RRB Assistant & Officer, IBPS Clerk, and IBPS SO. Some of the Important Bank Exams conducted by IBPS are given below:
Institute of Banking Personnel Selection has already published a tentative calendar of IBPS PO (Probationary Officer), IBPS RRB (Regional Rural Bank), IBPS Clerk, IBPS SO (Specialist Officer) Exams 2018-19.
State Bank of India with a glorious history of more than 200 years stands as the proxy for the Indian Economy. We are the largest banking and financial services organization in India with an asset base of over Rs. 20,00,000 Crores (~20% of the overall banking industry) with over 16,000 branches covering entire geography of India.As part of SBI, you get to work in a Fortune 500 organization and become a part of the 2nd most valuable brand in India.
Important SBI Exams
State Bank of India conducts various bank exams every year such as SBI PO (Probationary Officer),SBI Clerk and SBI SO (Speacilist Officer).here we are talking about the all SBI Examinations.
RBI Exams
The Reserve Bank of India was established on April 1, 1935 in accordance with the provisions of the Reserve Bank of India Act, 1934. The Central Office of the RBI was initially established in Calcutta but was permanently moved to Mumbai in 1937.The Central Office is where the Governor sits and where policies are formulated.Though originally privately owned, since nationalization in 1949, the Reserve Bank is fully owned by the Government of India.
Important RBI Exams
Institute of Banking Personnel Selection (IBPS) is an autonomous body, constituted by Government of India, which has been given the task of conducting recruitment exams of Reserve Bank of India. The Reserve Bank of India has come up with recruitment for Grade B Officers and Assistant.

Name of Upcoming Bank Exams 2020

 

 

 

 

 

 

 

 

 

 

IBPS Specialist Officer (SO)

 

 
The banking sector offers the most prestigious jobs for fresher and qualified professionals. Bank employees are offered a handsome salary package with various perks. It guarantees job for a lifetime through various nationalized bank job exams. Every year millions of aspirants appear in various bank exams conducted by three prominent bank examining bodies these are:
The success in any of the bank exams conducted for nationalized banks depends not only by taking BANK COACHING from any of the reputed institutes but also the hard work and dedication of the candidates. 
In case you want to qualify any of the bank exams with a high score then you need to prepare well to combat the competition involved in the exams. Bank jobs are dreams of millions yet grabbed by thousands only every year.
Some of the popular upcoming bank exams conducted throughout India are: 
IBPS RRB Officer & Assistant
Preparation Tips and Strategies for Upcoming Bank Exams


Let us discuss some significant tips for BANK Exams to make adequate strategies to prepare for the exam effectively. Aspirants should note down the entire syllabus and latest exam pattern from the official website or notification to get the right approach towards exam preparation. The exam pattern of almost all the bank PO exams is divided into three parts: Prelims, Mains, and Interview. The Preliminary section of the bank exam is generally identical but for mains, it may vary from one bank exam to another.
Exam Pattern of Upcoming Bank Exams Prelims, Mains and Interview
Before we start the exam preparation let us discuss the exam pattern so that it is easy to target the syllabus of the pursuing bank exam.
Bank Prelims Exam: 
The preliminary examination comprises three sections namely English Language, Numerical Ability, and Reasoning Ability having sectional timings. English section is for 30 minutes carrying 30 marks and Numerical Ability and Reasoning Ability are for 35 minutes each carrying 35 marks respectively. prelims exam will follow a negative marking of 0.25 marks for every wrong answer marked. 
Note: Prelims exam pattern is the same for all the Banking exams except for IBPS RRB. In IBPS RRB there is no English section and the rest of the sections are the same. RRB Prelims exam pattern has two sections to be attempted in 45 minutes these are Reasoning (40 Questions) and Numerical Ability (40 Questions).
BANK Officer Mains: 
This exam consists of both objective and descriptive type tests(CBT Based).
Bank Clerk mains: 
There is only the single objective exam in bank clerk mains(CBT Based).
Bank PO: The interview session holds 100 marks. The minimum qualifying marks in the interview is 40% and 35% for SC / ST/ OBC/ PWBD candidates.
Bank Clerk: In the Bank Clerk Exam there is no interview phase.
FINAL SELECTION: 
BANK PO: The final selection of BANK PO is done on the basis of the combined marks secured by the candidates in both mains and interview.
BANK CLERK: The final selection is done on the basis of marks obtained by the aspirants in their Mains Exam. 
 
Section-wise Preparation Tips for Upcoming Bank Exams:
Tips for section-wise preparation for prelims and mains exam are given below:
1. English Language: The syllabus for the English Language section is almost similar except for the difficulty level. It is higher than the prelims stage exam. To score high in this section there are some tips to be followed these are:
Improve vocabulary for it being an important part of the examination. It can help you in solving the difficult passage in a few minutes.

To improve vocabulary you can refer to various word power books. It can also be found in the editorials and articles of various English newspapers and magazines.

 Develop the habit of reading newspapers and article to enhance comprehension skills. Reading Comprehension section comprises 6 to 8 marks and you can fetch 6-8 marks. If you could not do much of reading practice then you can start with grammar-based questions, Error Detection, Fillers, Cloze test, etc.

Revise all the rules of grammar to solve the questions related to error detection, fill in the blanks, etc., accurately.

Attempt one speed test every day to enhance your accuracy and speed.

Give more practice on questions based on RC and Para jumble as they comprise the larger portion of this section.

Practice mains mock test separately as it has high difficulty level questions
2. Reasoning Ability: Reasoning Ability is a scoring section. Aspirants can prepare this section with maximum practice and by following some tips to cover the entire syllabus effectively.
To practice puzzles because every time 4 to 5 sets of puzzles are asked in the exam. It can be mastered by taking lot of practice on the topics based on quizzes.

Topics like coding-decoding, alphanumeric series, inequality, etc. can also attempted easily if you learn the concept and then practice the previous year questions. It will help you cover some extra marks needed to reach the cut-off.

Attempt mocks and speed test to increase your speed in solving the puzzle

 Focus more on new pattern of questions to face the challenge confidently.

Critical Reasoning topics should be covered as they are the integral part of mains exam. It needs clarity of thoughts and awareness which comes with practice.

Attempt full-length reasoning mock tests to master the section effectively.
3. General Awareness and Descriptive section: It is a scoring section if one has a good grasping. Descriptive section needs practice and general awareness both to write the best and relevant essay to score high. Aspirants can maintain the pace of learning by following some tips.
To read English newspapers, magazines, and books and prepare both these sections respectively. It will assist candidates to brush up current affairs as well as grammatical knowledge.

Revision is a must if you really want to score high in the overall because this section does not involve any application or concepts. Just learn the static G.K and current affairs and revise them quite often

It is advisable to thoroughly go through the current affairs of last 5-6 months before the exam date. Question on Current affairs are asked more in number than any other topics.

Subscribe to any website giving updates on Current Affairs topics related to bank exams and follow it regularly. You can buy competitive exam magazines on a monthly basis to know the pattern of questions and keep yourself updated.

Descriptive writing section can be practiced by writing a letter to the editor, essays on hot topics or current affairs. Read newspapers to have a concrete idea about the current affairs so that you can relate the facts clearly and accurately in the essays.
4. Quantitative Aptitude: It is a complex and difficult sections of the IBPS PO exam and needs clarity of concepts. Candidates should make all efforts to clear the basic concepts and practice a lot.
The majority of questions are asked from Data Interpretation more than 12 questions are expected every year therefore special focus on this topic. 

Learn and Practice short tricks regularly and attempt sectional tests to improve performance. Prefer to learn short cut tricks for calculation such as squares, cubes, percentage values, etc.

Develop good command over topics like Percentage, Profit and loss, Time and work, speed and distance, would help the aspirant to ace this section.

Simplification & approximation is an easy topic and can get you a good score

Few questions are based on number series, data sufficiency and quantity one and quantity two. It should be practiced with the help of speed tests to get extra score.

Practice separately for prelims and mains exam as the difficulty level differs. 
5. Computer Aptitude: This is the easiest section. Candidates will be asked about the fundamentals of computer applications which can be easily prepared by giving just an hour to score high.
Interview Session of BANK PO: It is the final round of the selection process of the BANK PO exam. It should be prepared by reading banking and financial news based news from any leading English newspaper. You can take the guidance from the subject experts to prepare effectively for the interview as it is the final round and you have achieved it after giving a lot of hard work and dedication. 
Bank exam is a very competitive exam and there is a need to take due care of how you prepare and what precautions you should take to avoid failure in the exam. Let us discuss some Dos and DONTs of BANK EXAM to crack it easily.
Do's for BANK exam
Attempt a mock test daily after covering the entire syllabus rather than taking it in between the preparation. 

Analyze your weaknesses and strength after taking the test. Keep a close eye on your shortcomings and improve them to get the best outcomes or you may not be able to perform well in the exam.

Study every subject for at least 2 hours daily. Practice lot of questions based on the latest exam pattern and covers every topic. 

Study and learn the current affairs of last 5-6 months. It can help you score high because questions are directly asked. It will definitely enhance your overall score to reach the cut-off. Remember you cannot mug up GK at the last minute thus keep in touch with the topics regularly.

Learn vocabulary words daily and develop a habit of reading for English newspapers, novels, and magazines etc. to master the section.

Practice is the ultimate key to improve your weak points. Take topic or practice tests daily.

Improve your calculation speed as speed is what matters the most in competitive examinations.

Clear the basic concepts because your concepts will only help you with these exams. Try to take maximum doubt sessions to leave no doubts whatsoever arising on any of the topics.
DON'TS for BANK exam
Do not rely only on chapter wise preparations.  Practice different formats of questions by elevating the difficulty level for each topic.

Work and practice more upon your strong topics so that you can attempt those questions easily in exam. Try not to stick to a single question for long this will consume your time.

English plays a very significant role in BANK exam. Besides studying and learning basic grammar rules there is a need to practice miscellaneous exercises on various question types being asked in the BANK EXAM
Given below is the list of public sector banks in India - April 2020:
| | | |
| --- | --- | --- |
| S.No. | Bank Name | Headquarters |
| | | |
| | | |
| | | |
| | | |
| | | |
| | | |
| | | |
| | | |
| | | |
| | | |
| | | |
| | Oriental Bank of Commerce | |
| | | |
| | | |
| | | |
| | | |
| | | |
| | | |
| | | |
| | | |
| | | |
| | | |
Upcoming Bank Exams 2020 FAQs
Q1. What is the expected date for SBI PO 2020 Notification?
Ans1. The latest updates by SBI states that SBI PO 2020 Official Notification is tentatively expected in the month of July-Aug 2020.
Q2. Is there any tentative exam date announced for SBI PO Exam 2020?
Ans2. SBI PO 2020 Preliminary exam date will be notified in the subsequent notifications as the tentative dates announced earlier will not follow now.
Q3. What is the application fee for SBI PO 2020 Exam?
Ans3. In the last year SBI PO notifications the application fee charged for SBI PO Exam. It is different for various categories. For General/ OBC category it is Rs. 750/- and Rs. 125/- for SC/ ST. The same fee is expected for SBI PO 2020 EXAM.
Q4. Is the SBI PO Exam bilingual?
Ans4. Yes SBI PO Exam is held bilingual but the English language section and Descriptive Test are in English medium rest of the sections are bilingual.
Q5. Is there negative marking in SBI PO EXAM 2020?
Ans5. Yes, SBI PO Exam 2020 will observe negative marking for every wrong answer marked in the objective tests of both Preliminary and Mains Exam. One fourth of the total marks allotted for that question will be subtracted from the overall marks.
Q6. Will sectional timings be observed in SBI PO EXAM?
Ans6. Yes, sectional timings in both Prelims & Mains of SBI PO EXAM will be observed.
Q7. What is the mode for the descriptive test?
Ans7. Descriptive test will be conducted with online mode. Candidates have to type essays, letters or/and precise according to the topics given in SBI PO EXAM.
Q8. What is the exam pattern of descriptive test?
Ans8. The descriptive test will comprise of two questions where letter and essay asked to write. The descriptive test has a maximum 50 marks to be attempted in 30 minutes.
Q9. Is SBI CLERK EXAM having LPT (Language Proficiency Test)?
Ans9. Yes, SBI does include LPT in SBI Clerk Exam. Candidates are required to be skilled in the subsequent language for which they have applied.
Q10. What the educational qualification required for SBI Clerk Exam?
Ans10. Every candidate who wishes to take SBI Clerk exam needs a Graduation Degree in any discipline from a recognized University or any equivalent qualification recognized by the Central Government.
Q11. What is the acceptable age limit for SBI Clerk exams?
Ans11. A candidate applying for SBI CLERK EXAM should be between the ages of 21-28 years of age. The age relaxation of 5 years is given for candidates belonging to SC and ST. Those belonging to OBC categories are allowed an age relaxation of 3 years. The candidates with Jammu and Kashmir quota are also given an age relaxation of 5 years.
Q12. Is B.Tech student eligible for SBI Clerk exams?
Ans12. Yes, B.Tech graduates can appear in SBI Clerk exam. An aspirant should only be a graduate in any discipline from a recognized University or any equivalent qualification recognized by the Central Government.
Q13. Do I need any minimum percentage in graduation to apply for the SBI Clerk exam?
Ans13. No, there is no minimum percentage required in graduation to apply for SBI CLERK EXAM. An applicant must posses a Graduation Degree in any discipline from a recognized University or any equivalent qualification recognized by the Central Government.
Q14. May I know when the SBI Clerk exam scheduled is?
Ans14. The SBI Clerk exam is yet to be finalized. The next exam schedule is yet to be announced by SBI for the exams.
Q15. Is SBI Clerk exam conducted bilingual exam?
Ans15. Yes, it is held bilingual except the English language test.
Q16. Is SBI CLERK examination following negative marking?
Ans16. Yes, SBI CLERK EXAM always follows negative marking where0.25 marks are deducted for every wrong answer.
Q17. What is the selection procedure of SBI Clerk?
Ans17. The recruitment process of SBI Clerk comprises of three steps: Preliminary Exam Mains Exam Language Proficiency Test.
Q18. Is there any tentative exam date announced for IBPS PO 2020-21 Exam?
Ans18.  The latest Annual Exam Calendar of IBP states that the Online Preliminary exam for IBPS PO 2020-21 is scheduled on 3rd, 4th and 10th October 2020 while the mains exam is scheduled on 28th November 2020.
Q19. What is the expected release date for the Official Notification of IBPS PO 2020 Exam?
Ans19. The expected date for the release of Official Notification for IBPS PO 2020 falls in the first week of August 2020.
Q20. May I know the salary package of IBPS PO post?
Ans20. The salary package of IBPS PO is 23700-(980×7)-30560- (1145×2)-32850-(1310×7)-42020.
Q21. Is the IBPS PO exam held bilingual?
Ans21. Yes, all the stages of IBPS PO EXAM are conducted bilingual except for English language section.
Q22. Does IBPS PO observe Negative Marking?
Ans22. Yes, IBPS PO EXAM will follow negative marking for every wrong answer in both Preliminary and Mains Exam of IBPS PO 2020. The negative marking will be one fourth of the total marks allotted for that question will be deducted for marking a wrong answer.
Q23. Is there sectional timings applied for different sections?
Ans23. Yes, there are sectional timings in IBPS PO EXAM for both in Prelims & Mains Exam.
Q24. Are there any tentative exam dates announced for IBPS Clerk 2020 exam?
Ans24. Yes, according to IBPS ANNUAL CALENDAR, the tentative exam dates for IBPS Clerk 2020-21 Prelims Exam are 5.12.2020, 12.12.2020 & 13.12.2020 while the mains exam is 24th January 2021.
Q25. What is the date for Official Notification of IBPS Clerk 2020-21 Exam?
Ans25. The Official Notification for IBPS Clerk 2020-21 exams is expected in the first week of September 2020.
Q26. May I know that IBPS Clerk 2020 exam will be conducted Bilingual?
Ans26. Yes, all the sections of IBPS Clerk 2020-21 would be bilingual, i.e. available in both English and Hindi except for English section.
Q27. Is there any negative marking in IBPS Clerk Exam?
Ans27. Yes, IBPS Clerk Exam will observe negative marking for every wrong answer in both preliminary test and mains exam. Every wrong answer will be penalized by one-fourth of the total marks for the question marked wrong by the applicant.
Q28. Does IBPS Clerk Exam fixes set timings for different sections?
Ans28. Yes, Both in Prelims and Mains Exams have sectional timings where every section has a set time limit to attempt it.
Q29. What is the expected date for RBI Assistant 2019-20 exam?
Ans29. RBI Assistant 2019-20 Prelims Exam has already been conducted on 14th & 15th February 2020 but the mains exam for the same has been postponed due to an unexpected outburst of Coronavirus (COVID-19).
Q30. May I know the Application Fee for RBI Assistant Exam?
Ans30. According to the RBI ASSISTANT 2019-20 Exam notifications the application fee for General and OBC category was charged as Rs. 450/- and Rs. 50/- for candidates belonging to SC/ST/PWD category. It is same for the last few years.
Q31. When to apply for RBI Assistant Exam?
Ans31.  Candidates can apply online for RBI Assistant Exam by visiting the official website of RBI after the release of the notification. Last year it was released on 23rd December 2019.
Q32. Does RBI Assistant observe negative marking?
Ans32. Yes RBI ASSISTANT EXAM observes negative marking where 0.25 marks will be deducted for each wrong answer in both the RBI Assistant Preliminary and Main examination.
Q33. What is the salary package of RBI Assistant?
Ans33. The salary package of RBI ASSISTANT comprises of the Basic Pay as Rs. 14,650/- every month and the Gross Salary of a RBI Assistant ranges to approximately Rs. 32,124/- every month