Railway Exam 2020-21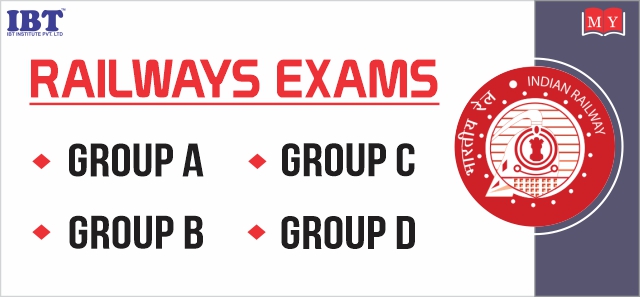 Upcoming Railway Exams 2020-21: Check RRB 2020 Exam Calendar Updated
All over India there are 18 zones and 68 divisions (under those 18 zones) in Indian Railways. South Coast Railway zone is the newest zone in India. Each division is managed by Divisional Railway Manager (DRM).
The Indian railways function on the base structure of every division which has technical and non-technical departments.
Technical departments constitute civil, Electricle and mechanical engineering, signaling and telecom, and many others dealing with similar disciplines. On the other hand, the non-technical departments constitute general services such as Accounts, Personnel Management, Railway Protection Force (RPF) or Security and Traffic Services.  There are four types of group level jobs. They are Group A and Group B (Gazetted) and Group C and D (Non-gazetted).
Check Complete Details Here About: Government Exams 2020
Click here to download Bank, SSC and Government Exam Preparation App
Group A Posts Recruitment:UPSC does the recruitment for this category by conducting a written exam, interview/group discussion as necessary.
Exams conducted for this category : Civil Service Exam, Engineering Service Exam, and Combined Medical Service Examination.
Through the civil services exam, the following services are included:
Indian Railway Accounts Service

Indian Railway Traffic Service

Indian Railway Personnel Service

Railway Protection Force (RPF)
Through the Combined Engineering Services Exam, the following services are included.
Indian Railway Stores Service

Indian Railway Service of Engineers

Railway service of Signal Engineers

Indian Railway Service of Mechanical Engineers

Indian Railway Service of Electrical Engineers
All vacancies in Group 'B' are filled by a promotion on the basis of selection from eligible Group 'C employees. 70 per cent of the vacancies are filled by seniority cum suitability and 30 per cent by examination. Nearly 70 per cent of the vacancies in Group B posts are made through promotion. Such promotions are made in the strict order of placement on the panel recommended by the Selection Board. But some posts require exams. 30 per cent of the vacancies are filled through Limited Departmental Competitive Examination.
Group C officers are recruited through the Railway Recruitment Board (RRB). The 19 Railway Recruitment Boards (RRBs) have been functioning as chief recruiting agencies for all Zonal Railways, Production Units and other extra Zonal units of the Indian Railways.Each Railway Recruitment Board is dealing with the recruitment needs of the specified jurisdiction on the Railways. However, there is no regional or linguistic distinction for recruitment to any post as per as eligibility of the candidates  is  concerned.  Any citizen of India fulfilling the recruitment criteria can compete for any post without any regional or linguistic limitations. Group C Posts Recruitment:The Group C posts both technical and non technical recruitment are conducted by 19 Railway Recruitment Boards (RRBs) across all zones in Indian Railways. 
Non Technical Posts: Some of the Non-Technical posts are Assistant Station Masters, Trains Clerks, Clerks, Ticket Collectors, Commercial Apprentice, Traffic Apprentice and others. 
Technical Posts: Technical engineers in Signal, Telecommunication, Civil, Mechanical, Electrical and others.
Group D Posts Recruitment:The Group D recruitment is done by Railway Recruitment Cell (RRC) at the divisional level. Some of posts in this group are the gunman, Safaiwala, Trackman, peon, tracker and others. Railway RRC Group D Level 1 Recruitment 2019 will be held to recruit 1,03,769 vacancies for the posts of Track Maintainer Grade-IV, Helper/Assistant in various technical departments (Electrical, Mechanical and S&T departments), Assistant Pointsman , Level-I posts in other departments of Indian Railways. Railway Recruitment Board conducts RRC Group D Level 1, RRB NTPC and other railway examinations giving candidates a golden opportunity to fulfill their dream of joining the prestigious Government Sector (Indian Railways) in India.
Railway Exam 2020 FAQs

:
Q. Can an applicant apply for more than once for the same post?
Ans: No, RRB allows only one form for one post for the same post. Your candidature will be rejected if you send more than one form in the same post to RRB.
Q.  In case I apply for a post in Railway Recruitment Board Chennai. Will I be considered for the same post under Railway RB Patna for the same post in the same Notification?
Ans: No, you will be considered for the vacancies of the post of the particular RRB you have applied. Every region has different requirements and number of posts.
Q. If a candidate's result is awaited for the Degree/Diploma. Can he or she apply for an RRB post?
Ans: No. Candidates must be fully qualified as on the date of application.
Q. What is a Physical Efficiency Test (PET)?
Ans: Candidates need to qualify the Physical Efficiency Test (PET) which is obligatory for some jobs in Railways.  Candidates who are chosen based on the performance in the Written Examination will be called for Physical Efficiency Test (PET). They will be given a separate letter mentioning the date, time and venue to present them for PET. The date for PET for males and females are organized on different dates. Male Candidates be supposed to run for a distance of 1000 metres in 4 minutes and 15 seconds in one chance. Female Candidates must be able to run for a distance of 400 metres in 3 minutes and 10 seconds in one chance.
Q. Will RRB follow normalization of marks?
Ans: Yes, RRB will adopt normalization at all stages of the exam.
Q. Can I apply for more than one post?
Ans: Yes, if the candidate is eligible for more than one post can apply for more than one post. They can set their preferences for the given posts they wish to apply for.
Q. I have done graduation through Correspondence/Distance Mode, am I eligible to apply?
Ans: Yes. Candidates who have completed 12 years of schooling through an examination conducted by a Board/University or students can apply for the post. Further, candidates who are under 18 years of age as on the date of application are not eligible.
Q. When the examination results are declared?
Ans: The results of the written examinations are generally published within 30 to 60 days from the date of the examination.
Q. How can I know the status of my application?
Ans: Candidates can know the status of their application about a month before the date of the written examination i.e. whether it is acknowledged or discarded is exhibited on the website. In case of rejection, the reasons are also specified. If the application is accepted, then supplementary information on the roll number, examination centre etc., are mentioned there. A candidate can look for the status of his application with reference to his date of birth, name, etc.