UPSC Exams 2020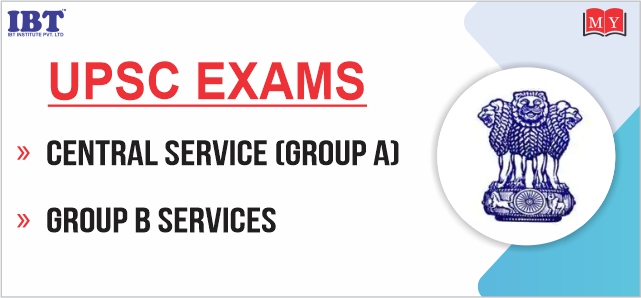 UPSC Exam 2020 Notification, Exam Pattern, Dates, Syllabus
The Civil Services Examination (CSE) is a nationwide competitive examination in India conducted by the Union Public Service Commission (UPSC) for recruitment to various Civil Services of the Government of India. The Civil Services Examination (CSE) includes the Indian Administrative Service (IAS), Indian Foreign Service (IFS), Indian Police Service (IPS).It is conducted in three phases-
1. Preliminary Examination :
A preliminary examination consisting of two objective-type papers (General Studies Paper I and General Studies Paper II also popularly known as Civil Service Aptitude Test or CSAT).
2. Mains Examination :
A Main examination consisting of nine papers of conventional (essay) type, in which two papers are qualifying and only marks of seven are counted followed by a interview.
Interview Examination :
Personality Test-- The Personality Test or Interview is the third phase of UPSC Civil Service Examination. The Mains qualified candidates will be called for their interview conducted by the UPSC. The duration of the personality test is not fixed but it depends on the interviews.
List of Services : Following are the services which one gets on qualifying the Civil Service Examination.
All India Services
Indian Administrative Service (IAS)

Indian Police Service (IPS)

Indian Foreign Service (IFS)
Indian P&T Accounts and Finance Service (IP&TAFS)

Indian Audit and Accounts Service (IA&AS)

Indian Civil Accounts Service (ICAS)

Indian Corporate Law Service (ICLS)

Indian Defence Accounts Service (IDAS)

Indian Defence Estates Service (IDES)

Indian Information Service (IIS)

Indian Ordnance Factories Service (IOFS)

Indian Postal Service (IPoS)

Indian Railway Accounts Service (IRAS)

Indian Railway Personnel Service (IRPS)

Indian Railway Traffic Service (IRTS)

Indian Revenue Service (IRS-IT)

Indian Revenue Service (IRS-C&CE)

Indian Trade Service (ITrS)

Railway Protection Force (RPF)
Armed Forces Headquarters Civil Services (AFHCS)

Delhi, Andaman and Nicobar Islands Civil Service (DANICS)

Delhi, Andaman and Nicobar Islands Police Service (DANIPS)

Pondicherry Civil Service (PCS)

Pondicherry Police Service (PPS)
Check Complete Details Here About: Government Exams 2020
Click here to download Bank, SSC and Government Exam Preparation App
UPSC EXAMS 2020 FAQs:
Q. What is the educational qualification required to appear in IAS exam?
Ans: Candidates with any (graduation) degree either regular or distant can appear in IAS Exam. The candidate should hold a degree from any of Universities integrated by an Act of the Central or State Legislature in India or other educational institutions established by an Act of Parliament or affirmed to be deemed as a University under Section-3 of the University Grants Commission Act, 1956, or acquire an equivalent qualification.
Q. I am in the final year of graduation can I apply for UPSC CSE?
Ans: Yes, candidates who have taken final year examination of graduation can apply for the UPSC CSE provided he qualifies it and informs the result to the authorities in case he clears CSE exam.
Q. When one is supposed to produce the proof of passing the graduation examination before UPSC?
Ans: The candidates who have been declared qualified by the Commission to appear in the Civil Services (Main) Examination will be required to present the proof of passing the necessary examination with their application for the Main Examination failing which such candidates will not be issued admit card for the Main Examination.
Q. An MBBS qualified person but not completed internship, Can he appear for UPSC CSE Mains?
Ans: Candidates who have qualified the final professional M.B.B.S. or any other Medical Examination but have not completed their internship by the time of compliance of their applications for the Civil Services (Main) Examination, will be conditionally admitted to the Examination provided they present a copy along with their application a copy of certificate from the concerned authority of the University/Institution that they had passed the necessary final professional medical examination, along with their application. In such cases, the candidates need to produce at the time of their interview original Degree or a certificate from the concerned capable authority of the University/Institution that they had accomplished all requirements (including completion of internship) for the award of the Degree.
Q. Can I qualify IAS exam without taking classroom coaching?
Ans: Yes, you can if you are capable to handle self-study pattern and follow it regularly. There is no harm in taking assistance from reputed institutes for coaching as it is highly competitive exam demanding lot of hard work and thorough learning. It is difficult to maintain the protocol of studying regularly for some, entirely your choice. There is a provision of online coaching for IAS exams and other competitive exams, one can join that and enjoy the learning platform from the comforts of their home.
Q.Is there any individual cut-off for two papers in Civil Service Prelims?
Ans: The minimum cut off marks for Paper 2 is 33 percent. At times, the Commission may decide a minimum cut-off mark for Paper 1 too.
Q. Can I answer the civil services questions in my regional language?
Ans: Yes, aspirants can inscribe answers in any language provided in the eighth schedule of the constitution of India.
Q. Will there be negative marking for Preliminary Questions?
Ans: There will be negative marking for every wrong answer for all questions except some of the questions where the negative marking will be inherent in the form of different marks being awarded to the most appropriate and not so appropriate answers for such questions.