Most Important Puzzle Test Questions for IBPS Clerk 2019
Most Important Puzzle Test Questions for IBPS Clerk 2019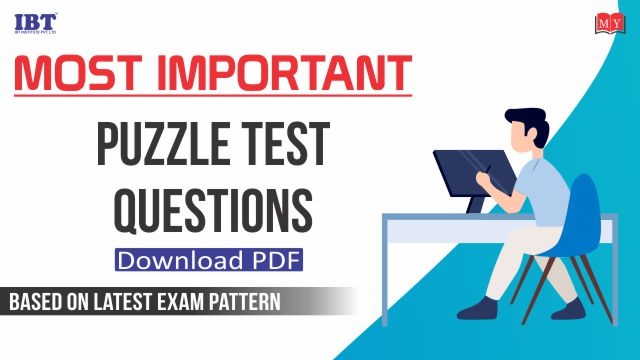 Most Important Puzzle Test Questions for IBPS Clerk 2019
Dear Students,
IBPS Clerk Exam 2019

is going to be conducted, We hope you all have been preparing well for this exam. To brush up your preparation at this stage, here are some most important questions for IBPS Clerk Prelims Exam. We have shared a Free PDF of Most Important Puzzle Test Questions with Answer Key for IBPS Clerk Exam 2019 along with their Solution. You Should attempt these Important Questions in order to crack the upcoming

IBPS Clerk Exam 2019

.
Approach to solve Puzzle Test questions:
Questions on Puzzle Test are generally asked in blocks of 4-5 questions. You are given some information and then there will be 4-5 questions based on the information.
These questions have two types of information:
1. Direct information: This is the information that is clearly mentioned in the statement of the question. This is the information that you will use when you start solving the questions.
2. Indirect information: After filling the direct information you will look for the connection between different parts of the information. These connections form the indirect information.
While arranging the persons, the direction to which the persons are facing is very important.
Click here to Download Most Important Puzzle Test Questions for IBPS Clerk 2019 with Answer Key

Read More :
Most Important Questions Based on Syllogism For IBPS Clerk 2019