Expected Quantitative Aptitude 100 Practice Questions PDF for IBPS Clerk 2019, Download PDF with solution
Expected Quantitative Aptitude 100 Practice Questions PDF for IBPS Clerk 2019, Download PDF with solution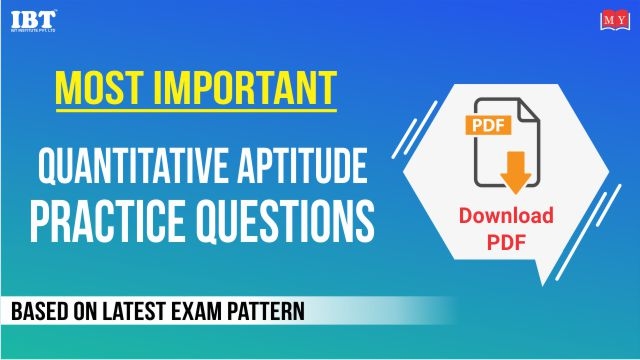 Expected Quantitative Aptitude 100 Practice Questions PDF for IBPS Clerk 2019, Download PDF with solution
Dear Students,
IBPS Clerk Exam 2019 is going to be conducted, We hope you all have been preparing well for this exam. To brush up your preparation at this stage, here are some most important questions for IBPS Clerk Prelims Exam 2019. We have shared a Free PDF of Expected Quantitative Aptitude 100 Practice Questions PDF for IBPS Clerk 2019 along with their Solution. You Should attempt these Top 100 important Questions in order to crack the upcoming IBPS Clerk Exam 2019.
Miscellaneous questions are very important for every student, who is preparing for SSC, Bank exam and other competitive exams. So, students should practice these miscellaneous questions and answers to improve their knowledge and to make strong their quant's performance.
In this PDF, here are the selective miscellaneous questions and answers by which you can prepare for exams. Try to solve these miscellaneous questions problems yourself and increase your mental ability as well as your confidence.
Follow these Tricks to solve miscellaneous questions in exam:-
1. First of all, solve easy questions with a single attempt.
2. Read questions carefully and then answer accordingly.
3. Do not spend more than a minute on any question.
4. Do not panic if you can't solve a particular question. Some questions will be tough ones and these questions are supposed to be left in exam.
5. Your practice will decide which questions are to be attempted and which questions are to be left out.
Click here to Download Expected Quantitative Aptitude 100 Practice Questions with solutions

Read More :
New Pattern Based Caselet DI Questions PDF for IBPS Clerk 2019
Most Important Simplifications 100 Questions PDF for IBPS Clerk exam 2019