Most Important Input Output Questions for IBPS Clerk Exam 2019
Most Important Input Output Questions for IBPS Clerk Exam 2019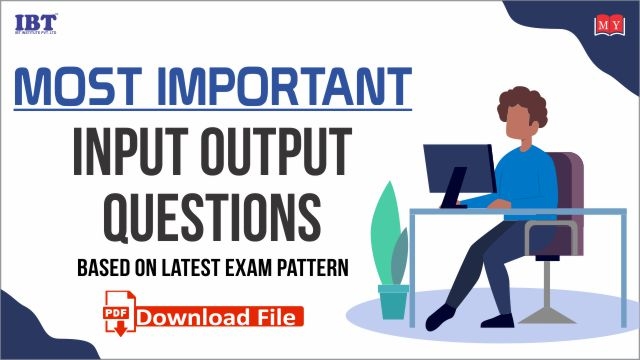 Most Important Input-Output Questions for IBPS Clerk Exam 2019
Dear Students,
IBPS CLERK Exam 2019 is going to be conducted; we hope all have been preparing well for the mains exam. So, to aid your preparation, we are providing a free PDF of Important Questions of Input-Output for IBPS Clerk Exam 2019. These important questions will definitely help you to crack the IBPS CLERK Exam.
Approach to solve Input - Output Questions:
To solve such type of questions, you need to be a good observer.

Identify the pattern: This is the most important step in solving these questions. The output changes with respect to the given input.

The main idea is to identify the type of change in output when compared with input. Let us go through a few types of patterns.

Words & numbers arrangement in alternate order either in ascending or descending order from left to right or right to left.

Increasing & decreasing in an alternate pattern.

Single shifting arrangement in which one word or number is arranged either in a left or right side in each step.

Double shifting arrangement, two words or numbers are arranged either in a left side or right side in each step.
Click here to Download Most Important Input-Output Questions for IBPS Clerk 2019 with Solution

Read More :