Most Important Questions Based on Error Spotting with Answer Key for IBPS Clerk Exam 2019: Download Free PDF
Most Important Questions Based on Error Spotting with Answer Key for IBPS Clerk Exam 2019: Download Free PDF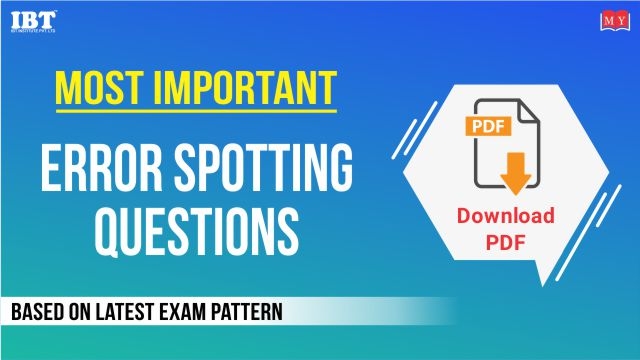 Most Important Questions Based on Error Spotting with Answer Key for IBPS Clerk Exam 2019: Download Free PDF
Dear Students,
IBPS Clerk Exam 2019

is going to be conducted, We hope you all have been preparing well for this exam. To brush up your preparation at this stage, here are some most important questions for IBPS Clerk Prelims Exam 2019. We have shared a Free PDF of Most Important Questions based on Error Spotting for IBPS Clerk Exam 2019 along with their Solution. You Should attempt these Important Questions in order to crack the upcoming
IBPS Clerk Exam
.
Error Spotting is an important topic which is usually asked in most of the banking exams. To solve the questions based on Error Spotting, student must have a good command of grammar rules. This will help you identify the error quickly.
Here we are providing you with a few steps to solve these questions deftly:
1. To solve questions based on error spotting, the first step should be that you read the complete sentence carefully. By reading the sentence carefully, you will be able to spot the error in the first try.
2. While reading the entire sentence, you must carefully check the subject-verb agreement.
3. Many times, an error can be spotted in spellings. Therefore, the next step is to carefully check all spellings.
4. If still you are not able to detect the error or you are not sure about the correct answer, you must read each part of the sentence individually and closely examine which part consists of error.
These tips will really help you to solve Error Spotting questions adeptly.
Click here to Download Most Important Questions Based on Error Spotting with Answer Key

Read More :