Current Affairs 31 December, 2019
Current Affairs 31 December, 2019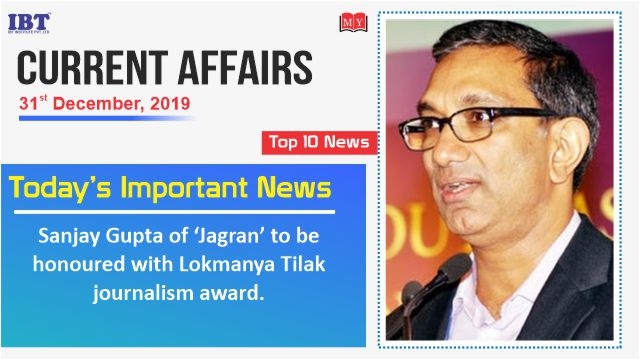 1. Gen Bipin Rawat named as country's 1st Chief of Defence Staff.
Indian Army General Bipin Rawat has been named as the country's first Chief of Defence Staff (CDS). The Chief of Defence Staff will be a 4-star General, the principal military advisor to the defence minister, and will head the new Department of Military Affairs.

The Chief of Defence Staff will ensure the jointness in training, logistics, and procurement of the three services. General Rawat is the first officer to hold the post of the Chief of Defence Staff

The Defence Ministry had also amended the army, air force and navy rules by bringing in a new clause that allows the CDS to serve upto a maximum age of 65 years. The CDS will administer all tri-services organisations, but their command will be with the Chief of the service which has a predominant role in their functioning.
About Chief of the Defence Staff
Status: Four-star general officer
Formation: 24 December 2019
First holder: General Bipin Rawat
2. Reliance to venture in e-commerce with Jio Mart, initial roll-out in Mumbai.
Mukesh Ambani's RIL has taken the first flight towards fulfilling its e-commerce plan and opened My Jio Mart to take on e-tailers such as Amazon and Flipkart. The soft launch of the e-commerce platform was done and it will cater to select locations, for now, such as Navi Mumbai, Thane, and Kalyan.

Reliance Retail, which is one of the biggest retail chains in India along with Kishore Biyani's Future Group, is deploying new-age technologies on a pan-India basis to link producers, traders, small merchants, consumer brands and shoppers.
3. New Delhi hosts the 49th Border Coordination Conference between BSF & BGB.
49th Border Coordination Conference between border guarding forces of India and Bangladesh was held in New Delhi. The Indian delegation was headed by DG Border Security Force Vivek Kumar Johri and the Bangladesh delegation was headed by DG of Border Guards Bangladesh (BGB) Md Shafeenul Islam.

The conference focused on co-operation in Border Guarding and Border Management between the two forces. During the conference, both forces agreed to make all possible efforts to curb the menace of cattle smuggling or any other criminal activity and to ensure tranquility on the borders.
About Border Security Force
Director General of BSF : Vivek Kumar Johri.
Bangladesh Capital: Dhaka
Currency: Taka
PM: Sheikh Hasina.
4. HDFC Life partners with Paytm to expand its distribution.
HDFC Life Insurance has partnered with Paytm to expand its distribution. The partnership is aimed to enable customers of Paytm to purchase insurance products from HDFC Life. HDFC Life Insurance is constantly exploring opportunities to create and sustain new partnerships to strengthen its distribution network.

With the partnership, HDFC Life Insurance aims to increase insurance penetration in India and to simplify the customer's experience right from the purchase to the claim process.
About HDFC Life Insurance:
Founded– 2000
Headquarters– Mumbai
MD & CEO– Ms. Vibha Padalkar
It is a joint venture between Housing Development Finance Corporation Ltd (HDFC), one of India's leading housing finance institution and Standard Life Aberdeen PLC.
Founded– August 2010
Headquarters– Noida, Uttar Pradesh(UP).
President– Amit Nayyar
5. Mastercard signs agreement to acquire RiskReckon.
Mastercard has announced an agreement to acquire RiskRecon. RiskRecon is one of the leading providers of data analytics solutions and artificial intelligence focused on cyber-risk and security and offer solutions to mitigate cyber risks faced by the companies.

The acquisition would enhance the cyber-security systems for MasterCard which offers payment processing services on a global scale.
CEO and Co-Founder: Kelly White.
6. General Manoj Naravane appointed as a new Army Chief.
General Manoj Mukund Naravane has been appointed as the new Indian Army Chief. He will be succeeding General Bipin Rawat who has been appointed as the first Chief of Defence Staff of India.

General Naravane has the experience of working in an active anti-terrorism environment for over 37 years.
About General Manoj Mukund
40th Vice Chief of Army Staff
Unit: Sikh Light Infantry
7. India Forest Report 2019: Green cover increased by 5,188 square km in two years.
Union Minister Prakash Javadekar on December 30, 2019, released a report depicting forest cover in India. According to this report, the forest area in the country has increased by 5,188 square km in the last two years. It has also mentioned in the report that this green area covers about 25% of the total geographic area of the country.

India State of Forest Report 2019 has been prepared by Forest Survey of India (FSI). It is a biannual report. The report is prepared after mapping of forests and trees through satellite. According to the report, the forest area has increased by 3976 kilometers and the area of trees by 1212 square kilometers in two years.
About Forest Survey of India
Headquarters: Dehradun in Uttarakhand
8. 'Dhanu Jatra' the 11-day long festival begins at Bargarh in Western Odisha.
'Dhanu Jatra' the famous 11-day long open air theater festival begins on 31 December, 2019 at Bargarh in western Odisha. Jatra drama is based on the story of Lord Krishna and his uncle Kansa.

It is the world's longest open-air drama festival, which takes place in the Guinness book of records. To celebrate Indian's Independence and to symbolize the victory of good over evil this festival was celebrated from 1947-1948. Government of India gave the National Festival Status to Dhanu Jatra in November 2014.
Chief Minister- Naveen Patnaik
Governor- Ganeshi Lal
Capital City- Bhubaneswar
9. Railway renames Railway Protection Force as Indian Railway Protection Service.
On December 31, 2019, The Ministry of Railway (MoR) has accorded Organised Group 'A' status (OGAS) to Railway Protection Force (RPF) and also renamed RPF as Indian Railway Protection Service (IRPS).

The notice of renaming was issued by the Joint Director of Railway Board Amitabh Joshi on December 30, 2019.

The Indian Railways (IR) has also introduced a new Passenger Information System at Anakapalle Railway Station of Vijayawada Division of Andhra Pradesh(AP) in South Central Railway (SCR). The system has been introduced to provide better features and easy guidance to the passengers and also to enhance satisfactory user experience.
Railway Minister: Piyush Goyal
10. Sanjay Gupta of 'Jagran' to be honoured with the Lokmanya Tilak journalism award.
Sanjay Gupta, the editor-in-chief of 'Jagran' will be honored with "Lokmanya Tilak National Journalism Award" for his great contribution in the field of Journalism.

The award was instituted by the Kesari-Maratha Trust and it will be conferred to Gupta on 4th January 2019 during the 139th foundation ceremony of 'kesari' newspaper started by Lokmanya Tilak.
About Lokmanya Tilak National Journalism Award:
This was started by Lokmanya Tilak to promote courageous and idealistic journalists.

The award consists of Rs. 1 lakh cash prize and a memento.

Earlier the award was conferred to well-known journalists such as Vir Sanghvi, N. Ram, H. K. Dua, Vinod Metha, and Siddharth Varadarajan.

Read More:
Current Affairs 30 December, 2019
Current Affairs 28-29 December, 2019
Current Affairs 27 December, 2019