Current Affairs 30 December, 2019
Current Affairs 30 December, 2019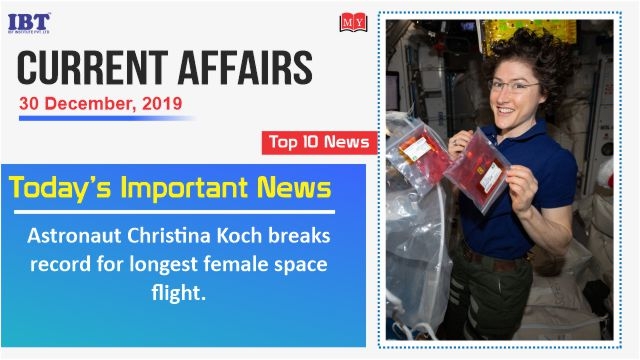 1. Krish Srikkanth, Anjum Chopra to get CK Nayudu Lifetime Achievement Awards.
Former India captain and member of the 1983 World Cup-winning team Krish Srikkanth will be the recipient of this year's prestigious CK Nayudu Lifetime Award given by the BCCI.

Anjum Chopra is the co-recipient of the lifetime achievement award for the year 2019.

The BCCI Annual Award function was held in Mumbai. Srikkanth and Anjum conferred with the Lifetime Achievement award for their contributions to Indian cricket.
Foot Notes:
About BCCI
CEO: Rahul Johri
Headquarters: Mumbai
Secretary: Jay Shah
Presidents: C.K. Khanna, Sourav Ganguly
2. Astronaut Christina Koch breaks record for longest female space flight.
NASA astronaut Christina Koch on Saturday set a new record for the longest single spaceflight by a woman, eclipsing the record of 288 days set by former NASA astronaut Peggy Whitson in 2016-17.

Koch still has six weeks to go before returning to Earth from the International Space Station (ISS), Space.com reported. When she arrives back on Earth in February 2020, the Expedition 61 Flight Engineer will have spent more than 300 days in space.
Foot Notes:
About NASA
Headquarters: Washington, D.C, USA
Founder: Dwight D Eisenhower
Founded: 29 Juy 1958
3. Koneru Humpy wins World Rapid Chess title in Russia.
India's Koneru Humpy defeated China's Lei Tingjie in a battle to win the Women's World Rapid Chess Championship in Moscow.

Indian lost the opening set before making a speedy recovery in the second round. The championship played under rapid time controls. FIDE holds the Women's Rapid chess championship.

FIDE (Fédération Internationale des Échecs) is the supreme body by the International Olympic Committee (IOC) in conducting chess tournaments at continental levels and global level. FIDE founded in Paris, France, on July 20, 1924. The motto of the organization is Gens una sumus meaning. We are one people.
Foot Notes:
About Russia
Capital: Moscow
Currency: Russian Ruble
President: Vladimir Putin
4. SDGs Index 2019-20: Kerala tops the list while Bihar is worst performer.
NITI Aayog has recently released the Sustainable Development Goals (SDGs) Index for the year 2019-20. As per the SDG index, Kerala, Andhra Pradesh, Tamil Nadu, and Telangana have topped the index. On the other hand, UP, Sikkim and Odisha were among maximum improved states.

Dr. Rajiv Kumar, Deputy Chairman, NITI Aayog released the second edition of India's Sustainable Development Goals Index. He also said that no state has got less than 50 out of a hundred marks. NITI Aayog also launched Dashboard 2019-20.

Sustainable Development Goals Index and dashboard reflect the progress of the States and Union Territories.
Foot Notes:
About NITI Aayog
Formed: 1 January 2015
Headquarters: New Delhi
Chairperson: Narendra Modi
CEO: Amitabh Kant
About Kerala
Governor: Arif Mohammad Khan Trending
Capital: Thiruvananthapuram
Chief Minister: Pinarayi Vijayan
About Bihar
Governor: Phagu Chauhan
Chief Minister: Nitish Kumar
Capital: Patna

5. No extra charge on digital payments via UPI, RuPay from January 1, 2020.
The central government has decided to remove the Merchant Discount Rate (MDR) to promote digital payments. Finance Minister Nirmala Sitharaman recently said that all digital transactions using RuPay or UPI will not face additional charges from January 1, 2020.

Earlier, the central government amended two acts, Payments and Settlement Systems Act and the Income Tax Act. Now, the Department of Revenue (DoR) will notify UPI and RuPay as the approved mode of payment for digital transactions without any Merchant Discount Rate (MDR).

This step will promote home-grown digital payment gateways, RuPay and UPI. Other foreign payment gateway companies are VISA and MasterCard. It will also reduce the transaction cost of digital payments as well as it will enhance the use of digital payment in India. This recent move by Finance Minister can play a major role to boost the digital economy of India.
6. World's oldest rhino "Fausta" dies in Tanzania.
Fausta, a female black rhino, who was believed to be the world's oldest rhino has died at the age of 57 in a Tanzanian conservation area. Fausta died of natural causes in captivity in Ngorongoro Crater, which lies in Ngorongoro Conservation Area of Tanzania.

The records kept by Ngorongoro Conservation Area Authority showed that Fausta lived (longer) than any rhino in world. She survived free-ranging in Ngorongoro, for more than 54 years before being kept in a sanctuary for last 3 years of its life in 2016. Her health deteriorated from 2016 after hyena attacks, thus she was taken into refuge.

Fausta was first located in 1965 at the age of between 3 and 4 years' old by a scientist. However, Fausta survived 57 years without bearing calves.
Foot Notes:
About Tanzania
Capital: Dodoma
Currency: Tanzanian shilling
Prime minister: Kassim Majaliwa
7. H K Joshi Takes Charge As CMD Of Shipping Corporation of India.
Shipping Corporation of India appointed as H.K. Joshi, Chairperson & Managing Director (CMD). The company holds the additional charge of the post of Director (Finance) of the company for three months with effect from 19 December 2019.

Shipping Corporation of India Shipping Corporation of India is a Government of India Public Sector Enterprise with its headquarters in Mumbai.
Foot Notes:
About Shipping Corporation of India
Headquarters: Mumbai
Founded: 1950, Mumbai
Key people: Mrs. H.K Joshi (Chairman and Managing Director)
8. SBI to launch OTP-based cash withdrawal at all its ATMs from January 1, 2020, onwards.
The State Bank of India (SBI) will switch to a one-time password (OTP) based cash withdrawal system at all its ATMs from January 1, 2020, onwards.

With this latest move, the lender aims to ensure the protection of its customers from unauthorized transactions at ATMs. The new OTP-based ATM withdrawal will be applicable for transactions above Rs 10,000, between 8 pm to 8 am.

Customers withdrawing cash from SBI ATMs will receive an OTP on their mobile number registered with the bank. However, the facility won't apply in case of transactions made by SBI cardholders at any other bank's ATM
Foot Notes:
About SBI
Chairperson: Rajnish Kumar
Headquarters: Mumbai
9. UN declares Malala decade's 'the most famous teenager'.
The UN has declared Pakistani education activist and Nobel laureate Malala Yousafzai as "the most famous teenager in the world" in its 'Decade in Review' report.

In 2014, Malala became the youngest recipient of the Nobel Peace Prize in recognition of her efforts for children's rights which started even before she was shot in the head two years ago by Taliban militants.

She became a UN Messenger of Peace in 2017, with a special focus on girls.
Foot Notes:
About United Nation
Headquarters: New York, United States
Founded: 24 October 1945, San Francisco, California, United States
Secretary General: António Guterres
10. Vishwesha Tirtha Swami of Pejawar Mutt passes away.
The pontiff of Pejawar Mutt, Vishwesha Tirtha Swami passed away in Udupi. He was born at Ramakujna in Dakshina Kannada district on April 27, 1931.

He was ordained as a monk at the age of eight in 1938, as the 33rd seer in the linage or 'guru parampara' of the Pejawar Mutt.

Vishwesha Tirtha Swami made history by becoming the only seer among the seers of the Ashta Mutts (eight mutts) of Udupi, which propagate the Dwaita philosophy, to have performed five biennial Paryayas.

Read More:
Current Affairs 28-29 December, 2019
Current Affairs 27 December, 2019
Current Affairs 26 December, 2019