Current Affairs 26 December, 2019
Current Affairs 26 December, 2019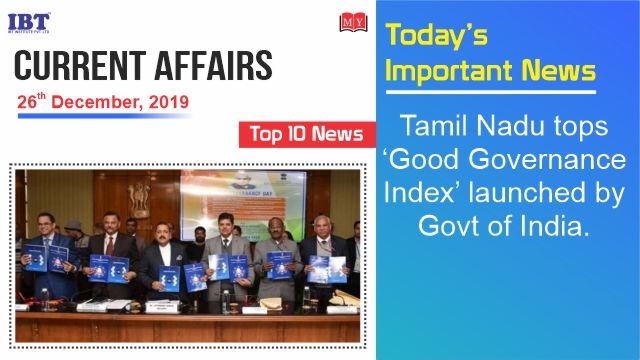 1. India's first Transgender University to come up in Uttar Pradesh.
India's first university for the transgender community will be opened in the Fazilnagar block of the Kushinagar district in Uttar Pradesh. The transgender community members will be able to get an education. The university is being built by Akhil Bhartiya Kinnar Siksha Seva Trust (All-India transgender education service trust).

The university will facilitate its members to study right from class 1 to Post Graduate (PG) and even do research and get a Ph.D. degree. The Members of the transgender community will get an education and will be able to give a new direction to the country.
Foot Notes:
About Uttar Pradesh
Governor: Anandiben Patel
Capital: Lucknow
Chief Minister: Yogi Adityanath
About Transgender Persons (Protection of Rights) Act, 2019
The Transgender Persons (Protection of Rights) Bill, 2019 was introduced in Lok Sabha on July 19, 2019 by the Minister for Social Justice and Empowerment, Mr. Thaawarchand Gehlot.
Definition of a transgender person: The Bill defines a transgender person as one whose gender does not match the gender assigned at birth.
2. India pays homage to Shaheed Udham Singh on his 120th birth anniversary.
India pays homage to the great revolutionary, Shaheed Udham Singh on his 120th birth anniversary. He was born on this day in 1899 in the Sangrur district of Punjab.

Udham Singh was present in the Jallianwala Bagh Amritsar on the fateful Baisakhi Day of 13 April 1919. He avenged the massacre by killing General O Dwyer in March 1940 and hanged by the British in London.

Vaisakhi known as Baisakhi, Vaishakhi is a historical and religious festival in Hinduism and Sikhism. It is celebrated on 13 or 14 April every year.
3. Govt of India to launch 'Digital Radio' by 2024.
Centre government is planning to revamp 'All India Radio' officially known as 'Akashvani' by introducing Digital Radio in India by 2024, when the country will be technologically equipped for it.

The announcement in this regard was made by Union Information and Broadcasting (I&B) Minister Prakash Javadekar at the 2019 Akashvani Annual Awards in New Delhi.

AIR was established in 1936 and is officially known as Akashvani since 1956. It is the national public radio broadcaster of India and is a division of Prasar Bharati, which is India's largest public broadcasting agency. AIR is sister service of Prasar Bharati's Doordarshan television Network.
4. Tamil Nadu tops 'Good Governance Index' launched by Govt of India.
The Central Government has released the "Good Governance Index" on the occasion of Good Governance Day.

The "Good Governance Index" was launched to assess the state of governance in Indian States and Union Territories.

The prime objective of the GGI is to provide quantifiable data to compare the state of governance in all states and Union Territories, enable them to formulate and implement suitable strategies for improving governance and shift to result oriented approaches and administration. The Index was launched by the Department of Administrative Reforms and Public Grievances, and the Centre for Good Governance.
Foot Notes:
Among the "Big States", Tamil Nadu topped the Good Governance Index. The poor performers are Odisha, Bihar, Goa, and Uttar Pradesh with Jharkhand finishing last in the group.
Among the "North-East and Hill States", Himachal Pradesh topped the index, followed by Uttarakhand, Tripura, Mizoram and Sikkim.

The worst performers in this group are Jammu and Kashmir, Manipur, Meghalaya, Nagaland, with Arunachal Pradesh finishing last in the group.

Among the "Union Territories", Puducherry topped the index followed by Chandigarh and Delhi. Lakshwadeep is the worst performing UT.
About Tamil Nadu
Chief Minister: Edappadi K. Palaniswami
Capital: Chennai

5. Renowned Hindi author Ganga Prasad Vimal dies at 80.
Renowned Hindi author Ganga Prasad Vimal and his two family members were killed in a road accident in southern Sri Lanka.

The 80-year-old author was travelling with his family in a van, which crashed into a container truck from behind on the Southern Expressway in the Kurundugahahathapma area.

He wrote more than one dozen poetry collections, short story collections and novels. His last novel, Manushkhor, was published in 2013. He received several Hindi literary awards.
6. Typhoon Phanfone pummelled the central Philippines.
Typhoon Phanfone battered several central Philippine islands, making seven landfalls before heading out to the South China Sea. The typhoon brought chaos and a wet, miserable holiday season to millions in the mainly Catholic nation.

Thousands were stranded at shuttered ports, while dozens of flights were cancelled.
Foot Notes:
About Philippines
Capital: Manila
(The headquarters of the Asian Development bank is at Mandaluyong, Metro Manila, Philippines)
Currency: Philippine peso
7. MS Dhoni named captain of CA's ODI team of the decade.
Former India skipper and wicket-keeper batsman MS Dhoni been named captain of Cricket Australia's (CA) ODI team of the decade and the line-up features three Indian players.

Apart from Dhoni, Virat Kohli and Rohit Sharma have made the cut in CA's team.

CA's ODI team of the decade: Rohit Sharma, Hashim Amla, Virat Kohli, AB de Villiers, Shakib Al Hasan, Jos Buttler, MS Dhoni (c), Mitchell Starc, Trent Boult, Lasith Malinga, Rashid Khan.
8. Niranjan Hiranandani takes over as Assocham President.
Niranjan Hiranandani took over as the new president of the Associated Chambers of Commerce & Industry of India (Assocham), the country's apex organization of industry and trade.

He succeeds Balkrishan Goenka, the Welspun Group Chairman.

Niranjan Hiranandani is the Co-Founder and Managing Director of the Hiranandani Group of Companies.
Foot Notes:
About Assocham
Headquarters location: New Delhi
Founded: 1921
Chairpersons: Balkrishan Goenka
9. Telangana Govt Raises Retirement age of TSRTC Employees to 60 Years.
Telangana government increased the retirement age from 58 to 60 for state-run transport corporation employees. Chief Minister K Chandrashekhar Rao signed on the file pertaining to the increase in the retirement age for the employees of the Telangana State Road Transport Corporation (TSRTC).

The state cargo and parcel services will be used to shift books to institutions, medicines to ships, goods to various departments, liquor to wine shops and other goods across the state and country.

TSRTC a profit-making corporation, implementation of the promises given to the workers and employees, strengthening the goods transportation network and other issues.
Foot Notes:
About Telangana
Founded: 2 June 2014
Capital: Hyderabad
Governor: Tamilisai Soundararajan
Chief Minister: K. Chandrashekar Rao
10. PM Modi unveiled Atal Bihari Vajpayee statue in Lucknow.
Prime Minister Narendra Modi unveiled a statue of former Prime Minister Atal Bihari Vajpayee at Lok Bhawan in Lucknow, Uttar Pradesh.

He also laid the foundation stone for the Atal Bihari Vajpayee Medical University in the Uttar Pradesh capital.

The state government has given 50 acres of land for the varsity.
Foot Notes:
About UP
CM of UP: Yogi Adityanath
Governor of UP: Anandiben Patel.

Read More:
Current Affairs 25 December, 2019
Current Affairs 24 December, 2019
Current Affairs 23 December, 2019