Current Affairs 24 December, 2019
Current Affairs 24 December, 2019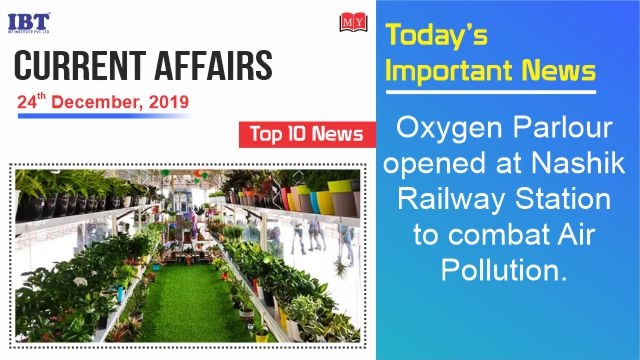 1. Asia's richest man Mukesh Ambani adds $18 billion to his fortune in 2019.
According to the Bloomberg Billionaires Index, The Indian tycoon added almost $17 billion to his wealth about $61 billion in comparison, Alibaba Group founder Jack Ma's net worth grew $11.3 billion, while Jeff Bezos lost $13.2 billion.

Mukesh Ambani's fortune fueled by a 40% jump in the shares of his Reliance Industries Ltd.
2. Shri Harsh Vardhan Shringla appointed as Foreign Secretary.
Narendra Modi government approved the appointment of Indian ambassador to the United States Harsh Vardhan Shringla as the next foreign secretary. He replaced Vijay Gokhale. He is the 33rd foreign secretary of the country.

Harsh Vardhan Shringla would take over next month after the completion of Vijay Gokhale's two-year term on January 28, 2020.

A 1984-batch Indian Foreign Service (IFS) officer and a fluent French speaker, Harsh Vardhan Shringla served as an ambassador to Bangkok from 2014 to 2016 and later as a High Commissioner to Dhaka for two years.

Harsh Vardhan Shringla has also served at UNESCO in France, the UN in New York besides Vietnam, Israel, and South Africa.
Foot Notes:
Minister of External Affairs: Subrahmanyam Jaishankar
3. IAF Chief RKS Bhadauria will embark a four-day visit to Egypt starting on December 24, 2019.
The Indian Air Force Chief RKS Bhadauria will embark a four-day visit to Egypt starting on December 24, 2019. The aim of the visit is to strengthen long-standing relations between India and Egypt.

During his visit, the chief has scheduled to visit operational and training establishments of the Egyptian Air Force. Also, he will interact with senior officials of the Egyptian armed forces.

India is the fourth largest trading partner of Egypt following US, Italy and Saudi Arabia. The trade between the countries has been tradition. India imported 1.29 billion USD worth goods (2017-18) and exported 2.39 billion USD worth goods.
Foot Notes:
About Egypt
Capital: Cairo
Prime Minister: Mostafa Madbouly
Currency: Egyptian pound
About Indian Air Force
Chief: RKS Bhadauria
4. Oxygen Parlour opened at Nashik Railway Station to combat Air Pollution.
In a unique initiative to battle rising air pollution in cities, Indian Railways has opened an 'Oxygen Parlour' at Nashik railway station in Maharashtra. The initiative seeks to provide an experience of breathing clean air to the commuters. It has been set up by Indian Railways in collaboration with Airo Guard, a one of the leading consultancies in field of plant nurseries based in Nashik.

The objective behind setting up Parloue is to expand this initiative to every railway station as well as every home.

There are nearly 1500 plants in Oxygen Parlour, so, these plants can directly and effectively bring down the pollution in the air at the railway station and allow the people to breathe cleaner air. The concept of Oxygen Parlour is based on recommendation of the National Aeronautics and Space Administration (NASA).
Foot Notes:
About Maharashtra
Governor: Bhagat Singh Koshyari
Chief minister: Uddhav Thackeray
Capital: Mumbai

5. Monisha Ghosh named 1st woman CTO at FCC in US.
Indian-American Dr Monisha Ghosh has been appointed as the first woman Chief Technology Officer at the US government's powerful Federal Communications Commission (FCC).

She will advise Indian-American Chairman of the FCC Ajit Pai and the agency on technology and engineering issues, and work closely with the Office of Engineering and Technology.

Dr Ghosh will take charge on January 13. She replaces Dr Eric Burger.
6. Dr Sangita Reddy appointed as the President of FICCI for 2019-20 after succeeding Sandip Somany.
Dr Sangita Reddy, Joint Managing Director of Apollo Hospitals Group was appointed as the President of Federation of Indian Chambers of Commerce and Industry (FICCI) for the year 2019-20, during FICCI's 92nd Annual Convention in New Delhi.She succeeds Mr Sandip Somany, Vice Chairman and Managing Director, HSIL Limited.

President of the Walt Disney Company APAC & Chairman of Star & Disney India, Mr Uday Shankar has been elevated as Senior Vice President of FICCI.

Similarly, Chairman and Managing Director (CMD) of Hindustan Unilever Limited (HUL), Mr Sanjiv Mehta was appointed as the Vice President of FICCI.
Foot Notes:
About FICCI
Established: 1927
Headquarters: New Delhi
7. Delhi's oldest voter Bachan Singh dies at 111.
Bachan Singh, the oldest voter in Delhi who hogged headlines in May when he voted in the Lok Sabha election, passed away, his family said. He was 111.

Singh died around 6.30 am. He had not been eating properly for the past three to four days, his grandson Sonu Singh said. Bachan Singh has never missed out on voting in an election since 1951, his youngest son, Jasbeer Singh, 63, said.

Delhi Chief Electoral Officer Ranbir Singh had felicitated Bachan Singh and invited him to vote in the general election.
Foot Notes:
Chief Election Commissioner: Sh. Sunil Arora
8. National Consumer Day observed on 24 December.
The objective is to highlight the importance of the consumer movement and the need to make every consumer more aware of his or her rights and responsibilities. The theme of this year is "alternate consumer grievance/dispute redressal". On this day the Consumer Protection Act, 1986 was enacted.

The Act aims to provide consumers with effective safeguards against different types of exploitation, such as defective goods, deficiency in services and unfair trade practices.

Parliament gave its nod to the landmark Consumer Protection Bill, 2019 which aims to protect the rights of consumers by establishing authorities for timely and effective administration and settlement of consumers dispute, this year.

The new Act has replaced the more than three decades old Consumer Protection Act, 1986. The CCPA would make interventions to prevent consumer detriment arising from unfair trade practices. The agency can also initiate class action, including enforcing recall, refund and return of products
Foot Notes:
Minister of Consumer Affairs, Food and Public Distribution: Shri Ram Vilas Paswan
9. Nityanand Rai inaugurates DNA Analysis Centre at CFSL Chandigarh.
Minister of State for Home Affairs, Shri Nityanand Rai inaugurated a State-of-the-Art DNA Analysis Centre at CFSL, Chandigarh.

This new Advanced Forensic DNA Analysis Lab set up under the Nirbhaya Fund scheme with an allocation of Rs.99.76 crores. The State-of-the-art facility for

DFSS ensured that this Centre fully equipped with modern DNA Profiling tools and equipment. The Advanced Forensic DNA Analysis facility capacity of examining 2000 cases per year.
10. Major Anoop Mishra awarded Army Design Bureau Excellence Award.
Indian Army Chief Gen. Bipin Rawat felicitated Major Anoop Mishra with prestigious Army Design Bureau (ADB) Excellence Award for indigenously developing 'Sarvatra Kavach', a bulletproof jacket that can provide protection against various ammunition including that from sniper steel bullets.

Maj. Anoop is presently posted as Instructor at College of Military Engineering, Pune and was among the four awardees felicitated by Gen. Rawat.

The awards were conferred at Army Technology Seminar (ARTECH) held on 23 December 2019 at Manekshaw Centre, New Delhi. It was organized by Army Design Bureau (ADB), Indian Army jointly with Confederation of Indian Industry (CII) and Society of Indian Defence Manufacturers (SIDM).

Read More:
Current Affairs 23 December, 2019
Current Affairs 21-22 December, 2019
Current Affairs 20 December, 2019