Current Affairs 21-22 December, 2019
Current Affairs 21-22 December, 2019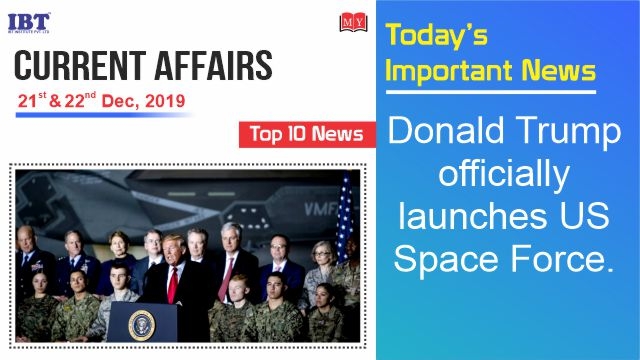 1. National Mathematics Day 2019 observed on December 22.
National Mathematics Day is observed on 22 December every year to mark the birth anniversary of legendary Indian mathematician, Srinivasa Ramanujan and his contributions in the field of mathematics. The 125th birth anniversary of the great mathematician Srinivasa Iyengar Ramanujan declared as National Mathematics Day.

The former Prime Minister of India, Dr. Manmohan Singh, paid tribute to Srinivasa Ramanujan at a function organized on the occasion of the 125th birth anniversary of the great mathematician Srinivasa Iyengar Ramanujan in Chennai.
Thus, on 22 December 2012, National Mathematics Day was celebrated across the country for the first time.
2. ETRSS: Ethiopia's first satellite launched from China.
Ethiopia launched its first satellite, 'Ethiopian Remote Sensing Satellite' (ETRSS) from China. ERSS is a remote-sensing microsatellite that was launched in order to help African country's research into climate change.

It was sent into space together with 8 other satellites by a Long March-4B carrier rocket from Taiyuan Satellite Launch Center (TSLC) in Shanxi Province of north China.

The satellite was designed by Chinese and Ethiopian engineers and Chinese government paid about $6m of more than $7m manufacturing costs.
Foot Notes:
About Ethiopia
Capital: Addis Ababa
Currency: Ethiopian birr
Prime Minister: Abiy Ahmed
About China
President: Xi Jinping
Capital: Beijing
Currency: Renminbi
3. RBI to buy and sell Govt bonds worth Rs 10,000 crore.
The Reserve Bank of India (RBI) will simultaneously purchase and sell government securities worth Rs 10,000 crore under a special Open Market Operation (OMO).

On a review of the current liquidity and market situation and an assessment of the evolving financial conditions, the Reserve Bank has decided to conduct simultaneous purchase and sale of government securities on December 23, 2019.

The purchase will be for government securities worth Rs 10,000 crore for the instrument '6.45 per cent GS 2029'. The Reserve Bank reserves the right to decide on the quantum of purchase/sale of individual securities and to accept bids/offers for less than the aggregate amount.
Foot Notes:
About RBI
Headquarters: Mumbai
Founder: British Raj,1 April 1935, Kolkata
Governor: Shaktikanta Das
4. Defence Ministry: 5th Edition of ARTECH to be held in New Delhi.
Ministry of Defence is to hold ARTECH seminar in New Delhi on 23rd December, 2019. ARTEC is Army Technology Seminar that is being held since 2016. The fifth edition of ARTEC is to be organized by the Indian Army under Ministry of Defence on "Technologies for Non-contact Warfare".

Speakers from diverse industries, subject matter experts, think tanks have been invited to address at the seminar. The seminar was launched as a part of "Make in India" campaign. It is a flagship event of the Indian Army that focuses on harvesting indigenous capabilities of Defence sector.

5. Donald Trump officially launches US Space Force.
United States President Donald Trump has signed the 2020 National Defense Authorization Act, authorising the establishment of Space Force, which would become the sixth branch of the armed forces.

Space Force would become the youngest US military branch and the first new service since the establishment of the US Air Force back in 1947. The Space Force would be part of the Department of the Air Force.
Foot Notes:
About United States
Capital: Washington, D.C.
President: Donald Trump
6. Belgium crowned FIFA Team of the Year.
Belgium has been crowned FIFA 'Team of the Year' for the second successive time after a record-breaking year for the global ladder.

World champions France remains in the second place ahead of Brazil in third.

Besides accumulating the biggest points haul, Qatar has also jumped a year-high 38 places, followed closely by fellow climbers Algeria (up 32 ranks) and Japan (up 22 places).
Foot Notes:
About FIFA
President of FIFA: Gianni Infantino
Founded: 21 May 1904.
Headquarters: Zürich, Switzerland.
7. Writer and critic LS Sheshagiri Rao passes away.
Kannada writer and critic L.S. Sheshagiri Rao passed away. His first work was Idu Jeevana, an anthology of short stories was released in 1948.

He is best known for his book "Hosagannada Sahitya Charitre".

He was best known for his critical works and an English-Kannada dictionary that he compiled.

Proficient in Kannada and English, many of his works were bridges between the two languages.
8. Justice Gulzar Ahmed sworn-in as 27th Pak Chief Justice.
Justice Gulzar Ahmed appointed as the 27th Chief Justice of Pakistan. He takes over from Chief Justice Asif Saeed Khosa, whose tenure came to an end after serving the country's top judge from January this year. The new Chief Justice will remain in office till February 21, 2022.

Pakistan's law ministry notified the appointment of Justice Ahmed as the country's new Chief Justice. Justice Ahmed was born on February 2, 1957, in Karachi and obtained education from Gulistan School in Karachi. He got BA degree from Government College and L LB degree from SM Law College.

President Arif Alvi administered the oath to Justice Ahmed. Prime Minister Imran Khan, Senate Chairman Sadiq Sanjrani, National Assembly Speaker Asad Qaiser, Army Chief General Qamar Javed Bajwa, Cabinet members, serving and retired judges of the Supreme Court and lawyers, and others were present at the ceremony.
Foot Notes:
About Pakistan
Capital: Islamabad
Currency: Pakistani rupee
Prime minister: Imran Khan
9. Russia and Ukraine Sign Preliminary Gas Transit Deal.
Moscow and Kiev have signed a preliminary deal on the transit of Russian gas to Europe via Ukraine, after months of difficult talks but ahead of the looming New Year deadline.

The current gas transit contract between the two ex-Soviet countries expires at the end of the year and ties between them shredded since Moscow annexed Crimea in 2014 and supported a separatist insurgency in eastern Ukraine.

Russian and Ukrainian sides signed a memorandum of understanding cited as saying by Russian agencies while giving no details of the deal. Russia's Energy Minister Alexander Novak was a five-year deal that would be signed off before the end of the month.
Foot Notes:
About Russia
Capital: Moscow
Currency: Russian ruble
About Ukraine
Capital: Kyiv
Currency: Ukrainian hryvnia
President: Volodymyr Zelensky
10. ICC continues its partnership with UNICEF for Women's World T20.
The International Cricket Council (ICC) has announced that it has extended its partnership with UNICEF through to the Women's T20 World Cup 2020 with the focus on empowering women and girls through cricket.

The partnership and public donations continue to bring positive change to children through the programs in cricket playing nations focused on empowering women and girls in cricket. The money raised during the Women's World T20 will go to similar projects in cricket playing nations, including an innovative program to promote girls" participation in cricket in Sri Lanka and build peace in communities.

The ICC and UNICEF partnership commenced in 2015, as part of the ICC"s global community outreach program "Cricket 4 Good".During the Men's 50-over World Cup held in England and Wales earlier this summer, UNICEF raised $180,000 as part of 'One Day 4 Children' and this money will go directly to fund a girls' cricket project in Afghanistan.
Foot Notes:
About ICC
CEO: Manu Sawhney
Chairman: Shashank Manohar.
Headquarters: Dubai, United Arab Emirates.

Read More:
Current Affairs 20 December, 2019
Current Affairs 19 December, 2019
Current Affairs 18 December, 2019