Current Affairs 20 December, 2019
Current Affairs 20 December, 2019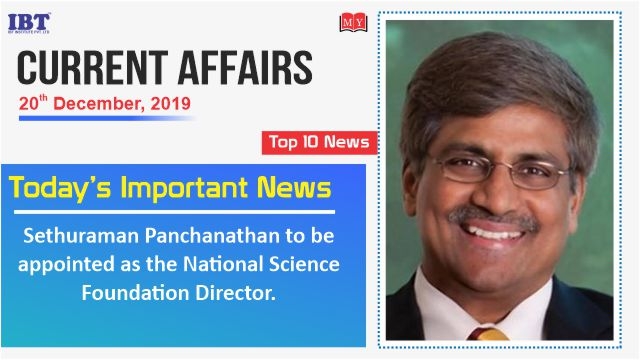 1. International Human Solidarity Day observed on 20 December.
International Human Solidarity Day was observed on 20 December. The day celebrates unity in diversity. The day reminds the governments to respect their commitments to international agreements.

It also encourages new initiatives for poverty eradication.

The Day aims to raise public awareness of the importance of solidarity. It encourages debate on the ways to promote solidarity for the achievement of the Sustainable Development Goals (SDG) including poverty eradication.
2. Portugal to launch a Gandhi Citizenship Education Prize.
Portugal to launch a Gandhi Citizenship Education Prize with an aim to promote Mahatma Gandhi's ideals. The announcement was made by the Portuguese Prime Minister, Antonio Costa.

At the second meeting of the National Committee for Commemoration of the 150th Birth anniversary of Mahatma Gandhi at New Delhi. The meeting was presided over by President Ram Nath Kovind.
3. Sethuraman Panchanathan to be appointed as the National Science Foundation Director.
The US President Donald Trump has chosen Indian-American computer scientist Sethuraman Panchanathan to lead the National Science Foundation (NSF).

He will replace France Cordova when her 6-years-old term as the NSF Director ends in 2020. The position of NSF Director will be fixed by the Senate of the state.

Sethuraman Panchanathan: Panchanathan is a 58-years-old. He is currently serving as the Executive Vice President and the Chief Research and Innovation Officer at the Arizona State.
4. IPS Officer Atul Karwal appointed Director of Sardar Vallabhbhai Patel National Police Academy, Hyderabad.
Atul Karwal, a 1988 batch IPS officer, has been appointed as the Director of Sardar Vallabhbhai Patel National Police Academy in Hyderabad.

The Appointments Committee of the Cabinet has approved the proposal of Ministry of Home Affairs for appointment of Karwal, presently working as ADG, CRPF as Director, SVP NPA by temporarily downgrading the post to the level of Additional Director General for a period up to 05.12.2021 i.e. the date of combined deputation tenure of Karwal or until further orders whichever is earlier.

5. HDFC Bank becomes third Indian company to cross $100 bn M-cap.
HDFC Bank Ltd has crossed the $100 billion market capitalization (M-Cap) in intraday trading, thus becoming only the third company in India to achieve this milestone. However, it closed below $100 billion mark at $99.5 billion. HDFC is one of India's largest private-sector lenders.

HDFC Bank now ranks 110th in the list of world's most valued firms. However, it ranks 26th among most valued banks and financial companies around the world that have a market capitalization of more than $100 billion.
Foot Notes:
About HDFC
Director of HDFC Bank: Aditya Puri
Headquarters: Mumbai, Maharashtra.
6. Railways Ministry signs MoU with University of Birmingham for establishing Centre of Excellence.
National Rail Transport Institute (NRTI) signed an Memorandum of Understanding (MoU) with University of Birmingham in Rail Bhawan, New Delhi to set up its first Centre of Excellence for Next Generation Transportation Systems. NRTI is a deemed to be university under Union Ministry of Railways.

Indian Railways is a founding partner of this Centre of Excellence and would provide professional expertise, proprietary data, spare equipment and other available resources directly or through its Centralised Training Institutes (CTIs) and research organisations.

The Centre would be involved in promoting development of Rail and Transportation sector in India.
7. Chennai Corporation launches India's first waste exchange platform.
Chennai Corporation, Tamil Nadu launched India's first waste exchange platform namely "Madras Waste Exchange" to buy and sell municipal solid waste online.

It will run on a pilot basis for the first three months. Based on the response from public and waste recyclers, more features will be added to the website.

The Madras Waste Exchange, which is both a web portal and an application, has been conceptualised by the Smart City Mission, with support from the Union Ministry of Housing and Urban Affairs.
Foot Notes:
Minister of State (Independent Charge) of the Ministry of Housing and Urban Affairs: Hardeep Singh Puri.
8. Apple, Amazon & Google partners for 'Connected Home over IP'.
"Amazon.com Inc", "Apple Inc" and Alphabet Inc's "Google" have announced a partnership to lay the groundwork for better compatibility among their smart home products.

Zigbee Alliance, whose members include IKEA and NXP Semiconductors among others, will also contribute to the project, titled 'Connected Home over IP'.

The partnership aims to make it easier for device manufacturers to build products that are compatible with smart home and voice services such as Alexa, Siri and Google Assistant.
Foot Notes:
CEO of Apple: Tim Cook
CEO of Amazon: Jeff Bezos
CEO of Google: Sundar Pichai
9. Anti-hijacking exercise 'Apharan' conducted in Kochi port.
The Indian Navy, in collaboration with Indian Coast Guard, Cochin Port Trust and all other concerned stakeholders, conducted a large-scale anti-hijacking exercise off the Port of Kochi.

The Exercise code-named "Apharan" saw the participation of multiple agencies, including more than 12 ships and helicopters of the Indian Navy, Indian Coast Guard and Cochin Port Trust.

Apharan was aimed at streamlining the response mechanism/preparedness to thwart any attempt by anti-national elements to hijack a merchant's vessel or attempt forced entry of a rogue/commandeered merchant vessel into the Kochi harbour.
Foot Notes:
Indian Coast Guard founded: 18 August 1978.
Headquarters: New Delhi.
Motto(s): Vayam Rakṣ āmaḥ (We protect).
10. Afghanistan becomes the 1st nation to recognize Indian Pharmacopoeia.
The National Department of Regulation of Medicines and Health Products of the Ministry of Public Health of Islamic Republic of Afghanistan has formally recognized Indian Pharmacopoeia (IP), an official book of standards for drugs manufactured & marketed in India in terms of their identity, purity and strength.

With this, Afghanistan has become the 1st nation to recognize IP, which is published by the Indian Pharmacopoeia Commission (IPC) on behalf of the Department of Commerce, and Ministry of Health & Family Welfare.

The standards of the book has been made under the Drugs and Cosmetics Act, 1940 and Rules 1945 thereunder.
Foot Notes:
About Afghanistan:
Capital: Kabul
Currency: Afghan afghani
President: Ashraf Ghani
About IPC
Founded: 1956
Headquarters: Ghaziabad, Uttar Pradesh

Read More:
Current Affairs 19 December, 2019
Current Affairs 18 December, 2019
Current Affairs 17 December, 2019