Current Affairs 17 December, 2019
Current Affairs 17 December, 2019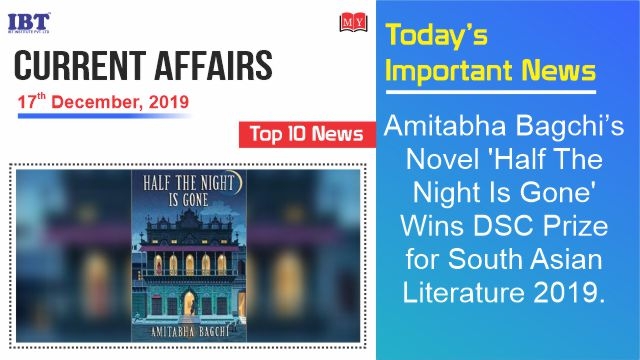 1. Vice Chief Lt Gen Manoj Mukund Naravane set to become next Chief of the Indian Army.
Lt Gen Manoj Mukund Naravane is set to become the next Chief of the Indian Army, Lt Gen Naravane is currently serving as Vice Chief of the Army.

In his 37 years of service, Lt Gen Naravane has served in numerous command and staff appointments in peace, field and highly active counter-insurgency environments in Jammu and Kashmir and the Northeast.

Army Chief Gen Bipin Rawat is due for retirement on December 31. Before taking charge as vice chief of the Army Staff in September, Lt Gen Naravane was heading the Eastern Command of the Army, which takes care of India's nearly 4,000-km border with China.
2. Amitabha Bagchi's Novel 'Half The Night Is Gone' Wins DSC Prize for South Asian Literature 2019.
Author Amitabha Bagchi won the DSC Prize for South Asian Literature 2019 for his fiction novel, Half The Night Is Gone. The literary award, which also gives the winner prize money worth $25,000 was instituted in 2010 and is one of the most prestigious international literary awards specifically focused on South Asian writing.

Bagchi received the award during a ceremony at the IME Nepal Literature Festival in Pokhara, Nepal.

Minister for Foreign Affairs of Nepal Pradeep Gyawali, along with the co-founder of the DSC Prize Surina Narula presented the winner's trophy to the author during the event which was attended by literary enthusiasts, writers and the media.
3. Viswanathan Anand launched his autobiography titled "Mind Master".
India's first Grandmaster Viswanathan Anand released his autobiography titled Mind Master. It was co-written by Susan Ninan. The book offers an insight into Anand's greatest wins and worst losses. He has also shared his experience of facing the best minds in the world.

Viswanathan Anand was born on 11 December 1969 in Chennai, Tamil Nadu. He became the country's first grandmaster in 1988.

He is the first Asian to hold FIDE (Fédération Internationale des Échecs) World Chess Championship from 2000 to 2002. He won World Champion in 2007, 2010 and in 2012.
4. Nagaland Governor R N Ravi to take additional charge of Meghalaya.
Nagaland Governor R N Ravi has been given additional charge of the State Meghalaya. The appointment was announced by the President of India.

In addition to his own duties, the Governor of Nagaland will discharge the functions of the Governor of Meghalaya during the absence of Tathagata Roy, the Governor of Meghalaya.
Foot Notes:
About Nagaland
Capital: Kohima
Governor: RN Ravi
Chief Minister: Neiphiu Rio
About Meghalaya
Capital: Shillong
Governor: Tathagata Roy
Chief Minister: Conrad Sangma

5. WEF Gender Gap Index: India slips to 112th rank, in bottom 5 on health, economic fronts.
World Economic Forum (WEF) has recently released Gender Gap Index-2019 that shows India has slipped to 112th position.

India has moved downwards four places in terms of gender equality amid increasing disparity in terms of women's participation in the development of the country. The country is ranked in the bottom five on health and economic fronts.
Foot Notes:
WEF Gender Gap Index 2018: 108th
First WEF Gender Gap Index: 2006
1st is ranked 2019: Iceland
6. Sridhar Patra appointed new CMD of National Aluminium Company Limited (NALCO)
The Appointments Committee of Cabinet (ACC) chaired by Prime Minister Narendra Modi has appointed Sridhar Patra as the new Chairman-cum-Managing Director (CMD) of National Aluminium Company Limited (NALCO).

He has been appointed as CMD of NALCO till the date of his superannuation, i.e. on 31 October 2024 until further orders, whichever is earlier. At present he is the Director (Finance) in NALCO.
Foot Notes:
About NALCO
It is one of the largest integrated Bauxite-Alumina-Aluminium-Power Complex in India.
Established in: 7 January, 1981
Registered office: Bhubaneswar, Odisha.
7. Former Pakistani President Pervez Musharraf awarded death penalty.
Former Pakistani President Pervez Musharraf has been awarded death penalty for his unlawful decision of imposing emergency in 2007. The judgement was delivered by a special court in Pakistan on December 17, 2019.

The three-member special bench comprised Peshawar High Court Chief Justice Waqar Ahmad Seth and Justices Nazar Akbar and Shahid Karim. The bench handed death penalty to the former Pakistani Military General in a high treason case.

The special court was hearing a case against Musharraf's decision to declare a state emergency in Pakistan on November 3, 2007.
Foot Notes:
About Pakistan
Prime minister: Imran Khan
Capital: Islamabad
Currency: Pakistani rupee
8. RBI recorded 11.4 lakh Online transaction in first 8 hours after NEFT was made 24/7 operational.
The Reserve Bank of India (RBI) operationalized National Electronic Funds Transfer (NEFT) System 24X7 from 12:00 am on 16 December 2019. After making the NEFT operational on a 24X7 basis, around 11.40 lakh transactions were settled in the first eight hours after widely-used NEFT.

The aim is to ensure the availability of anytime electronic funds transfer. RBI has now joined an elite club of countries that have payment systems that enable round-the-clock funds transfer and settlement of any value.
Foot Notes:
About RBI
Headquarters: Mumbai
Governor: Shaktikanta Das
9. UNESCO removes 'racist' Belgian carnival from heritage list.
UNESCO (United Nations Educational, Scientific and Cultural Organization), has removed the 'Carnival of Aalst' of Belgium from its Intangible Cultural Heritage of Humanity List.

The 2019 carnival featured a parade float that included racist and anti-Semitic representations which mocked the Orthodox Jews.

The carnival was added to the Intangible Cultural Heritage list in 2010.
Foot Notes:
About UNESCO
Formation: 4 November 1946.
Headquarters: Paris, France.
Director-General: Audrey Azoulay.
10. Haryana Police became the first to introduce 'Trakea' software in FSL
Haryana police have introduced a unique barcoding software "Trakea" to enable foolproof security of the samples collected in Forensic reports.

Haryana became the first state in the country to introduce this unique barcoding system.

Manohar Lal Khattar, Chief Minister (CM) of Haryana inaugurated the TRAKEA barcoding system of Forensic Science Laboratory (FSL) at Madhuban, Haryana.

According to the police, Trakea ensures foolproof security of the samples collected from the scene of the crime, and the forensic analysis reports, and is different from traditional methods that the state police force has been following for decades.

The software was developed by a software engineer Amit Mishra.
Foot Notes:
About Haryana
Governor of Haryana: Satyadeo Narayan Arya.
Capital: Chandigarh

Read More:
Current Affairs 16 December, 2019
Current Affairs 14-15 December, 2019
Current Affairs 13 December, 2019