Current Affairs 16 December, 2019
Current Affairs 16 December, 2019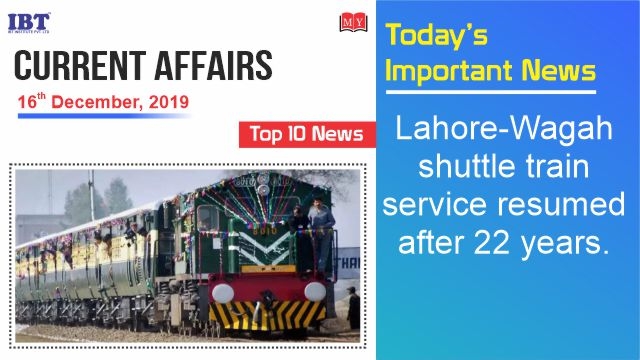 1. Lahore-Wagah shuttle train service resumed after 22 years.
The shuttle train service between Lahore and Wagah railway station resumed its operation after a gap of 22 years. The service was inaugurated by Pakistan's Railways Minister Sheikh Rashid. The train service was operated till 1997. It was closed due to certain operational and security reasons.

Pakistan aims to start or revive the connection of Lahore metropolitan city with its suburbs through rail routes. Lahore-Wagah is the first step taken by the Pakistan government. The shuttle train is expected to be followed by another train from Lahore to Raiwind within the next 15 days.

The service will provide a hassle-free commute to hundreds of visitors who intend to witness the flag hoisting and lowering ceremony at Wagah or visiting Jallo Park.
Foot Notes:
About Pakistan
Currency: Pakistani rupee
Capital: Islamabad
Prime minister: Imran Khan
2. Ankur Garg appointed as Chief Commercial Officer of AirAsia India.
AirAsia India appointed Ankur Garg as its chief commercial officer (CCO). Before this appointment, Garg worked as the vice-president of revenue management at IndiGO. He quit the job recently. Ankur Garg will replace Mr. Sanjay Kumar, AirAsia India's Chief Operation Officer (COO).

He will be in charge of areas such as marketing and sales, network and revenue management, and cargo. He will be reporting to Sunil Bhaskaran, MD, and CEO, AirAsia India.

AirAsia India began its operations in June 2014. It currently has a fleet of 27 A320 aircraft and flies to 21 destinations in India. It is a joint venture between the Tata Sons, who holds 51% stake, and AirAsia Berhad, who holds a 49% stake, of the airline. It is the fourth largest low-cost carrier in India.
Foot Notes:
About AirAsia India
Founded on: 28 March 2013
Parent company: Tata Group
Headquarters: Bangalore, India
Chairman: S. Ramadorai
CEO: Sunil Bhaskaran
3. Nation celebrated Vijay Diwas on 16 December.
Vijay Diwas is celebrated on 16 December every year. The day aims to commemorate the victory of India over Pakistan in 1971. The day also a remembrance of the brave soldiers of India and Mukti Joddhas who sacrificed their lives for a noble cause.

To mark the day, a wreath-laying ceremony was held at Vijay Smarak at Fort William the Head Quarters of Eastern Command in Kolkata, West Bengal. A 3-day event was organized in Kolkata from 14-16 December.

Vijay Diwas is a day for Remembrance of the brave soldiers and Mukti Joddhas who sacrificed their lives for a noble cause and also a day for taking pledged to save our homeland from any possible attack of external enemies.
4. Pakistan's Abid Ali becomes 1st batsman to score hundreds on both Test and ODI debuts.
Abid Ali became the first man to score a century on their Test and one-day international debuts, as the first match in Pakistan since the deadly 2009 terror attacks ended in a draw.

The 32-year-old Pakistan opener was unbeaten on 109 as the hosts ended on 252-2 in reply to Sri Lanka's first-innings total of 308-6.
5. The French New Wave star Anna Karina dies aged 79.
Danish-French actor Anna Karina, star of Bande à Part and Pierrot le Fou and collaborator with New Wave director Jean-Luc Godard, has died of cancer at the age of 79.

Best known for her work with Jean-Luc Godard, she also appeared in films by Visconti, Fassbinder and others, as well as pursuing a singing career and writing four novels.

6. Miss Jamaica crowned Miss World 2019.
Jamaica's Toni-Ann Singh has bagged the Miss World 2019 at an annual beauty pageant. It's the first time in history that black women hold the titles for Miss USA, Miss Teen USA, Miss America, Miss Universe and Miss World.

The 23-year-old student was born in St Thomas, Jamaica, and plans to study medicine and become a doctor.

The runners up included Ophély Mézino from France and Suman Rao from India.
7. Sanjiv Kapoor stepped down as the Chief Commercial Officer of Vistara.
Vistara's Chief Commercial Officer (CCO) Sanjiv Kapoor has resigned from the post on 16 December 2019.

He will be working with the airline till 31 December 2019. Kapoor had resigned due to personal reasons.

Vinod Kannan, Vistara's Chief Strategy Officer will replace as the CCO.
Foot Notes:
About Vistara
Founded on: 2013
Headquarters: Gurgaon
Chairman: Bhaskar Bhat
CEO: Leslie Thng
8. ITBP becomes first among CAPF to launch a matrimonial site for its staff.
In a first of its kind move, the border guarding paramilitary force of Indo-Tibetan Border Police (ITBP) has started a dedicated matrimonial site for its staff.

This is the first -ever dedicated and well-managed matrimony portal among Central Armed Police Forces (CAPF). A link for the unique portal was launched on 9 December on the official website of ITBP.

The website will be managed by ITBP and only the staff will be able to access it.
9. Tahiti to host surfing events at the 2024 Paris Olympics.
The Polynesian island of Tahiti will host the surfing events at the 2024 Paris Olympics. The events will take place at Teahupoo. It was chosen over beaches in southwest France and in Brittany.

Tahiti is located in the southern part of the Pacific Ocean. It lies 15,000 kilometres from Paris. Paris became the second city to host the Olympics three times, after London, UK. It previously hosted the Olympics in 1900 and 1924.
Foot Notes:
About 2024 Paris Olympics (Games of the XXXIII Olympiad)
Host city: Paris, France
Dates: 26 July -11 August
10. Gujarat-became the seventh state police force police to be honoured with the Presidents Colours award.
Gujarat police was honoured with the President's Colours award on 15 December 2019. Gujarat became the seventh state police force in India to be bestowed with the honour of the President's Colours.

It was presented by the Vice President, Shri M. Venkaiah Naidu. He paid homage martyrs of Gujarat Police.

President's Colours is also called NISHAAN. Now, the emblem will be worn by all the police officers of Gujarat on the left-hand sleeve of their uniform. The proposal for President's Colours was initiated by the office of the Director-General (DG) and Inspector General of Police (IGP), the head of the Gujarat Police.

Read More:
Current Affairs 14-15 December, 2019
Current Affairs 13 December, 2019
Current Affairs 12 December, 2019