Current Affairs 14-15 December, 2019
Current Affairs 14-15 December, 2019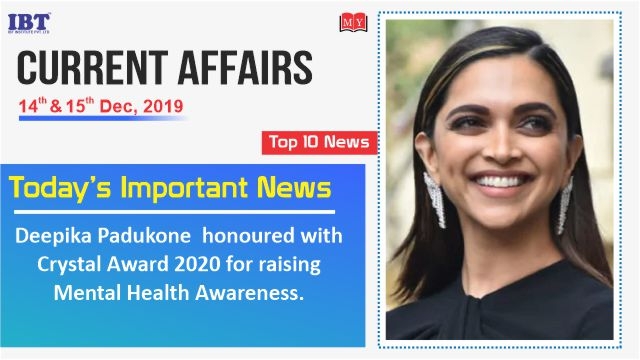 1. Edelweiss AMC launches India's 1st corporate bond called 'Bharat Bond ETF'.
Edelweiss Asset Management Company (AMC), a subsidiary of Edelweiss Capital Limited (ECL) has launched the India's 1st Corporate Bond ETF (exchange trade fund) called the Bharat Bond ETF.This bond will invest only in bonds rated AAA bonds of Public Sector companies.

The funds that will come from the investment in this bond will be invested in companies included in the bond index.

This ETF is an initiative of Department of Investment and Public Asset Management DIPAM),Government of India (GoI), and then it mandates Edelweiss AMC to design and manage the product.
Foot Notes:
About Edelweiss Capital Limited
Headquarters: Mumbai
Founder: Rashesh Shah
Founded: 1995
Edelweiss AMC acts as the Investment Manager to Edelweiss Mutual Fund.
2. International Hockey Federation unveiled a new world ranking system for 2020 in Lausanne, Switzerland.
The International Hockey Federation unveiled a new world ranking system for 2020 in Lausanne, Switzerland. The new method will come into effect from the 1st January 2020.

The new ranking will be match-based instead of tournament-based calculation.

The new model is expected to remove the subjectivity surrounding continental weighing by creating a system which is fair to all. The outgoing world ranking system was in existence since 2003. It was originally devised to allocate teams into pools at tournaments.
3. Maldives signs contract with joint venture of Indian companies for development of Addu.
Maldives government has signed a contract with a joint venture of Indian companies. The contract aims to prepare project report and the development of Addu, which is the second biggest city in the island nation.

The contract was signed L & T engineering limited and Lea associates south Asia for the Addu Road and Reclamation Project. The project includes land reclamation, construction of roads and storm water drainage system in Addu. This will upgrade existing infrastructure and mitigate the flood situation in Addu.

Financing of the project will be done by EXIM bank of India through line of credit of USD 800 million.
Foot Notes:
About Maldives
Capital: Malé
President: Ibrahim Mohamed Solih
Currency: Maldivian rufiyaa
4. World Design Organization to launch World Design Protopolis in Bengaluru.
The World Design Organization is all set to launch its new global programme World Design Protopolis in Bengaluru, aimed at implementing holistic progress in mega cities across the world and making them sustainable.

The announcement was made at the ongoing three-day Kochi Design Week (KDW), Indias largest design conclave that kicked off at Bolgatty Island here on Thursday.

The project aims to measure the progress of the city, attract investments and solve the problems so that the city becomes a better place for the citizens.

Delivering the keynote address on Design Opportunities and Challenges Ahead, Srini R Srinivasan, CEO, Lumium, and President-elect, WDO, said, We have selected Bengaluru as the first ever city in the world to implement this project, which is exclusively for big cities.
Foot Notes:
World Design Organisation
Headquarters: Montreal, Canada
President: Srini Srinivasan
5. TV Somanathan appointed as Expenditure Secretary in the Finance Ministry.
The government appointed TV Somanathan as an expenditure secretary in the finance ministry. Somanathan will replace Girish Chandra Murmu, who was named the first lieutenant governor of the Union Territory of Jammu & Kashmir in October.

TV Somanathan is a 1987 batch IAS officer from the Tamil Nadu cadre. Somanathan served as a commercial tax commissioner and principal secretary, Planning & Development, in the Tamil Nadu government.

He was awarded the Gold Medal for the Best IAS trainee of his cohort. He holds a Ph.D. in Economics from Calcutta University and is a chartered accountant, chartered management accountant, and chartered secretary.

6. India to host the 36th International Geological Congress (IGC) in 2020, in New Delhi.
India is to host the 36th International Geological Congress (IGC) in New Delhi during the first week of March 2020. It is popularly described as the Olympics of Geosciences.

The theme of the event is Geosciences: The Basic Science for a Sustainable Development. The IGCs are global geoscientific events held once in four years.

The event aims to provide a platform for international cooperation in all major fields of geosciences including the provision of investment opportunities in mining, launching of collaborative programs, mineral exploration and environmental management and related enterprises.
7. India, Bangladesh, Nepal contributes global progress in infant birth registration: UNICEF report.
According to the new report, 'Birth Registration for Every Child by 2030: Are we on track?' released by UNICEF (United Nations Children's Fund), the number of childbirth registrations has increased significantly over the past decade & the great efforts of South Asian countries like India, Bangladesh and Nepal have contributed to the global progress in this field.

The birth registration level in these regions has almost tripled from 23 % in the last two decades to 70%. The report analyzed the data from 174 countries.

The report also stressed the governments to take action, in line with the 2030 Sustainable Development Goals (SDGs) agenda which call for all people to be provided a legal identity, including birth registration.
Foot Notes:
About UNICEF
Formation: 11 December 1946
Headquarters: New York City, U.S.
Executive Director: Henrietta H. Fore
It is responsible for providing humanitarian and developmental aid to children around the world.
8. The National Energy Conservation Day celebrated on 14 December.
The National Energy Conservation Day is celebrated every year on 14 December. The Bureau of Energy Efficiency (BEE), under Union Ministry of Power spearheads the celebrations of the day every year since 1991.

BEE also observed National Energy Conservation Week from 9-14 December 2019, in order to drive mass awareness about importance of energy efficiency and conservation.

Every year on this occasion a National Energy Conservation Awards Programme is also organised to recognize and encourage the efforts of various organizations, who have achieved efficient utilization and conservation of energy.
9. 7th Economic Census: India's 1st digital census launched in New Delhi.
7th edition of the Economic Census was launched in New Delhi. To carry out the economic census, Ministry of Statistics and Program Implementation (MoSPI) tied up with Common Service Centres Network (CSCN).

CSC is an SPV (Special Purpose Vehicle) under Ministry of Electronics and IT(MeitY). It is for the first time the census is being conducted in digital platform named ICT (Information and Communication Technology).

Delhi is the 26th state where the survey has been launched. The survey process is already on in 20 states and 5 UTs (Union Territories).
10. Deepika Padukone honoured with Crystal Award 2020 for Raising Mental Health Awareness.
World Economic Forum's (WEF) 26th Annual Crystal Awards 2020 announced its winners to celebrate the enduring contributions of exceptional artists to the society. The winners will be honoured in the World Economic Forum at its 50th Annual Meeting 2020 to be held on 20th January in Davos-Klosters, Switzerland.
Winners of 26th Annual Crystal Award 2020 are as follows:
Deepika Padukone, India, for her leadership in raising mental health awareness

Theaster Gates, United States (US), for his leadership in creating sustainable communities

Jin Xing, China, for her leadership in shaping inclusive cultural norms

Lynette Wallworth, Australia, for her leadership in creating inclusive narratives
Foot Notes:
About World Economic Forum (WEF)
Founded: January 1971
Headquarters: Cologny, Switzerland
Chairman: Klaus Schwab

Read More:
Current Affairs 13 December, 2019
Current Affairs 12 December, 2019
Current Affairs 11 December, 2019