Current Affairs 13 December, 2019
Current Affairs 13 December, 2019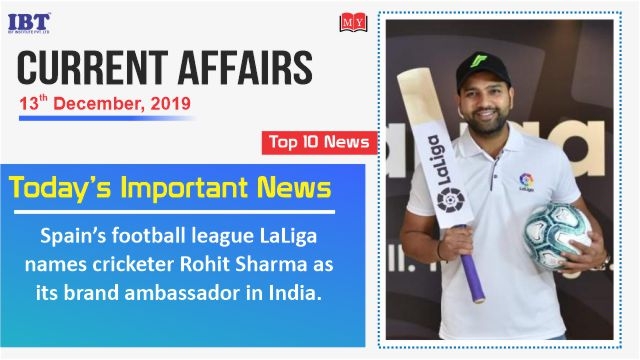 1. FICCI India selects Hockey player Rani rampal & shooter Saurabh chaudhary as 'Sportsperson of the year 2019'.
Indian women's hockey team captain Rani Rampal (25) and Asian Games gold medalist shooter Saurabh Chaudhary (17) were honored with the 'Sports Person of the Year 2019' award at the FICCI India Sports Awards-2019 held at FICCI Federation House in New Delhi.

The awards were decided by a jury led by Mukul Mudgal, Retired Indian Judge, Delhi High Court (HC), and Chief Justice (CJ) of Punjab and Haryana High Court.

Odisha's Sports Minister Tusharkanti Behera and Sports Secretary Vishal Kumar Dev presented the awards to the winners at the ceremony, which was jointly organized by FIT India, Ministry of Youth Affairs and Sports & FICCI.
Foot Notes:
About FICCI
Formation: 1927
Headquarters: New Delhi
President: Sandeep Somay
2. Lok Sabha passes Central Sanskrit Universities Bill, 2019.
Lok Sabha passed the Central Sanskrit University Bill 2019, which seeks to convert three deemed Sanskrit universities, presently functioning in the country, into central universities. The bill was piloted by Union Human Resource Development (HRD) Minister Ramesh Pokhriyal 'Nishank'.

The Bill seeks to upgrade three deemed Sanskrit universities into Central universities, which are- Rashtriya Sanskrit Sansthan in Bhopal, Sri Lal Bahadur Shastri Rashtriya Sanskrit Vidyapeeth in New Delhi and Rashtriya Sanskrit Vidyapeeth in Tirupati, Andhra Pradesh.
Foot Notes:
Human Resource Development Minister: Minister Ramesh Pokhriyal
3. Poland out of EU's Climate Neutrality 2050 plan.
Poland left 2050 Climate Neutrality Agreement of European Union as the Union demanded for more funds to support nuclear power and for economic transition.

Poland, whose 80% of energy needs are relied on coal, opted out of Climate Neutrality 2050 plan. The country requested to extend the plan execution deadline to 2070 availing longer period to cut emissions according to the plan. However, net players like Netherlands refused to agree to the terms that led Poland to leave the plan.

The Climate Neutrality Plan is a key commitment under 2015 Paris Agreement on Climate Change. It is a 100 billion Euro plan for net zero greenhouse gas emissions by 2050. It is also called European Green Deal or Europe's man on the moon moment.
Foot Notes:
About Poland
Capital: Warsaw
President: Andrzej Duda
Prime Minister: Mateusz Morawiecki
4. Spain's football league LaLiga names cricketer Rohit Sharma as its brand ambassador in India.
Spain's football league LaLiga names cricketer Rohit Sharma as its brand ambassador in India. The Indian cricketer is the first-ever non-footballer brand ambassador appointed by LaLiga globally and will be the face of the league in India.

"India is a very important market for Laliga from a global perspective; we came here in 2017 to get a better understanding of the pulse of the nation. Over the past two years, and after several ground-breaking initiatives, it is obvious that India has a huge appetite for football," said Jose Antonio Cachaza, Managing Director, LaLiga India.
Foot Notes:
About Spain
Capital: Madrid
Prime Minister: Pedro Sánchez
Currency: Euro
5. Veteran Telugu actor, writer Gollapudi Maruti Rao dies at 80.
Renowned Telugu actor and writer Gollapudi Maruti Rao, who enthralled people with his writings and acting for several decades, passed away.

He was 80. Rao, who acted in around 250 films in about four decades, passed away in Chennai following a cardiac arrest, his family members, told reporters.

6. International Seminar cum Exhibition on Naval Weapon Systems 'NAVARMS – 2019' held in Delhi.
The fourth edition of International Seminar cum Exhibition on Naval Weapon Systems 'NAVARMS - 2019' with the theme 'Make in India - Fight Category: Opportunities and Imperatives' was inaugurated by Admiral Karambir Singh, Chief of the Naval Staff at Institute for Defence Studies and Analyses, Development Enclave, New Delhi.

The inaugural session of the seminar was attended by more than 300 delegates from three services, Min of Defence, DRDO, DGQA, DGAQA, OFs, DPSUs, Indian and international Industries and reps of foreign mission of friendly countries.

The NAVARMS – 2019 Exhibition on defence technology was inaugurated by the CNS. The Exhibition comprised of exhibits from Ordnance Factory, DPSUs, private industries (both domestic and international) and Indian Navy showcasing cutting edge and niche defence technologies.
7. Rajya Sabha passed the bill to extend the reservation for SC, ST by 10 more years.
Rajya Sabha passed a Constitution amendment bill to extend reservation to SCs and STs in Lok Sabha and state assemblies by another 10 years. Now the bill will be sent to the states for ratification by 50% of the assemblies before it comes into force.

Reservation for members of Scheduled Castes (SCs) and Scheduled Tribes (STs) was given for the past 70 years in Lok Sabha and state assemblies. The reservation is due to end on 25 January 2020.

In Parliament, there are 84 members from the Scheduled Caste and 47 from the Scheduled Tribe communities. There are 614 SC members and 554 ST members in the state assemblies across India.
8. Odisha State government honoured with the 2019 World Habitat Award.
Odisha State government was honoured with the 2019 World Habitat Award. The award recognized the State's ambitious project Jaga Mission. The award was conferred by the World Habitat, a UK based organization, in association with the United Nations (UN)-Habitat. The programme has set a global benchmark to empower the urban poor.

The World Habitat Award was established in 1985. The award recognizes and promotes good habitat practices. The first awards were presented in 1986 in London by HRH the Prince of Wales and the Dr. Arcot Ramachandran, UN-HABITAT Executive Director.

The awards were initiated as World Habitat's contribution to the United Nations International Year of Shelter for the Homeless in 1987.
Foot Notes:
About Odisha
Capital: Bhubaneswar
Governor: Prof. Ganeshi Lal
Chief Minister: Naveen Patnaik
9. Nirmala Sitharaman ranked 34th & Merkel topped the 16th Forbes powerful women list 2019.
On december 13, 2019 the 16th annual ranking of 'The Forbes 2019 list of The World's 100 Most Powerful Women' list was released. Union Finance Minister of India Smt. Nirmala Sitharaman (60 years) ranked 34th in the list.

The list was topped by German Chancellor Angela Dorothea Merkel. 65-year old Merkel topped the list for the 9th consecutive year. Merkel was followed by European Central Bank (ECB) President Christine Madeleine Odette Lagarde and Speaker of the US (United States) House of Representatives Nancy Patricia Pelosi in the second and third rank respectively.

The ranking was based on 6 categories. They were, business, technology, finance, media & entertainment, politics & policy, and philanthropy.
Foot Notes:
About Forbes
First issue: September 15, 1917.
Editor-in-chief: Steve Forbes.
Headquarters: New Jersey, U.S.
10. Gurgaon-based startup wins 'Space Oscar' award.
The Gurugram-based startup blue Sky Analytics has created an application called 'Zuri' that won the Copernicus Masters Award also called Space Oscars, under the Social Entrepreneurship category.

The award was given by the Earth observation programme managed by the European Commission (EU) in partnership with the European Space Agency (ESA).

The application uses satellite data to provide improved monitoring, supply chain and pricing analysis as well as the allocation of crop waste to be used as raw materials in other industries.

Read More:
Current Affairs 12 December, 2019
Current Affairs 11 December, 2019
Current Affairs 10 December, 2019