Current Affairs 10 December, 2019
Current Affairs 10 December, 2019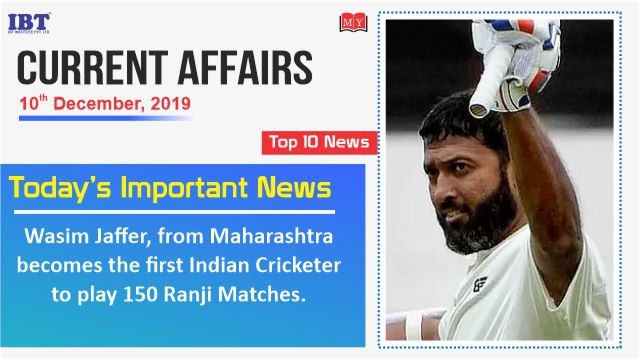 1. Human Rights Day: 10 December
Human Rights Day is observed every year on 10 December. This Day came into existence on December 10, 1948, when the Universal Declaration of Human Rights was adopted by the United Nations.

This day is observed every year across the world, as it empowers us all. The day also acknowledges the advocates and defenders of human rights around the world.

This year it will be the 71st anniversary of Universal Declaration of Human Rights. With the theme "Youth Standing Up for Human Rights", the aim is to celebrate the potential of youth as constructive agents of change, amplify their voices and engage a broad range of global audiences in the promotion and protection of right
Foot Notes:
About United Nations
Secretary General: António Guterres
Headquarters: New York, United States
Founded: 24 October 1945, San Francisco, California, United States
2. UAE, US joint military exercise 'Iron Union 12' commences.
'Iron Union 12', a joint military exercise between the ground forces of the UAE and the United States, commenced. 'Iron Union 12' will see the two sides take part in joint military cooperation to enhance combat and tactical capabilities.

The joint military exercises of the UAE Armed Forces with fraternal and friendly countries takes place in a manner consistent with latest developments and reflects the UAE Armed Forces' determination to stand firmly against all threats and challenges facing the region.
Foot Notes:
About UAE
Capital: Abu Dhabi
Currency: United Arab Emirates dirham
President: Khalifa bin Zayed Al Nahyan
About US
Attorney General: William Barr
President: Donald Trump
3. V Viswanathan appointed as Additional Director of Dhanlaxmi Bank.
The Board of Directors of Dhanlaxmi Bank, an old private sector bank headquartered in Thrissur City of Kerala, has appointed V Viswanathan as an Additional Director of the bank. He will hold the post upto the date of the next Annual General Meeting.

Priorly, Viswanathan served as the Chief General Manager (Retail Banking) of State Bank of Hyderabad (SBH).

Recently on October 30, 2019, T Latha had resigned as MD & CEO and Director of Dhanlaxmi Bank due to personal reasons. The Board has accepted her resignation with effect from October 31, 2019.
Foot Notes:
About Dhanlaxmi Bank:
Founded: 1927
Chairman (Part-time): Mr. Sajeev Krishnan
Tagline: Tann. Mann. Dhan
4. Inventor of the bar code, George Laurer passed away at the age of 94.
The inventor of Universal Product Code (UPC) or Barcode, George Joseph Laurer, passed away at the age of 94 due to old age ailments in Wendell, North Carolina in the US (United States).

His barcode invention at IBM (International Business Machines) corporation, transformed the retail industries as well as other industries across the world.

Born in September 23, 1925 in New York, US, Laurer worked as an electrical engineer with IBM in North Carolina's research triangle park in the early 1970s. It is where he founded the UPC or bar code.
Foot Notes:
About United States (US)
Capital: Washington, D.C.
Currency: US dollar.
President: Donald Trump.
5. Abanindranath Tagore's Book 'Nalak', translated to English by Urbi Bhaduri.
Abanindranath Tagore's Book 'Nalak' featuring the journey of life of Gautama Buddha, was translated to English by Urbi Bhaduri, and was published by Niyogi Books. The English translation of the book has no chapters and has been featured in pen and ink style including a theme inspired by Buddhist tankha paintings.

Rabindranath Tagore's nephew, Abanindranath Tagore was born in Kolkata, West Bengal and was a famous artist of India well known for his painting and writing, he was also the principal innovator of the Bengal school of art.

Some of his famous works in Bengali Children's literature were Rajkahini, Budo Angla, Nalak, and Khirer Putul.

6. Digital Exhibition on history of Constitution of India being held in New Delhi.
The 'Digital Exhibition on History of Constitution of India', was inaugurated in New Delhi by Dr. Jitendra Singh, Minister of State (M/S) for Development of North Eastern Region (I/C), Prime Minister's Office, Personnel, Public Grievances & Pensions, Atomic Energy and Space. It will be organised for two days.

It has been organised by Department of Personnel & Training (DoPT), Union Ministry of Personnel, Public Grievances and Pensions, in collaboration with Parliament Museum and Archives of Lok Sabha Secretariat and Bureau of Outreach and Communication (BOC).

It is an important day from historical point of view, as the first sitting of Constituent Assembly was held on this day in 1946. The current year 2019, marks 70th Year of adoption of Constitution.
7. Wasim Jaffer, form Maharashtra becomes the first Indian Cricketer to play 150 Ranji Matches.
Wasim Jaffer, (41) from Mumbai, Maharashtra and former Indian Cricketer becomes the first Indian to play 150 Ranji Matches.

Jaffer is only 853 runs away from completing 20,000 runs in 150 matches, followed by Devendra Bundela, Madhya Pradesh and Amol Muzumdar, Maharashtra who have played in 145 and 136 matches respectively.

Jaffer played his 150th Ranji Game for Vidarbha against Andhra Pradesh (AP) the match was held in Devineni Venkata Ramana Praneetha Ground, Northern side of ACA-KDCA (Andhra Cricket Association–Krishna District Cricket Association) Ground in AP.
Foot Notes:
About Ranji Trophy
Named after: Ranjitsinhji Vibhaji
Format: First-class cricket (Domestic)
First edition: 1934 (Initiation took place between 1934-1935)
Current champion: Vidarbha, Maharashtra (2nd title)
8. WTA 2019 selects Abu Dhabi as World's Leading Sports Tourism Destination.
Abu Dhabi, UAE has been selected as the World's Leading Sports Tourism Destination by the 26th Edition of the WTA 2019 held in Muscat, Oman. Abu Dhabi has been selected for the award for the 7th time in a row.

Abu Dhabi has also been selected as the West Asia's Leading Business Tourism Destination at the West Asia edition of WTA and Best City Break at the UK's (United Kingdom) Selling Travel Agents' Choice Awards.

It became the top destination of sports tourism after hosting the FIFA Club World Cup 2017 and 2018 the UAE Tour, the AFC Asian Cup 2019, the Special Olympics World Games 2019, the UFC 242 showdown and the Brazil vs South Korea international friendly match.
Foot Notes:
About World Travel Awards (WTA)
Country: United Kingdom (UK)
Location: Berkeley Square House, UK
First Awarded: 1993
9. SIPRI's Arms Industry Database report: global arms sales up by 4.6%; India ranked 10th and US topped.
SIPRI released a report on worldwide arms sales titled "The SIPRI Top 100 Arms Producing and Military Services Companies, 2018". As per the report, arms sales rose up by 4.6% in 2018. India ranked 10th in the overall country ranking while, United States (US) topped the list.

3 Indian defence companies (all state owned) were ranked in the top 100 list. They were
1. Hindustan Aeronautics Limited (HAL)- rank 38
2. Indian Ordnance Factories- rank 56 and
3. Bharat Electronics Limited (BEL)- rank 62
The arms manufacturing of the above mentioned 3 public sector Indian defence companies dropped by 6.9% from 2017. The main reason for the sales drop was due to Indian Ordnance Factory's significant 27% drop in arms sales.
10. Lt Governor Girish Chandra Murmu inaugurated 72-metre all weather bridge in Rajouri in J&K.
Lt Governor of Jammu and Kashmir (J&K) Shri Girish Chandra Murmu inaugurated all-weather 72-metre-long multi cell box type load class 70 bridge in Rajouri in the Union Territory (UT) of J&K.

The bridge which was built by the Border Roads Organisation (BRO) under project sampark, spans over Draj nallah and connected Draj Area to Tehsil Kotranka area of Rajouri district.

This bridge will facilitate all weather and speedy movement of Army troops as well as locals thus it will also lead to socio-economic development of Rajouri district.
Foot Notes:
About Border Roads Organisation
Founded: 7 May 1960
Founder: Jawaharlal Nehru.
Headquarters: New Delhi
Director General (DG): Lt. Gen.Harpal Singh.
Motto: Everything is achievable through hard work.

Read More :
Current Affairs 09 December, 2019
Current Affairs 07-08 December, 2019
Current Affairs 06 December, 2019