Current Affairs 06 December, 2019
Current Affairs 06 December, 2019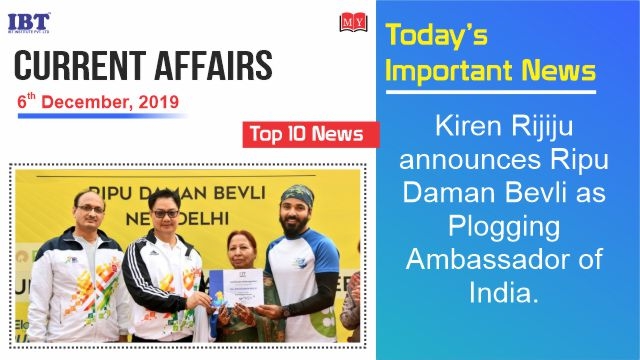 1. India Water Impact Summit-2019 to be held from 5th-7th December in New Delhi.
Union Minister for Water Resources, River Development and Ganga Rejuvenation Shri Nitin Gadkari will inaugurate India Water Impact Summit 2018, being jointly organized by the National Mission for Clean Ganga (NMCG) and the Centre for Ganga River Basin Management and Studies (cGanga) from 5-7 December 2018 in New Delhi.

The India Water Impact Summit is an annual event where stakeholders get together to discuss, debate and develop model solutions for some of the biggest water related problems in the country. The discussions this year will be on rejuvenation of the Ganga River Basin.
Foot Notes:
Union Minister for Water Resources, River Development and Ganga Rejuvenation: Shri Nitin Gadkari
2. MHA sanctions Rs 100 cr to set up women help desks in police stations.
A home ministry statement said the women help desks would focus on making police stations more women-friendly and approachable, as they would be the first and single point of contact for any woman walking into a police station.

The ministry has sanctioned a sum Rs 100 crore from the Nirbhaya fund for setting up and strengthening of the women help desks in police stations, the statement said.

The scheme would be implemented by the states and Union Territories, and lady police officers would be deployed at these help desks.

The officials of women help desks would be trained to be sensitive towards women. These help desks would have enlisted panel of experts like lawyers, psychologists and NGOs to facilitate legal aid, counselling, shelter, rehabilitation and training among others.
Foot Notes:
Home Minister: Amit Shah
Home Secretary: Ajay Kumar Bhalla
3. CSIR and BHEL join hands for commercialization of indigenous technologies.
Soon Bharat Heavy Electricals Limited (BHEL) would start commercialization of various indigenous technologies developed by Council of Scientific and Industrial Research (CSIR). CSIR and BHEL have signed a Memorandum of Understanding (MoU) to cooperate, collaborate and pursue industrial application oriented research programmes and its commercialization in large scale.

The first joint project to be taken up under this collaboration shall be for commercialization by BHEL of various water purification / sewage disposal related technologies developed by CSIR.
Foot Notes:
CSIR Headquarters: New Delhi
BHEL Headquarters: New Delhi
4. Kiren Rijiju announces Ripu Daman Bevli as Plogging Ambassador of India.
Fit India Plogging Run, which was launched on October 2, 2019, concluded today in Delhi's Jawahar Lal Nehru Stadium, having covered 50 cities across the country.

During the event, Minister of State(I/C) for Youth Affairs & Sports, Shri Kiren Rijiju felicitated Ripu Daman Bevli, popularly known as the Plogman of India and named him the Plogging Ambassador of India. The minister also launched the nation-wide Plogging Ambassador Mission under which, Indians who have been running and cleaning their cities, towns or districts, will be nominated as Plogging Ambassadors of their region.
5. RBI releases guidelines for on-tap licensing of Small Finance Banks in the private sector.
The Reserve Bank of India (RBI) today has released "Guidelines for 'on tap' Licensing of Small Finance Banks in the Private Sector". Major changes from the earlier Guidelines on Small Finance Banks dated 27 November 2014, are
(i) The licensing window will be open on-tap;
(ii) minimum paid-up voting equity capital / net worth requirement shall be Rs 200 crore;
(iii) for Primary (Urban) Co-operative Banks (UCBs), desirous of voluntarily transiting into Small Finance Banks (SFBs) initial requirement of net worth shall be at Rs 100 crore, which will have to be increased to Rs 200 crore within five years from the date of commencement of business. Incidentally, the net-worth of all SFBs currently in operation is in excess of Rs 200 crore;
(iv) SFBs will be given scheduled bank status immediately upon commencement of operations;
(v) SFBs will have general permission to open banking outlets from the date of commencement of operations;
(vi) Payments Banks can apply for conversion into SFB after five years of operations, if they are otherwise eligible as per these guidelines.
Foot Notes:
Governor of the RBI: Shaktikanta Das
RBI Headquarters: Mumbai

6. Uttarakhand: Swedish royal couple inaugurate Sarai Sewage Treatment Plant.
King Carl XVI Gustaf and Queen Silvia of Sweden inaugurated a 14 million litres per day (MLD) Sarai Sewage Treatment Plant (STP) here on Thursday. The Swedish royal couple jointly inaugurated the STP in the presence of Uttarakhand Chief Minister Trivendra Singh Rawat, state Tourism Minister Satpal Maharaj and Jal Shakti Minister Gajendra Singh Shekhawat.

The STP has been constructed at a cost of Rs 41.40 crore under the Centre's Namami Gange programme. The Swedish King and Queen arrived in the state earlier in the day for a visit to Ram Jhula Bridge in Rishikesh and Bathing Ghat in Haridwar.

The royal couple, who are on a five-day visit to India to strengthen bilateral ties, was received by the state Protocol Minister Dhan Singh Rawat at the Jolly Grant Airport in Dehradun.
Foot Notes:
Uttarakhand Governor: Baby Rani Maurya
Uttarakhand Chief Minister: Trivender Singh Rawat
7. BlackBuck partners with IDFC Bank, Yes Bank to offer free FASTags to truckers.
Online trucking platform BlackBuck on Thursday said it has partnered with private lenders IDFC Bank and Yes Bank to provide FASTags to truck owners free of cost.

Truck owners can order FASTags on BlackBuck's Boss App, a digital services platform exclusively for truck fleet owners, and it will be delivered at their doorstep free of cost until December 31, 2019, the company said in a statement.
8. NATO Summit 2019 held in Watford, United Kingdom.
The United Kingdom(UK) hosted two days organized 2019 NATO (North Atlantic Treaty Organization) Summit in London. The year 2019 marks the 70th anniversary of the summit. It was attended by NATO leaders and chaired by NATO Secretary-General Jens Stoltenberg.

The purpose of the summit was to make the heads of state and heads of government of NATO member countries to evaluate and provide strategic direction for Alliance activities.
Foot Notes:
NATO Headquarters: Brussels
NATO Secretary General: Jens Stoltenberg
9. Piyush Goyal inaugurates third edition of National Public Procurement Conclave
Commerce and Industry Minister Piyush Goyal inaugurated the third edition of National Public Procurement Conclave in New Delhi today.

The two-day conclave has been organized by Government e-Marketplace, GeM in association with Confederation of Indian Industry.

In his inaugural address, Mr Goyal said, GeM epitomizes the speed, skill and scale which is essential in an e-marketplace platform. He further said that GeM rests on the three pillars of openness, fairness and inclusiveness and is a symbol of a truly transparent e-marketplace.

The Minister hoped that during this conclave, a road map for the future of GeM will be put in place that will unify all government procurement, across all Ministries and Departments.
Foot Notes:
Commerce and Industry Minister: Piyush Goyal
10. India's forex reserves cross $450 billion for the first time.
The country's foreign exchange reserves crossed the $450-billion mark for the first time ever on the back of strong inflows which enabled the central bank to buy dollars from the market, thus checking any sharp appreciation of the rupee.

"India's foreign exchange reserves were at $451.7 billion on December 3, 2019 — an increase of $38.8 billion over end-March 2019," RBI Governor Shaktikanta Das said at the post monetary policy press conference. At $451.7 billion, the country's import cover is now over 11 months.

Read More :
Current Affairs 05 December, 2019
Current Affairs 04 December, 2019