Current Affairs 04 December, 2019
Current Affairs 04 December, 2019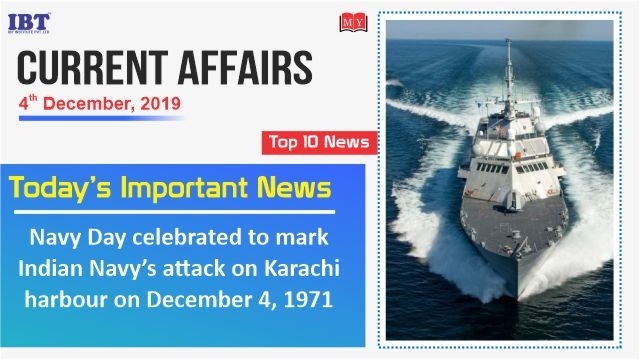 1. Navy Day celebrated to mark Indian Navy's attack on Karachi harbour on December 4, 1971
Indian Navy Day is celebrated on December 4 in commemoration of Operation Trident, the attack launched by the Indian Navy on Karachi harbour during 1971's Indo-Pakistan war.

It was for the first time that an anti-ship missile was used in the operation.

The operation was conducted on the night of December 4-5 and it inflicted heavy damage on Pakistani vessels. India did not suffer any loss during the operation.
Foot Notes:
Chief of the Naval Staff: Chief Admiral Karambir Singh.
2. Masatsugu Asakawa elected ADB President
The Asian Development Bank (ADB) board has unanimously elected Masatsugu Asakawa as its new President.

He is currently a special advisor to Japan's Prime Minister and Minister of Finance, will assume office as ADB's 10th President on January 17, 2020.He will succeed Takehiko Nakao, who will leave office on January 16, 2020.

He served as a Visiting Professor at the University of Tokyo from 2012 to 2015 and at Saitama University from 2006 to 2009.
Foot Notes:
About Asian Development Bank
Headquarters: Mandaluyong, Philippines
ADB established: 1966
Membership: 68 countries
3. Sundar Pichai promoted as Alphabet Inc. CEO
Sundar Pichai promoted as Alphabet Inc. CEO after Google co-founders Larry Page and Sergey Brin have announced that they are stepping down from the leadership role of the parent company Alphabet.

Google CEO Indian-American Sundar Pichai will be assuming the role of Alphabet Inc CEO, making him one of the most powerful corporate leaders of the world.

Alphabet and Google no longer need two CEOs and a President and Sundar Pichai will be the CEO of both Google and Alphabet.
Foot Notes:
About Google
Google established: 4 September 1998.
Headquarters: Mountain View, California, United States.
4. Veteran journalist Bhaskar Menon passes away
Bhaskar Menon, Veteran Journalist in the Press Trust of India (PTI) passes away.

He was the Regional Manager in the south division of the PTI.

He has also handled many crucial news like the assassination of former Prime Minister (PM) of India, Rajiv Gandhi in the year 1991.

5. Malta PM Joseph Muscat to resign amid journalist murder probe protests
Malta's Prime Minister Joseph Muscat, under fire over his handling of the murder of journalist Daphne Caruana Galizia, he would step down after his replacement is chosen in January.

Muscat declined to make a link with Caruana Galizia's 2017 murder, saying in a televised address that he was resigning "as this is what needs to be done.
6. Walmart launches credit card in partnership with HDFC Bank
Walmart India, in partnership with HDFC Bank, launched a co-branded credit card exclusively for members of its Best Price Modern Wholesale "B2B Cash & Carry" stores, offering "free credit up to 50 days.

The card is being supported by Diners Club International which has acceptance of its own membership card in 185 countries.
About Walmart
Headquarters : Gurgaon, Haryana.
President and CEO of Walmart India: Krish Iyer.
7. Global Climate Risk Index 2020: India fifth most affected country in 2018
India was the fifth most climate-affected country in 2018, according to the Global Climate Risk Index 2020 released on December 4, 2019.

India also recorded the highest number of fatalities due to climate change in 2018. The Global Climate Risk Index 2020 is published by International Environmental think tank Germanwatch.

The Climate Risk Index 2020 published its results after assessing 181 countries and quantifying the impacts of climate change through economic fatalities.
8. Cabinet clears Citizenship Amendment Bill, Govt gears up for crucial Parliament test
The Union Cabinet cleared the contentious Citizenship Amendment Bill for Parliament to take over. The Bill is now likely to be tabled in the Lok Sabha for clearance. The Parliament is likely to take up the Citizenship Amendment Bill next week.

The Citizenship Bill seeks to grant citizenship to all non-Muslim refugees from Pakistan, Bangladesh and Afghanistan if they faced religious persecution in these neighboring countries.

Union minister Rajnath Singh asked BJP MPs to be present in large numbers in the Parliament when Home Minister Amit Shah tables the Citizenship Bill in Parliament.
9. Odisha Govt launches "MadhuApp" for school children
Chief Minister of Odisha, Naveen Patnaik launched a smart learning phone application "MadhuApp" for school children. The app named after 'Utkal Gourab' Madhusudan Das, has been developed by the Ganjam district administration in accordance with the 5T initiative of the state government.

Launching the App, Chief Minister interacted with students from Ganjam District through video conferencing and advised them to focus on their studies to make the state and country proud.
Foot Notes:
About Odisha
Capital: Bhubaneswar
Governor: Ganeshi Lal
Chief minister: Naveen Patnaik
10. EC to implement Political Parties RTMS
The Election Commission of India will implement the political parties Registration Tracking Management System (RTMS).It will be implemented through an online portal to facilitate tracking of the status of the application by applicants.

The Commission said, the applicant who is applying for party registration from 1st January 2020 onwards will be able to track the progress of his or her application and will get status through SMS and email.

Chief Election Commissioner : Sunil Arora