Current Affairs 30 November and 01 December, 2019
Current Affairs 30 November and 01 December, 2019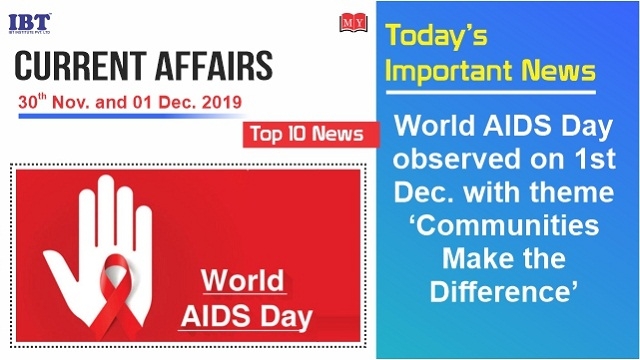 1. The seventh Mitra Shakti, Indo-Sri Lanka joint military exercise was held on December 1, 2019 at Aundh military station.
The seventh Indo-Sri Lanka joint military exercise was held on December 1, 2019 at Aundh military station. The main objective of the exercise is to build and promote positive relations between the countries.

The exercise is scheduled to be conducted at the Foreign Training Node in Pune between December 1 and December 14, 2019.

The Mitra Shakti exercise was started in 2013 and is conducted annually as a part of military diplomacy and interaction between the armies of India and Sri Lanka. It is important for India to maintain good relations with its neighbors in political, economic, social ways.
2. World AIDS Day observed on December 1 with its theme as 'Communities Make the Difference'
World AIDS Day, held each year on December 1, is an opportunity to celebrate and support global efforts to prevent new HIV infections, increase HIV awareness and knowledge, and support those living with HIV.

Since World AIDS Day was first observed more than 30 years ago, progress to prevent and treat HIV has been extraordinary.

HIV medicines are available to help people with HIV live long, healthy lives and prevent HIV transmission. In addition, effective HIV prevention methods, including pre-exposure prophylaxis (PrEP) and post-exposure prophylaxis (PEP), are available.
Foot Notes:
About AIDS
Acquired immunodeficiency syndrome
3. Former RBI deputy governor H R Khan appointed as the first chairman of the panel on the CRL in micro-credit
Former deputy governor of the Reserve Bank of India (RBI), H R Khan has been appointed as the first chairman of the steering committee of the Code for Responsible Lending (CRL) in micro-credit.

The CRL is a self-regulatory step for the micro-credit industry making diverse entities like banks, NBFC-MFIs and NBFCs adhere to standards of customer protection, a statement by Micro-finance Institutions Network (MFIN) said.

CRL was launched in September by MFIN and Sa-Dhan, an RBI-recognised association of MFIs, along with Finance Industry Development Council, an association of NBFCs.
Foot Notes:
About RBI
Governor: Shaktikanta Das
Headquarters: Mumbai
Founded: 1 April 1935, Kolkata
4. Nagaland celebrates its 57th statehood day on December 1, 2019
Nagaland is celebrating its 57th Statehood Day . It became the 16th State of the Union of India on 1st December 1963. The formal inauguration was done by the then President of India Dr. S. Radhakrishnan.

Celebrating the Day in Kohima, Chief Minister Neiphiu Rio addressed the people and said the state has come a long way in the midst of all the turmoil. He remembered the founding fathers for their sacrifices and resoluteness that brought the state into a reality.

The Chief Minister said the quest for a final solution to the Naga political issue continues till 1st December. He said negotiations between various Naga political groups and the Government of India have concluded and a solution could be very close.
Foot Notes:
About Nagaland
Capital: Kohima
Governor: RN Ravi
Chief minister: Neiphiu Rio

5. Soma Roy Burman takes charge as new Controller General of Accounts
Smt. Soma Roy Burman, a 1986-batch Indian Civil Accounts Service (ICAS) Officer, took charge as the new Controller General of Accounts. Smt. Burman is the 24th Controller General of Accounts (CGA) and is the seventh woman to hold this coveted position.

The Government of India appointed Smt. Burman, as the Controller General of Accounts (CGA), Ministry of Finance, Department of Expenditure with effect from December 1, 2019.

During her 33-year long career, she has held cadre positions at different levels in Ministries such as Home Affairs, Information & Broadcasting, Industry, Finance, Human Resource Development and Shipping, Road Transport & Highways. She has headed the Central Pension Accounting Office (CPAO) as the Chief Controller (Pension) and the Institute of Government Accounts and Finance (INGAF), New Delhi, as Director.
6. 13th South Asian Games begins in Kathmandu, Nepal
On December 1, 2019, the President of Nepal Bidya Devi Bhandari opened the South Asian Games in Kathmandu. The event is scheduled to be conducted for 10 days. Around 487 athletes are participating from India.

The South Asian Games is a biennial multi-sport event that is held among the South Asian countries. It is being conducted since 1983. Currently there are eight members in the event. It includes India, Pakistan, Sri Lanka, Nepal, Bhutan, Afghanistan, Bangladesh and Maldives.

The Council was formed in 1983 at Islamabad, Pakistan. The country hosting the South Asian games holds the president-ship of the council. The current President of the council is Nepal.
Foot Notes:
About Nepal
Capital: Kathmandu
Currency: Nepalese rupee
Prime minister: KP Sharma Oli
7. Irving Burgie: Songwriter of calypso hit Day-O dies aged 95
US composer Irving Burgie, who helped to popularise Caribbean music with hit songs like Day-O, has died aged 95.His death was confirmed by Barbados Prime Minister Mia Amor Mottley, who called for a moment of silence for the man who wrote its national anthem.

Mr Burgie is best known for helping singer Harry Belafonte bring calypso music to the mainstream.The 1950s song Day-O went on to be used in films, adverts and even as a wake-up call for astronauts in space.

The calypso hit, also known as The Banana Boat Song, featured in the popular film Beetlejuice and has been sampled by rapper Lil Wayne and singer Jason Derulo.
8. Govt extends deadline for FASTags to 15th December
The Transport Ministry has extended the 01st December deadline for 100% electronic toll collection across National Highways in the country by two weeks (15th December). This comes as the government wants to allow a 15 days' breather for vehicle owners to switch to FASTags.

FASTag is a sticker that has to be put at the front windshield of your vehicle. This sticker becomes the radio frequency identity of your car which is automatically read by the sensors placed at the toll plazas.

Nitin Jairam Gadkari is the current Minister for Road Transport & Highways and Shipping Ministry of Micro, Small and Medium Enterprises in the Government of India.The total expenditure on the Ministry of Road Transport and Highways for 2019-20 is estimated at Rs 83,016 crore.
9. Australia's Steve Smith becomes fastest cricketer to reach 7,000 Test runs
Steve Smith became the fastest cricketer to score 7,000 Test runs, shattering a record that had stood since 1946, while moving past Donald Bradman to become Australia's 11th highest scorer.

The 30-year-old took a single off Muhammad Musa during the second Test against Pakistan in Adelaide to reach the milestone and take possession of a record held for 73 years by English great Wally Hammond.

Hammond reached the mark in 131 innings, while Smith, who played his first Test nine years ago, made the grade in his 126th. India's Virender Sehwag is the third fastest in 134 innings.
10. RBI imposes Rs 1.50 crore penalty on Corporation Bank
The Reserve Bank of India (RBI) has imposed a monetary penalty of ₹1.50 crore on Corporation Bank for non-compliance with certain provisions of directions issued by RBI.

The penalty has been imposed in exercise of powers vested in the RBI under the provisions of Section 47 A (1) (c) read with Section 46 (4) (i) and 51 (1) of the Banking Regulation Act, 1949. This action is based on the deficiencies in regulatory compliance and is not intended to pronounce upon the validity of any transaction or agreement entered into by the bank with its customers.
About Corporation Bank.
Chief Executive Officer: PV Bharathi
Headquartered: Mangalore.

Read More :
Current Affairs 29 November, 2019
Current Affairs 28 November, 2019