Current Affairs 28 November, 2019
Current Affairs 28 November, 2019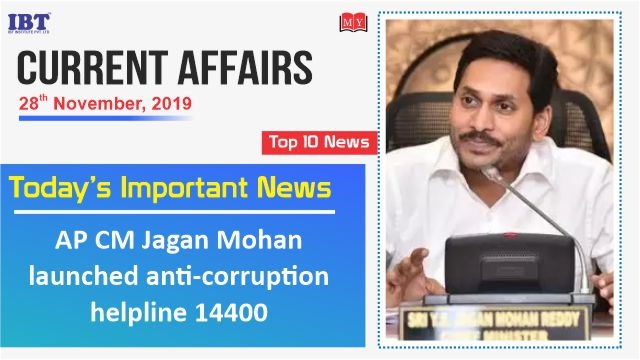 1. Madhya Pradesh's Devi Ahilya University gets A-plus grade from NAAC
The Indore-based Devi Ahilya University became Madhya Pradesh's first university to be accorded A-plus grade by the National Assessment and Accreditation Council (NAAC).

The Centre of higher learning now became entitled to several other facilities.

It may introduce courses recognised by the University Grants Commission without the latter's permission besides commencing open distance-learning courses.
Foot Notes:
About NAAC
Director of NAAC: S. C. Sharma.
Headquarters: Bengaluru
Founded: 1994.
2. AP CM Jagan Mohan launched anti-corruption helpline 14400
Chief Minister (CM) of Andhra Pradesh (AP) Shri Yeduguri Sandinti Jagan Mohan Reddy launched Citizens' help centre, to register complaints of bribery in government offices and make AP, a corruption free state. A toll free number 14400 to receive complaints related to corruption was launched by the CM. Investigation after registration of complaints will be completed within 15-30 days.

Posters in Telugu and English were also released to bring awareness among the public on the helpline. "Let's join hands to eradicate corruption and the like" is the main slogan on the poster.

Members present: Minister for municipal administration Botcha Satyanarayana and Director General of Police (DGP) Goutham Sawang were present during the event.
Foot Notes:
About Andhra Pradesh
Capital: Amaravati.
Governor: Biswabhusan Harichandan.
3. Australian writer & broadcaster Clive James passes away
He was born in 1939, he moved to England in 1961 and rose to prominence as a literary critic and TV columnist.

He went on to deliver wry commentary on international programming in such shows as Clive James On Television.
4. Uddhav Thackeray, first of his clan, takes oath as chief minister of Maharashtra
Uddhav Bal Thackeray was sworn-in as the 18th chief minister of Maharashtra, bringing an end to days and weeks of political instability and stunning turnarounds in the state's politics. Clad in a saffron kurta, Uddhav Thackeray took oath at Mumbai's iconic Shivaji Park, a playground that is as synonymous with the Shiv Sena as it is with Indian cricket.

The 59-year-old Uddhav Thackeray is the first of his family to be the chief minister of Maharashtra.

Uddhav Thackeray took oath, propped up by the support of two unlikely allies -- Sharad Pawar's Nationalist Congress Party and the Indian Nationalist Congress. Six leaders -- Sena's Eknath Shinde and Subash Desai, NCP's Jayant Patil and Chhagan Bhujbal and Conrgress's Balasaheb Thorat and Nitin Raut.
Foot Notes:
About Maharashtra
Chief minister: Uddhav Thackeray
Governor: Bhagat Singh Koshyari
Capital: Mumbai
5. Amur Swaminathan Lakshminarayanan appointed as the MD and CEO of TATA Communications
Board of Directors (BOD) from TATA Communication has appointed Amur Swaminathan Lakshminarayanan as the Managing Director (MD) and Chief Executive Officer (CEO) of TATA Communications for five years term.

He replaced Vinod Kumar who resigned from this post in July 2019.He was the former President and CEO of TATA Consultancy Services(TCS), Japan.

He was also a former student of Birla Institute of Technology and Science (BITS), Pilani and London Business School(LBS) and he has also worked in the US, Hong Kong, Australia, the UK, Japan and India.
Foot Notes:
About TATA Communications
Founded: 1986
Founder: Government of India (GOI)
Headquarters: Pune, Maharashtra
Tata Communications is formerly called as VSNL (Videsh Sanchar Nigam Limited).

6. Aditya Birla Finance is now 1st firm to list commercial papers on exchanges
Aditya Birla Finance Ltd (ABFL), the NBFC arm of Aditya Birla Capital, became the first company to list its commercial papers on the stock exchanges. The move comes after the exchanges -- the BSE and the NSE -- came out with a framework for listing of commercial papers (CPs), in a bid to broaden investors' participation in such securities.

Listing of CPs is expected to lead to efficient transmission of information regarding corporate borrowings and liquidity positions to market participants, the NSE said in a statement.

In separate statements, the exchanges said Aditya Birla Finance is the first company to list its commercial paper with value date of November 28 and maturity date on February 7, 2020.
7. Indian Women's Association donates two electric vehicles in Nepal
Indian Women's Association (IWA) has donated two electric vehicles to Pashupati Area Development Trust (PADT) in Nepal.

President of IWA, Namrita Puri handed over vehicles to Dr Pradip Dhakal, Member-Secretary of PADT in Kathmandu.These eco-friendly vehicles will be very helpful for the pilgrims visiting holy Pashupati temple especially for elderly and differently-abled people, women and children.

The vehicles will also create employment opportunity for women. Handing over of e-vehicles will be another milestone in strengthening age-old cultural and religious ties between India and Nepal and bringing people of the two countries closer.
Foot Notes:
About Nepal
Capital: Kathmandu
Currency: Nepalese rupee
Prime minister: KP Sharma Oli
8. Three UP regional rural banks amalgamated to form Baroda UP Bank: Finance Ministry
According to a notification issued by the finance ministry, Government of India, 3 Uttar Pradesh (UP) regional rural banks(RRB) – Baroda Uttar Pradesh Grameen Bank, Kashi Gomti Samyut Gramin Bank and Purvanchal Bank will be amalgamated into a single regional rural bank on April 1, 2020 which will be called as "Baroda UP Bank"

Bank of Baroda (BoB) will sponsor new Baroda UP Bank, which will have the headquarters Gorakhpur. Bank of Baroda is sponsor of Baroda Uttar Pradesh Grameen Bank, Union Bank of India is sponsor of Kashi Gomti Samyut Gramin Bank while State Bank of India is sponsor of Purvanchal Bank.

The move comes after the government had consultations with the National Bank for Agriculture and Rural Development (NABARD) and the sponsor banks of the concerned regional rural banks with the aim to increase the operational efficiency.
Foot Notes:
About UP
Chief minister: Yogi Adityanath
Governor: Anandiben Patel
Capital: Lucknow
9. 47th All India Police Science Congress begins in Lucknow
The 47th All India Police Science Congress (AIPSC) begins in Lucknow. The event will be inaugurated by Puducherry Lieutenant Governor and retired IPS officer Kiran Bedi.

Uttar Pradesh Police in association with the Home Ministry and the Bureau of Police Research and Development is organising the event at the police headquarters in Lucknow. The last time Lucknow was the host for AIPSC was in 1997.

During 6 sessions of the event, police officers, academicians, researchers, judicial and scientific experts will present their papers.
Foot Notes:
About UP
Chief Minister: Yogi Adityanath
Governor: Anandiben Patel
Capital: Lucknow
10. Abhishek-Jyothi duo wins compound mixed pair gold at Asian Archery Championship.
Abhishek Verma and Jyothi Surekha Vennam claimed the gold in compound mixed pair event at the 21st Asian Archery Championships, which ended in Bangkok, Thailand.

The Indians defeated Chinese Taipei opponents Yi-Hsuan Chen and Chieh-Luh Chen 158-151 in the final clash.

India picked up seven medals including one gold, two silver and four bronze meddles in the event.

Read More :
Current Affairs 27 November, 2019
Current Affairs 26 November, 2019