Current Affairs 26 November, 2019
Current Affairs 26 November, 2019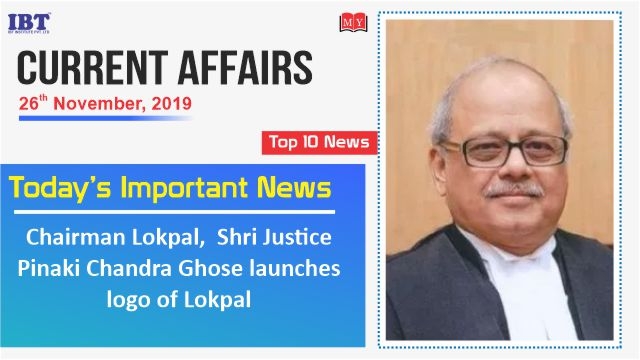 1. Maharashtra Governor Appoints BJP's Kolambkar As Assembly Pro-Tem Speaker
BJP's Kalidas Kolambkar has been sworn in as the pro-tem Speaker of Maharashtra assembly. The oath-taking ceremony was conducted at the Raj Bhawan in Mumbai on November 26, 2019.

Maharashtra Governor Bhagat Singh Koshyari administered the oath to Kalidas Kolambkar. Immediately after his oath-taking ceremony, Protem Speaker Kalidas Kolambkar announced that the first session of the new Maharashtra assembly will begin on November 27, 2019.

The pro-tem speaker will administer the oath to all the 288 MLAs of the state assembly from 8 am onwards on November 27.
Foot Notes:
About Maharashtra
Governor: Bhagat Singh Koshyari
Capital: Mumbai
2. 70th Constitution day celebrated on November 26, 2019.
Constitution Day or Samvidhan Divas is celebrated on 26 November across the country to mark the adoption of the Indian Constitution by the Constituent Assembly on this day in 1949.

It came into force on 26th January 1950, marking the beginning of a new era in the history of the Indian Republic. It is aimed at reiterating and reorienting the citizens towards the values and principles expressed in the Constitution and encouraging all Indians to play their rightful role in strengthening the Indian Democracy.

It also aims to create awareness of Fundamental Duties as enshrined in the Constitution. India's constitution is the longest written constitution in the world. It took around 2 years, 11 months and 17 days to complete the Constitution.
3. 26th November observed as National Milk Day 2019
The National Dairy Development Board (NDDB), the Indian Dairy Association (IDA) and 22 state-level milk federations in 2014 together decided to celebrate the birthday of Dr. Verghese Kurien who was known as the father of India's White Revolution on 26 November. Therefore, the first National Milk Day was observed on 26 November, 2014.

In 1970, India's National Dairy Development Board (NDDB) started a rural development programme known as Operation Flood. It is one of the largest programmes and its aim was to develop a nationwide milk grid.

It helped in reducing the malpractices by milk traders and merchants and resulted in making India one of the largest producers of milk and milk products. Therefore, it is also known as the White Revolution.
Foot Notes:
World Milk Day: 1 June
4. IndiaFirst life insurance join hands with Spice Money for 'Insurance Khata' product.
IndiaFirst Life Insurance, a leading life insurance company in India has partnered with Spice Money, a tech-led financial services provider, for distribution and marketing of 'insurance khata', a micro-insurance plan aims at the informal sector & agricultural labourers with seasonal incomes.

Under this partnership, Spice Money will work for IndiaFirst Life & market of 'insurance khata' products to its customers base of over three lakh in semi-urban and rural India.

The new insurance product will allow a customer to create and increase protection cover while also having certain amount of return of premium. It enables consumers to actually putting the money when they have it rather than committing to premium payments when they don't have committed flow of income
Foot Notes:
About IndiaFirst Life Insurance
Founded: 2009
Headquarters: Mumbai, Maharashtra
MD & CEO: Ms.R.M.Vishakha
About Spice Money
Headquarters: Noida, Uttar Pradesh.
Chairman: Dilip Modi
5. SBI card ties-up with Vistara for co-branded credit card
State Bank of India card , a payment solutions provider in India has partnered with Vistara, an Indian full-service airline, to provide premium, co-branded credit card to its customers with the benefits like free cancellations, lounge access, and extra frequent flyer points.

The co-branded credit card available in 2 varients- Club Vistara SBI Card PRIME and Club Vistara SBI Card.
Foot Notes:
About SBI card
Founded: 1998
Headquarters: Gurgaon, Haryana
CEO: Hardayal Prasad
About Vistara
Founded: 2013
Slogan: Fly the new feeling
Headquarters: Gurgaon , Haryana
CEO: Leslie Thng

6. India, China to carry out major military exercise 'Hand in Hand'
Continuing to expand military to military engagements, India and China will be carrying out a major military exercise called 'Hand-in-Hand' in Meghalaya this year.

The exercise was previously held in December last year at Chengdu, China. Company size contingents of the Indian Army's 11 SIKHLI and a regiment from Tibetan Military District of the People's Liberation Army participated in the exercise.
Foot Notes:
About Indian Army
Chief of Indian Army: General Bipin Rawat
About China
President: Xi Jinping
Capital: Beijing
Currency: Renminbi
7. Chairman Lokpal, Shri Justice Pinaki Chandra Ghose launches logo of Lokpal
Anti-corruption ombudsman Lokpal released its logo and motto. While the logo symbolises 'caretaker of people' and depicts its various essence figuratively in shapes — such as judges bench for ombudsman, three human figures for people, Ashok Chakra for vigilance, orange book for law and two tricolor hands forming a unique balance, the motto in Sanskrit "Ma Gridhah Kasyasvidhanam", when translated into English, reads "Do not be greedy for anyone's wealth".

The Lokpal logo, launched by its chairman Justice Pinaki Chandra Ghose in the presence of other members of the watchdog, is tricolor, representing its national essence.

After a three-stage selection process, the logo design of Prashant Mishra from Prayagraj, Uttar Pradesh was selected for adoption as logo of Lokpal.
8. Renowned cartoonist Sudhir Dhar dies at 87 following cardiac arrest.
Renowned cartoonist Sudhir Dhar, whose works graced several newspapers in a career spanning 58 years, died after suffering a cardiac arrest, his family said. Renowned cartoonist Sudhir Dhar, whose works graced several newspapers in a career spanning 58 years, died on Tuesday morning after suffering a cardiac arrest, his family said.

His cartoons have also appeared in The Independent, The Pioneer, Delhi Times, New York Times, Washington Post and Saturday Review, among others. PTI
9. Maharashtra: Uddhav Thackeray to take oath as CM on November 28
Shiv Sena President Uddhav B. Thackeray was unanimously elected as chief of the 'Maha Vikas Aghadi' on Tuesday evening, paving the way for his becoming the new Chief Minister of Maharashtra.

Thackeray's name was proposed by Nationalist Congress Party state President Jayant Patil and Congress state President Balasaheb Thorat at a meeting of all the parties in the 'Maha Vikas Aghadi' here.

Present on the occasion were NCP President Sharad Pawar, Samajwadi Party state President Abu Asim Azmi, Swabhimani Shetkari Sanghatana President Raju Shetti, and other top leaders of the Sena, the NCP and the Congress.
Foot Notes:
About Maharashtra
Governor: Bhagat Singh Koshyari
Capital: Mumbai
10. Sangram Dahiya, Varsha Varman win double trap national titles.
Sangram Dahiya and Varsha Varman clinched double trap titles, winning gold at the 63rd National Shotgun Shooting Championship in New Delhi.

In men's category, Sangram shot 142 out of 150 targets to leave behind former world champion Ankur Mittal, who managed 137 hits over the five rounds of 30 targets each to win a silver.

Varsha, in the women's category of 120 targets each, had 97 to her name to clinch the gold ahead of state-mate Manisha Keer, who had 93 hits winning Silver.

Read More :
Current Affairs 25 November, 2019
Current Affairs 23-24 November, 2019