Current Affairs 23-24 November, 2019
Current Affairs 23-24 November, 2019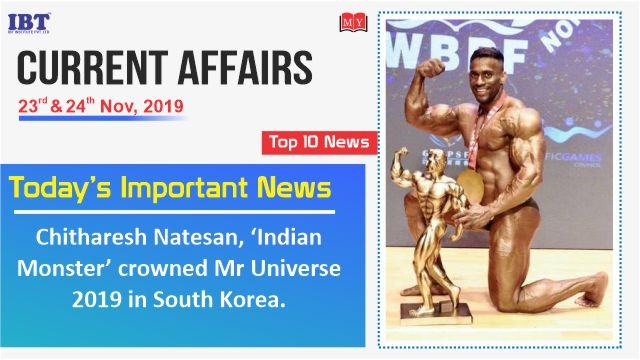 1. Madhya Pradesh govt to give 5% reservation to sportspersons in Govt. jobs
Sportspersons in Madhya Pradesh will now get a 5 per cent reservation in state government jobs. Madhya Pradesh Sports and Youth Welfare Minister Jitu Patwari announced while inaugurating the Regional Olympic Games in Gwalior.

Jitu Patwari said that sportspersons who have won medals on national and international levels often remain without jobs and providing the 5 per cent reservation will benefit these players.

The minister said public participation would be ensured in the expansion of sports facilities, adding that the Kamal Nath government was creating a better environment for the sports in the state.
Foot Notes:
About Madhya Pradesh
Chief minister: Kamal Nath
Governor: Lalji Tandon
Capital: Bhopal
2. Literacy rate 73.5% in rural and 87.7% in urban areas as per National Sample Survey
The literacy rate among those in the age group of seven years and above was recorded at 77.7 per cent during July 2017-June 2018 in the country, showed a National Statistical Office (NSO) survey.

This rate was 73.5 per cent in rural and 87.7 pe cent in urban areas, showed the NSO survey on Household Social Consumption: Education as part of 75th round of National Sample Survey (NSS).

The study further showed that among persons in the age group of 15 years and above, 30.6 per cent had completed secondary or above level of education in villages, 57.5 per cent in urban areas.
Foot Notes:
About National Sample Survey
Headquarters: New Delhi
3. Veteran actor Shaukat Kaifi passes away at 93
She is remembered for her roles in MS Sathyu's Garm Hawa, Sagar Sathadi's Bazaar and Muzaffar Ali's Umrao Jaan.

Her last film was the Vivek Oberoi-Rani Mukerji starrer Saathiya. Kaifi's husband was the celebrated Urdu poet and film lyricist, Kaifi Azmi. Kaifi and Shaukat were leaders of the Indian People's Theatre Association (IPTA) and the Progressive Writers Association (IWA).
4. Oxford Dictionary names 'Climate Emergency' its 2019 Word of the Year
Oxford Dictionaries has named "climate emergency" as its 2019 Word of the Year, choosing it from an all-environmental shortlist that also included "climate action," "climate denial," "eco-anxiety," "extinction" and "flight shame.

The word is selected because it shows the increase in usage since 2018. Climate emergency defines as "a situation in which urgent action is required to reduce or halt climate change and also to avoid the possible irreversible environmental loss resulting from it.
Foot Notes:
About Oxford University Press
Headquarters: Oxford, United Kingdom
CEO: Nigel Portwood
5. Chitharesh Natesan, Indian Monster crowned Mr Universe 2019 in South Korea.
Chitharesh Natesan who is a 33yr old former hockey player turned bodybuilder. He is known as the 'Indian Monster' by bodybuilding circles. He became the first Indian to win Mr. Universe (Pro) 2019 in the 90kg category at the 11th World Bodybuilding and Physique Sports Championship(WBPF) in South Korea. India secured the second position in the team championship category at the same event.

The title of IBFF Mr. World (Overall Champion category 2018) and a recipient of Professional Body Building Card by IBFF.

He awarded Mr. Asia, 2017 (Overall Category) four times Mr. India Champion for the years 2015-2018. I also won the title of Mr. Delhi four times for the years 2015-2018.
Foot Notes:
About South Korea
President: Moon Jae-in
Capital: Seoul
Currency: South Korean won

6. Jal Shakti Minister releases short documentary film named 'SHIKHAR SE PUKAR'
Union Minister for Jal Shakti Gajendra Singh Shekhawat released a short documentary film on Water Conservation named 'SHIKHAR SE PUKAR' in New Delhi.

The film has been made to promote 'Jalshakti Abhiyan' and is based on the Journey of an IAS Officer Ravindra Kumar, who climbed Everest this year to attract the attention of people from top of the Everest on the serious issue of Water Conservation and stopping Water Pollution.

Film also gives a glimpse on the significance of Himalaya as the main source of water needs of India by means of the river. It also picturizes the difficulties and challenges in climbing the highest peak of the world.
Foot Notes:
Jal Shakti Minister: Gajendra Singh Shekhawat
7. MP's first non-Congress CM Kailash Chandra Joshi dies at 90
Kailash Chandra Joshi, the first non-Congress chief minister of Madhya Pradesh, died at a private hospital in Bhopal after prolonged illness. He was 90. The state government has announced a three-day state mourning.

Joshi will be cremated at his native place in Hatpipliya in Dewas district. In the elections held immediately after the Emergency was lifted, the Janata Party defeated the Congress and Joshi became CM for less than seven months between June 1977 and January 1978 — he resigned on health grounds. Before being elected as the CM, he was the Leader of Opposition in the state Assembly for five years.
8. PM Modi launches Fit India School grading system
Prime Minister Narendra Modi launched the Fit India School grading system in schools across the country.

The Fit India School rankings have been divided into three categories -- The Fit India Schools, which is the first level of ranking, Fit India School (3 star) and Fit India School (5 star).The level of ranking will depend on how much importance the school gives to inculcating fitness among its students and teachers, besides facilities available for fitness activities.

Explaining the ranking system, the Prime Minister said, "Schools can declare themselves as fit by visiting the Fit India portal. Fit India three star and Fit India five star ratings will also be given.
9. Lachit Divas celebrated in Assam on November 24 in memory General Lachit Borphukan
On the occasion of Lachit Divas, celebrations took place in various parts of the state of Assam in the memory of the famed general Lachit Borphukan of Ahom kingdom in the seventeenth century. Various events and competitions were held in the memory of the legendary warrior in Assam.

Lachit Borphukan is a cultural idol in the state of Assam after he defeated a large Mughal Army on the banks of Brahmaputra in the Battle of Saraighat in 1671 to defend Guwahati.

BK Borah, Director of Cultural Affairs, said: "He was the commander of the western Assamese forces. Despite being severely ill, Borphukan managed to fight the naval battle and defeat the Mughal army and became a cultural hero for the citizens of Assam." (ANI)
Foot Notes:
About Assam
Chief minister: Sarbananda Sonowal
Capital: Dispur
10. NK Singh, 15th FC Chairman calls for further simplification of the GST structure
The 15th Finance Commission Chairman N K Singh for significant changes in the GST structure, including reducing the complicated procedures with frequent rate changes, to improve collection. He pitched for rationalization of Centrally- sponsored schemes.

The commission has visited nearly all the states in the run-up to the preparation of its report and that many of them have complained that GST has circumscribed the fiscal autonomy.

A further simplification of the Goods and Services Tax structure could help increase revenue and foster better tax compliance, according to N K Singh, chairman of the 15th Finance Commission, who also called for a better co-ordination between the finance commission and GST Council to better monitor, scrutinise and optimise revenue.

Read More :
Current Affairs 22 November, 2019
Current Affairs 21 November, 2019