Current Affairs 21 November, 2019
Current Affairs 21 November, 2019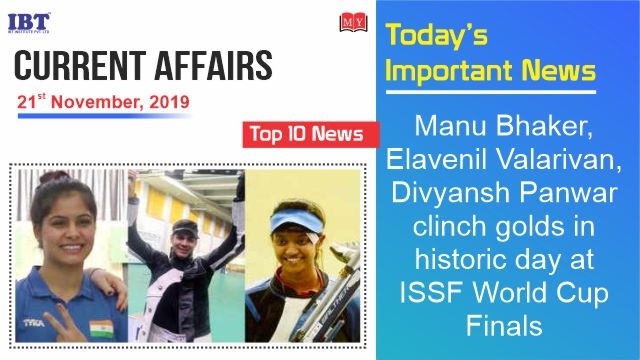 1. PM Modi unveils statue of Mahatma Gandhi at the CAG office premises in New Delhi
Prime Minister Narendra Modi unveiled a statue of Mahatma Gandhi at the Comptroller and Auditor General of India (CAG) office premises on November 21. He also addressed the conclave of Accountants General in Delhi.

The Prime Minister said, the government wants to move to evidence-backed policy-making by 2022 and the CAG can play a role by becoming a think tank and focusing on big data analysis.

Mr. Modi also asked the CAG to play a role in making India a five trillion dollar economy.
Foot Notes:
About CAG
Comptroller and Auditor General of India: Rajiv Mehrishi
2. Lieutenant Shivangi, the First Woman Pilot Of Indian Navy To Join Operations On 2 December
First woman pilot of Indian Navy will join Naval operations in Kochi on December 2, two days ahead of Navy Day on December 4.

"Shivangi will graduate to become the First female Pilot of Indian Navy. She hails from Muzzafarpur, Bihar and completed her schooling from DAV Public school, Muzzafarpur, .

She was inducted into Indian Navy as SSC (Pilot) as part of 27 NOC course in Indian Naval Academy, Ezhimala and got formally commissioned by Vice Admiral AK Chawla, in June last year.
Foot Notes:
About Indian Navy
Chief of the Naval Staff : Admiral Karambir Singh.
Navy Day: 4 December
3. 2019 Global Terrorism Index: India 7th in the list of countries most affected by terrorism
The 2019 Global Terrorism Index was released by the Sydney-based Institute for Economics and Peace (IEP).

The Index ranks 163 countries according to the impact of terrorism, based on factors such as the number of attacks, fatalities, injuries and the extent of property damage.

The country most affected by terrorism in 2018 was Afghanistan (7,379 killed).
Foot Notes:
About Global Terrorism Index
Published by: Institute for Economics and Peace
4. World Television Day celebrated on November 21
Television is a mass medium that provides entertainment, education, news, politics, gossip, etc. It is a medium for transmitting moving images in two or three dimensions and sound. No doubt, it is a healthy source of education and entertainment both. It plays a crucial role in society by delivering information.

On 21 November and 22 November, 1996, the U.N. held the first World Television Forum. It provides a platform and allow media to discuss the importance of TV in delivering information and also how it is participating in the changing world. It is the single largest source of video consumption.

Therefore, UN General Assembly on 17 December 1996, through resolution 51/205 established 21 November as World Television Day to commemorate the date on which World Television Forum was held.
Foot Notes:
About UN General Assembly
President: Tijjani Muhammad-Bande
Headquarters: New York, United States
Founder: United Nations
Founded: 1945
5. Manu Bhaker, Elavenil Valarivan, Divyansh Panwar clinch golds in historic day at ISSF World Cup Finals
India's young shooters touched another sensational high with Manu Bhaker, Elavenil Valarivan and Divyansh Panwar clinching gold medals in their respective events to give the country its best ever single-day show in the ISSF World Cup Finals at Putian in China.

The 17-year-old Bhaker fired her way to the gold with a junior world record in the women's 10m air pistol event, while the 20-year-old Elavenil claimed the top honours in the women's 10m air rifle competition.

Later, another teen sensation Divyansh, who is all of 17, finished on top in the men's 10 air rifle competition with a final score of 250.1. India are currently top of the table with three gold medals, followed by China (two gold, one silver, one bronze).
Foot Notes:
About ISSF
Headquarters: Munich, Germany
President: Vladimir Lisin
Founded: 1907

6. World Philosophy Day celebrated on November 21
The World Philosophy Day is observed globally on the third Thursday of November every year.

This year it was observed on 21st November. On this day, UNESCO highlighted the value of philosophy for the development of human thought, for each culture and individual.

The 2019 edition aims to highlight the importance of philosophy in different regional contexts.

The goal is to obtain regional contributions to global debates on contemporary challenges that support social transformations. World Philosophy Day was introduced in 2002 by UNESCO
Foot Notes:
About UNESCO
The United Nations Educational, Scientific and Cultural Organization
Headquarters: Paris, France
Head: Audrey Azoulay
Founded: 16 November 1945, London, United Kingdom
Formation: 4 November 1945
7. Cabinet approves code to allow fixed-term employment
The Union cabinet approved the Labour Code on Industrial Relations 2019, allowing companies to hire workers on fixed-term contract of any duration. The code has retained the threshold on the worker count at 100 for prior government approval before retrenchment, but it has a provision for changing 'such number of employees' through notification.

Fixed-term employment means a worker can be hired for any duration, three months or six months or a year depending on season and orders.

The bill is expected to be tabled in the ongoing winter session of the Parliament. "While this means workers can be hired seasonally for six months or a year it also means that all workers will be treated at par with regular workers for benefits," finance minister Nirmala Sitharaman .
8. The National Investigation Agency will host the first "Counter Terrorism Exercise" for QUAD countries
The National Investigation Agency will host the first "Counter Terrorism Exercise" between November 21, 2019 and November 22, 2019. The CT-TTX, Counter Terrorism Table Top Exercise will exercise the Quad countries namely India, Japan, US and Australia.

The exercise will validate and assess the counter terrorism mechanisms and will provide opportunities to explore areas of enhanced cooperation and will also share their best practices against emerging terrorism threats. It will also enhance the cooperation between the countries in terms of counter terrorism.

The dialogue between the four countries was initiated in 2007 by the Japanese President Shinzo Abe. The first ministerial level negotiations of the grouping were held in September 2019, on the sidelines of the United Nations General Assembly meeting.
Foot Notes:
About National Investigation Agency
Headquarters: New Delhi
Elected officer responsible: Amit Shah, Minister of Home Affairs
Chief: Yogesh Chander Modi
9. Microsoft launches 'K-12 Education Transformation Framework' to facilitate digital transformation of schools in India
Microsoft has launched its "K-12 Education Transformation Framework" to facilitate comprehensive digital transformation of schools in India, a model which has been adopted in over 50 countries so far, the company said on Thursday.

According to officials at Microsoft's Education wing, the framework comprises four pillars -- leadership and policy, modern teaching and learning, intelligent environments and technology blueprint.

To help school principals initiate their journey of digital transformation, the programme will offer a series of workshops based on each of these pillars. Education leaders in more than 50 countries have already adopted the framework to help plan their learning strategies, they said.
Foot Notes:
About Microsoft
CEO: Satya Nadella
Founded: 4 April 1975, Albuquerque, New Mexico, United States
Headquarters: Redmond, Washington, United States
Founders: Bill Gates, Paul Allen
10. Assam govt. to gift 10 grams of gold to every bride under its 'Arundhati Gold Scheme' from January 1, 2020
The Assam government would give 'one tola' (10 gramme) of gold to every bride of the state from 2020 onward. BJP government in the state will roll out the 'Arundhati Gold Scheme' in the state from January 1, 2020.

Assam Finance minister Dr Himanta Biswa Sarma said the move was aimed to strengthen women empowerment and reduce child marriage.

"Assam government has decided in our budget that we will give one tola [10gm] of gold to the bride if a marriage is solemnised and registered. Because, if you register a marriage then there will be a minimum age which is notified as 18 years and 21 years for the bride and bridegroom.
Foot Notes:
About Assam
Chief Minister: Sarbananda Sonowal
Capital: Dispur

Read More :
Current Affairs 20 November, 2019
Current Affairs 19 November, 2019