Current Affairs 19 November, 2019
Current Affairs 19 November, 2019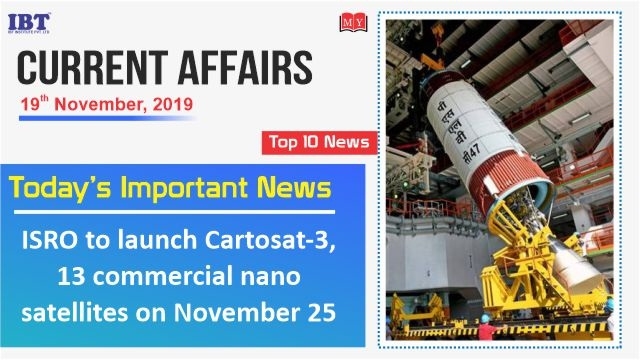 1. India ranks 59 on IMD World Talent Ranking Report; Switzerland first
India has slipped 6 places to 59 rank on a global annual list of 63 countries, due to low quality of life and expenditure on education, according to the latest edition of IMD World Talent Ranking, which was topped by Switzerland.

The ranking, which is based on the performance in three main categories -- investment and development, appeal and readiness, noted that India is also lagging behind fellow BRICs countries - China ranked 42nd on the list, Russia (47th) and South Africa (50th).

India also witnessed one of the sharpest declines among Asian economies owing to low quality of life, negative impact of brain drain, and the low priority of its economy on attracting and retaining talents.
2. ISRO to launch Cartosat-3, 13 commercial nano satellites on November 25
Indian Space Research Organisation (ISRO) would launch its earth imaging and mapping satellite Cartosat-3 along with 13 commercial nano satellites from the US, on November 25, the space agency said.

The satellites would be launched by India's Polar Satellite Launch Vehicle, PSLV-C47 into Sun Synchronous Orbit from Satish Dhawan Space Centre (SDSC) SHAR at Sriharikota in Andhra Pradesh. The launch is tentatively scheduled at 09:28 hrs IST on November 25, 2019 subject to weather conditions, ISRO said.

The Cartosat-3 is a "third generation agile advanced satellite" having high resolution imaging capability, it said, adding that the satellite would be placed in an orbit of 509 km at an inclination of 97.5 degree. ISRO has said, this would be the 74th launch vehicle mission from SDSC SHAR, Sriharikota.
Foot Notes:
About ISRO
Headquarters: Bengaluru
Founder: Vikram Sarabhai
Founded: 15 August 1969
Director: K. Sivan
3. Golden Chariot Train to Restart Service from March Next Year
The luxurious Golden Chariot train will start running from March next year, Indian Railways. The announcement was made after the Karnataka State Tourism Development Corp (KSTDC) signed a memorandum of understanding with the Indian Railway Catering and Tourism Corporation (IRCTC) to market and operate the Golden Chariot train.

The Golden Chariot is South India's only luxury train. Its services were, however, suspended by the Karnataka government temporarily on account of huge losses.

The Golden Chariot, which started running in 2008, began as a joint initiative of the Karnataka government and the Indian Railways. It is an 18-coach-long train with 44 guest rooms. At least, 84 passengers can enjoy the train ride at one time.
4. Robot "CYBIRA" launched to aid cops in Visakhapatnam to take complaints
In a bid to improve the efficiency to address the complaints, Visakhapatnam Police have launched first of its kind cybersecurity interactive robotic agent robot, CYBIRA stationed at Maharanipeta Police Station, which can automatically take complaints in an effective manner. The new facility was launched by the Commissioner of Police (CP) R K Meena.

A start-up company Robo Coupler Private Limited has designed a robot 'CYBIRA' (cybersecurity interactive robotic agent) for registering and disposing of complaints at the police station in an effective manner.

The CP, Meena was accompanied by the Deputy Commissioner of Police (DCP) (Zone I) S Ranga Reddy, CEO of the start-up company Praveen Malla, among others at the police station.

5. World Toilet Day observed on November 19, 2019 with its theme as 'Leaving No One Behind'
World Toilet Day is celebrated on 19th November every year, is about inspiring action to tackle the global sanitation crisis and help achieve Sustainable Development Goal (SDG) 6, which promises sanitation for all by 2030.

Established by the World Toilet Organization in 2001, World Toilet Day was made an official UN day in 2013. UN-Water leads a taskforce of international agencies to campaign around a common theme.
Foot Notes:
About World Toilet Organization
Headquarters: Singapore
FOUNDER AND DIRECTOR: Jack Sim
Founded: 19 November 2001
6. Jallianwala Bagh National Memorial (Amendment) Bill, 2019 passed by the Parliament
Jallianwala Bagh National Memorial (Amendment) Bill, 2019 has been passed by the Parliament after it was passed in Rajya Sabha today. The Bill was earlier passed in Lok Sabha on 2nd August 2019. It seeks to make apolitical the trust that runs Jallianwala Bagh National Memorial by removing the clause pertaining to the President of INC as a permanent member of the trust.

The Bill also amends to include the Leader of Opposition recognised as such in the House of the People (Lok Sabha) or where there is no such Leader of Opposition, then the Leader of the single largest Opposition Party in that House as a member of the trust.

The Bill also amends that a nominated trustee may be terminated before the expiry of the period of five years by the Central Government.

Jalliawalan Bagh massacre has completed its 100th anniversary and after 100 years, it is necessary to build Jallianwala Bagh National Memorial as National Memorial in true sense. These amendments will make this Memorial a National Monument in true spirit.
Foot Notes:
Minister of State for Culture and Tourism: Shri Prahlad Singh Patel
7. British naturalist David Attenborough to get 2019 Indira Gandhi Peace Prize
The Indira Gandhi Prize for Peace, Disarmament and Development for 2019 will be conferred on renowned naturalist and broadcaster Sir David Attenborough.

His name was selected for the prize by an international jury chaired by former president Pranab Mukherjee, the Indira Gandhi Memorial Trust.

The 2019 prize, it added, is awarded to Attenborough for a lifetime of doing more to reveal the wonders of the natural world to us than perhaps any other individual.
8. Google removes '2020 Sikh Referendum' app from Play Store
Acceding to Punjab Chief Minister Capt Amarinder Singh's demand, IT giant Google has removed the secessionist, "anti-India" mobile application '2020 Sikh Referendum' from its Play Store with immediate effect.

The app had asked the general public to register themselves to vote in the 'Punjab Referendum 2020 Khalistan'. A website with the address of www.yes2khalistan.org was also launched on the same lines for the same purpose.

During analysis of the said application and the website in the DITAC Lab, Punjab, it was found that the data of voters registered through the app was also linked and stored in the web server of the website, namely www.yes2Khalistan.org, created and handled by 'Sikhs For Justice' (SFJ), an Association banned by the Indian Government.
9. National Investigation Agency to host first counter-terrorism cooperation exercise for 'Quad' countries
National Investigation Agency is hosting the first counter-terrorism exercise for the "Quad" countries -- India, the US, Japan and Australia -- at the NIA headquarters in Delhi on November 21 and 22.

The 'CT-TTX' (counter-terrorism table-top exercise) is first such engagement among the Quad countries on regional and global issues of common interest and also in the domain of counter-terrorism and cooperation.

The exercise is aimed to enable the participating countries to understand much better the response systems to terror incidents that exist in other member countries. This will help in recognition of the best practices prevalent in respective countries. The table-top exercise also aims to further improve the interagency cooperation between different CT and other agencies of Quad countries.
Foot Notes:
About National Investigation Agency
General nature: Federal law enforcement
Headquarters: New Delhi
Elected officer responsible: Amit Shah, Minister of Home Affairs
Founder: Radha Vinod Raju
Chief: Yogesh Chander Modi
10. Infosys tops Rs 10,000-crore exports, becomes IT Ratna of Karnataka
Software giant Infosys has been recognised as the IT Ratna of Karnataka at the Benglauru Tech Summit 2019 for IT exports by the Software Technology Parks of India (STPI).

Featuring in the category of IT exports greater than or equal to Rs 10,000 crore, Infosys was awarded for fiscal 2018-19 in STPI's Karnataka chapter.

As many as 15 global companies were recognised as IT Prides of Karnataka, for exports greater than or equal to Rs 2,000 crore and less than Rs 10,000 crore.IT Pride awardees included Oracle, Goldman Sachs, SAP Labs, and Intel, among others.
Foot Notes:
About Infosys
CEO: Salil Parekh
Headquarters: Bengaluru

Read More :
Current Affairs 18 November, 2019
Current Affairs 16-17 November, 2019