Current Affairs 22 November, 2019
Current Affairs 22 November, 2019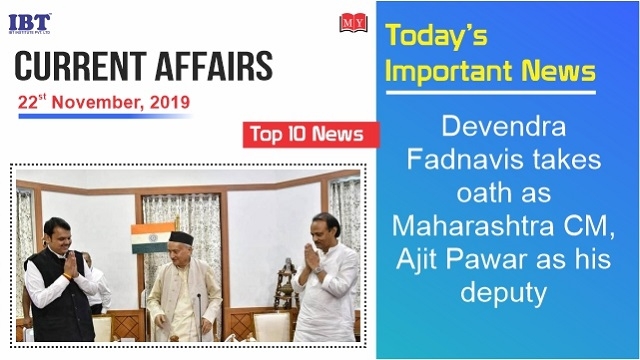 1. India's first fixed income Exchange Traded Fund (ETF) of bluechip PSUs may be launched next month
The government is expected to launch India's first fixed income Exchange Traded Fund (ETF) comprising debt securities of about a dozen state-owned companies by mid-December 2019. The ETF is expected to have a size of Rs 15,000 crore to Rs 20,000 crore.

Government sources said road shows are currently on for the Fund, which could be launched as early as December, and that there is significant interest in the market. The fund will comprise only AAA-rated papers of the PSU companies.

The debt ETF provides a new option to conservative investors to own securities of government-owned companies along with the facility of overnight liquidity as ETF units will be listed on exchanges.
2. J-K achieves highest road length in country under PMGSY, 11,400 km construction completed
The Union Territory (UT) of Jammu and Kashmir has achieved the highest road length in the country under the Pradhan Mantri Grameen Sadak Yojana (PMGSY) in this year. The region has witnessed construction of 11,400 kilometres covering 1,838 habitations so far.

The PMGSY is an initiative launched by the central government to provide good all-weather road connectivity to unconnected villages in the country.

Jammu and Kashmir, along with Ladakh, came into existence as UTs on October 31 after the Centre revoked Article 370 and passed a bill bifurcating the erstwhile state into two separate UTs.
Foot Notes:
About Jammu and Kashmir
Governor: G.C Murmu
3. Assam government releases the new Land Policy 2019 after 30 years
Assam Chief Minister Sarbananda Sonowal released the new Land Policy 2019 in Guwahati. The Land Policy was approved by Cabinet on 21st October and it has been prepared by the Revenue and Disaster Management Department after 30 years. It was last prepared in 1989.

Chief Minister said that the state government has given a lot of emphasis in preparing the Policy to safeguard the interest of the indigenous people.

He said, the Policy would remove complications regarding land allotments and settlements.
Foot Notes:
About Assam
Capital: Dispur
Chief minister: Sarbananda Sonowal
4. Tamil Nadu (State category) and Peddapalli (District category) topped in Swachh Survekshan Grameen Awards 2019
The Union Minister of the Ministry of Chemical and Fertilizers, conferred the Swachh Survekshan Grameen 2019 awards to top-ranked states, union territories, and districts in the various categories on the occasion of World Toilet Day at Pravasi Bhartiya Kendra, New Delhi.

The top-ranked state: Tamil Nadu, and the top-ranked district: Peddapalli (Telangana), along with the state with the maximum citizen participation: Uttar Pradesh.
Foot Notes:
Union Minister of the Ministry of Chemical and Fertilizers: D.V. Sadananda Gowdaand.
World Toilet Day : 19 November
5. Four Indian-origin lawmakers inducted in Canadian PM Trudeau's new Cabinet
Four Indian-origin MPs have been included in Canadian Cabinet as Prime Minister Justin Trudeau's unveiled his "strong and skilled" team of 37 ministers. The four Indian-origin MPs are Navdeep Bains (42), Bardish Chagger (39), Harjit Sajjan (49) and Anita Anand, who is the first ever Hindu minister in the Cabinet. Anita Anand is a former law professor at the University of Toronto.

In the Canadian general election held in October, the Liberal Party bagged 157 seats, the opposition Conservative 121, Bloc Quebecois 32, Indian-origin Canadian Jagmeet Singh-led New Democratic Party (NDP) 24, Green Party 3 and one Independent.

To reach the majority of 170 in the 338-seat House of Commons, the Liberals are short of 13 members.This means that in order to pass votes and advance their agenda, the Liberals must gain the support of the opposition MPs, the CTV reported.
Foot Notes:
About Canada
Capital: Ottawa
Currency: Canadian dollar

6. Devendra Fadnavis takes oath as Maharashtra CM, Ajit Pawar as his deputy
BJP's Devendra Fadnavis was sworn in as Maharashtra chief minister and NCP's Ajit Pawar as his deputy in an early morning political strike that stunned the Shiv Sena and Congress.

This came just hours after the Shiv Sena, NCP and Congress went through the final motions of forming a new coalition government with NCP chief Sharad Pawar saying there was "unanimity" over Uddhav Thackeray as chief minister.
Foot Notes:
About Maharashtra
Governor: Bhagat Singh Koshyari
Capital: Mumbai
7. Uttar Pradesh: Seven-year jail term for forced conversion in law panel draft
Forced conversion in Uttar Pradesh may attract a jail term of up to seven years, while changing one's religion for the sake of marriage may be nullified if either party contests it as 'forced'.

Reconverting someone, as in 'Ghar Vapsi', may not be a crime at all. These recommendations are part of the state law commission's draft bill on religious conversion submitted to the government.

Commission secretary Sapna Tripathi said in case of marriage where either party is forced to convert for the purpose, "both the conversion and marriage may be declared null and void".
Foot Notes:
About Uttar Pradesh
Governor: Anandiben Patel
Capital: Lucknow
Chief minister: Yogi Adityanath
8. I&B Minister inaugurates Film Bazaar on sidelines of IFFI 2019 in Goa
The Film Bazaar, which is being organised by the National Film Development Corporation, was inaugurated by the Information and Broadcasting Minister on the sidelines of the golden jubilee edition of the International Film Festival of India.

The Film Bazaar encourages creative and financial collaboration between the South Asian and International film communities.

Over the years, films such as Lunch Box, Margarita With A Straw, Chauthi Koot, Qissa, Miss Lovely, Dum Lagake Haisha and Thithi have been through one or more programmes of the Bazaar.
Foot Notes:
Information and Broadcasting Minister: Prakash Javadekar.
9. India will host the Shanghai Cooperation Organisation (SCO) Forum of Young Scientists and Innovators in 2020.
India will host the Shanghai Cooperation Organisation (SCO) Forum of Young Scientists and Innovators in 2020, a proposal it had mooted in the grouping's meeting on cooperation in the field of science and technology this week.

The 5th Meeting of Shanghai Cooperation Organisation (SCO) Member States Heads of Ministries and Departments of Science and Technology and Permanent Working Group on S&T Cooperation concluded in Moscow, Russia.

Secretary, Department of Scientific and Industrial Research and Director General Council for Scientific and Industrial Research Dr. Shekhar Mande led the Indian delegation.
Foot Notes:
About Shanghai Cooperation Organisation
Headquarters: Beijing, China
Secretary General: Vladimir Norov
Founded: 26 April 1996
10. IIM Indore inks MoU with Lal Bahadur Shastri Academy
IIM Indore has signed a Memorandum of Understanding (MoU) with Lal Bahadur Shastri National Academy of Administration (LBSNAA), Mussoorie.The MoU has been signed with a view to exchange faculty members for various training programmes.

The MoU is in line with the vision to remain socially conscious and contribute to the society and nation.The two organisations have agreed for joint participation in research activities of common interest in the areas of public administration, management and public policy.

The motive behind the training programme is to bring together representatives from these three fields, help them understand one another's problems and find solutions.
Foot Notes:
About Lal Bahadur Shastri Academy
Director: Dr Sanjeev Chopra
Established: 1959
Located: Mussoorie, UK.

Read More :
Current Affairs 21 November, 2019
Current Affairs 20 November, 2019