Current Affairs 27 November, 2019
Current Affairs 27 November, 2019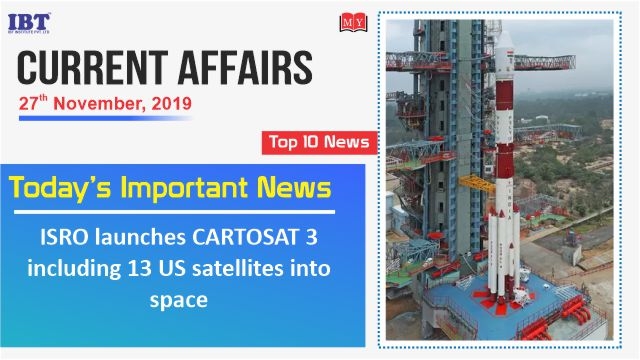 1. China overtakes US in number of diplomatic missions
For the first time, China has the largest diplomatic network in the world, even bigger than that of the US, according to a study which said Beijing achieved a significant milestone in establishing linkages globally in its quest for global influence.

China has 169 embassies, 96 consulates, eight permanent missions and three other missions. For its part, the US has 168 embassies, 88 consulates, nine permanent and eight other missions.

India is ranked 12 in the global ranking with 123 Embassies/High Commissions 54 consulates, five permanent missions and four other representations.
Foot Notes:
About China
President: Xi Jinping
Capital: Beijing
Currency: Renminbi
2. ISRO launches CARTOSAT 3 including 13 US satellites into space
India's Polar Satellite Launch Vehicle, PSLV-C47 Launch Vehicle-XL (PSLV-XL) rocket carrying advanced earth observation satellite Cartosat-3 and 13 US nano satellites lifted off from the second launch pad of the rocket port from Sriharikota.

At about 9.28 a.m. the 44.4 meters tall, weighing 320-ton rocket blasted off from the second launch pad at the country's rocket port. According to ISRO, the 1,625 kg Cartosat-3 is an advanced agile satellite to obtain panchromatic and multispectral imagery with an operational life of five years.

PSLV-C47 is the 21st flight of PSLV in the 'XL' configuration. This will be the 74th launch vehicle mission from Sriharikota.Cartosat-3 satellite is a third-generation agile advanced satellite having high-resolution imaging capability. The satellite will be placed in an orbit of 509 km at an inclination of 97.5 degrees.
Foot Notes:
About ISRO
Headquarters of ISRO: Bengaluru.
Chairperson of ISRO: Kailasavadivoo Sivan.
3. Union Cabinet approves one year extension to 15th Finance Commission
The Union Cabinet extended the term of 15th Finance Commission, which is to decide on division of tax and other resources between the centre and the states, by one-year to October 30, 2020.

The cabinet approved the 15th Finance Commission to submit first report for the first fiscal year viz. 2020-21 and to extend the tenure of 15th Finance Commission to provide for the presentation of the final report covering FYs 2021-22 to 2025-26 by October 30, 2020.

The term of the commission was originally set to end in October 2019, but was extended by one month to November 30.
4. Saurabh, Divyansh, Elavenil to get ISSF's Golden Target award
Three Indians have finished as No.1 in the year-end World rankings and will receive the International Shooting Sports Federation's (ISSF) 'The Golden Target' award. From this year, ISSF has started the Golden Target award for the top ranked athletes. The awards will be given to top shooters from 12 categories on December 7 in Munich.

Divyansh Singh Panwar and young Elavenil Valarivan have topped the men's and women's 10m air rifle categories respectively, while pistol ace Saurabh Chaudhary has ended the year as No. 1 in men's 10m air pistol event.

Out of the 12 Olympic categories (individual), India has maximum No. 1s, followed by China and USA (2 each).
Foot Notes:
About International Shooting Sports Federation's
Headquarters: Munich, Germany
President: Vladimir Lisin
Founded: 1907
5. RIL market cap hits 10 lakh crore, a first for an Indian company
Reliance Industries Limited is the first Indian company to cross Rs.10 lakh in market capitalization.Recently Vodafone India and Bharti Airtel had announced their tariff hike which will be implemented from December 2019.

Last week, the Mukesh Ambani-led oil-to-telecom-retail conglomerate became the first Indian firm to cross a market capitalisation of Rs 9.5 lakh crore.
Foot Notes:
About Reliance Industries Limited
Founded: 8 May 1973.
Founder: Dhirubhai Ambani
CEO: Mukesh Ambani
Headquarters: Mumbai, Maharashtra

6. UP's 1st vulture conservation center to be built in Maharajganj
In a major step to conserve the endangered vulture population, the Uttar Pradesh government will set up the state's first vulture conservation and breeding centre in Pharenda area of Maharajganj district.

According to Environment Minister, there has been a sharp decline in the population of vultures in the country which has come down from 40 million to 19,000 in a span of over three decades.
Foot Notes:
Union Minister of Environment: Prakash Javadekar
About Uttar Pradesh
Capital: Lucknow
Chief minister: Yogi Adityanath
Governor: Anandiben Patel
7. Former Navy Chief Admiral Sushil Kumar passes away
On November 27, 2019 Former Navy Chief Admiral Sushil Kumar, who led the Indian navy during the Kargil War passed away at the age of 79 in New Delhi.

He served as Navy Chief between 1998 and 2001 and also oversaw Kargil conflict in 1999.

He authored a book which portrays the decisions taken by late former Prime Minister of India Atal Bihari Vajpayee titled "A Prime Minister to Remember- Memories of a Military Chief".
Foot Notes:
About Indian Navy
Chief of the Naval Staff: Admiral Karambir Singh
8. NDTV gets IPI award for excellence in journalism for 'Kathua case expose'
The International Press Institute India award for excellence in journalism has been given to private news channel NDTV for its "expose of the conspiracy to scuttle" the Kathua rape and murder case probe.

The expose of the hypocrisy across the political spectrum "represented excellence in journalism", anchored by senior journalist Nidhi Razdan, a statement issued by the India chapter of the Vienna-based International Press Institute.

A jury of eminent editors headed by former Attorney General of India Soli Sorabjee considered the entries received and unanimously selected NDTV for the prestigious award.
9. Indian journalist Neha Dixit receives International Press Freedom Award
This award is awarded by Committee to Protect Journalists (CPJ), a non-profit organization whose aim is to enable journalists to work without the fear of reprisal.

Dixit received the award for her reports on sex trafficking scandals in India by Investigative reporter in Miami Herald, Julie K .Brown.
Foot Notes:
About Committee to Protect Journalists
Founder: Michael Massing
Formation: 1981
Headquarters: New York, United States
10. Donald Trump signs Hong Kong pro-democracy bill
US President Donald Trump signed a bill supporting protesters in Hong Kong on November 27, 2019. This bill has now become law after Trump's signature. This law highlights restrictions on the violation of human rights.

According to the bill, the President of America will have to consider every year the preferred business status given to Hong Kong. Apart from this, the bill also says that if the freedom in Hong Kong is crushed, then the prestigious status from the US can also be withdrawn.

Congress has also passed another bill which was also signed by Donald Trump. It bans the export of crowd control devices such as tear gas, pepper spray, rubber bullets and stone gun to Hong Kong Police. China had objected several times prior to Trump's signature on this bill.
Foot Notes:
About Hong Kong
Sovereign state: China
Regional language: Cantonese
Currency: Hong Kong dollar

Read More :
Current Affairs 26 November, 2019
Current Affairs 25 November, 2019