Current Affairs 02 December, 2019
Current Affairs 02 December, 2019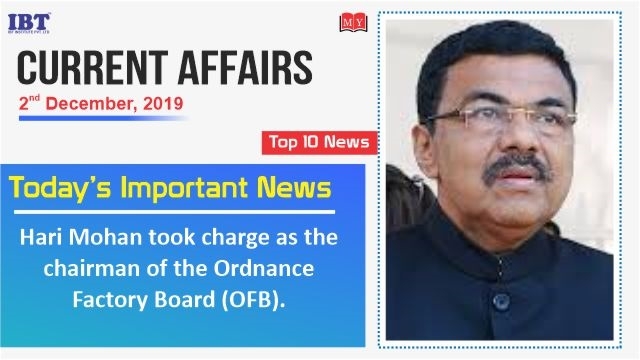 1. Iraqi Prime Minister Adel Abdul Mahdi resigns
Iraqi Prime Minister Adel Abdul Mahdi has submitted his resignation to Parliament amid ongoing anti-government protests across the country.

The formal resignation came after an emergency cabinet session in which ministers approved the document and the resignation of key staffers, including Abdul Mahdi's chief of staff.
Foot Notes:
About Iraq
President: Barham Salih
Capital : Baghdad
Currency: Iraqi dinar
2. International Day for the Abolition of Slavery: 2 December
The United Nations observes International Day for the Abolition of Slavery on 2nd of December every year.

The day focuses on eradicating contemporary forms of slavery, such as trafficking in persons, sexual exploitation, the worst forms of child labour, forced marriage, and the forced recruitment of children for use in armed conflict.

According to the International Labour Organisation (ILO) more than 40 million people worldwide are victims of modern slavery. Also, more than 150 million children are subject to child labour, accounting for almost one in ten children around the world.
Foot Notes:
About Iraq
Headquarters: New York, USA;
Founded: 24 October 1945.
Secretary-General: Antonio Guterres.
3. Taxation Laws Bill, 2019, will amend the Income Tax Act 1961 and the Finance (No 2) Act 2019.
The Centre in the Lok Sabha on moved the Taxation Laws Amendment Bill 2019 for its passage, seeking changes in the Income Tax law aimed at lowering tax rate options to domestic companies to promote growth and investment and attract fresh investment in the manufacturing sector.

The Bill seeking amendment to the Income-Tax Act, 1961 and to amend the Finance (No.2) Act, 2019 was moved in the House by Finance Minister Nirmala Sitharaman.
Foot Notes:
Finance Minister: Nirmala Sitharaman
4. Pritivirajsing Roopun appointed as new President of Mauritius by the Parliament
Lawmakers in Mauritius picked former arts and culture minister Pritivirajsing Roopun as president of the island nation, a largely ceremonial post.

His predecessor Ameenah Gurib-Fakim resigned in March 2018 after being embroiled in a scandal over her use of a credit card to buy luxury personal items. She denied wrongdoing.

In Mauritius, the prime minister is head of the government and holds most political power while the president is head of state but has no executive role and is considered the guardian of the constitution.
Foot Notes:
About Mauritius
Capital: Port Louis
Currency: Mauritian rupee

5. Hari Mohan took charge as the chairman of the Ordnance Factory Board (OFB).
Senior officer Hari Mohan took charge as the chairman of the Ordnance Factory Board (OFB). He replaced Saurabh Kumar who was superannuated from the services.

Hari Mohan is a 1982-batch Indian Ordnance Factories Service (IOFS) officer. He topped at University of Allahabad and University of Pune post-graduate degree in mechanical engineering.

With his almost four decades of service, Mohan contributed significantly at various positions including Bharat Heavy Electricals Limited (BHEL) Haridwar, Ordnance Factory Chanda and Ordnance Factory Dehu Road, Maharashtra, Vehicle Factory Jabalpur, Engine Factory Avadi, Heavy Vehicle Factory Avadi, Ammunition Factory Khadki, Ordnance Factory Bolangir, Odisha, OFB New Delhi Office and Ministry of Steel & Mines.
Foot Notes:
About Hari Mohan
Ordnance Factory Board (OFB)
Founded on: 1712
Headquarters: Kolkata, West Bengal
Director-General and Chairman: Saurabh Kumar
6. 'The Vault of Vishnu', by author Ashwin Sanghi, to release in January 2020
Bestselling author Ashwin Sanghi will come out with his next book, "The Vault of Vishnu", on January 23, 2020, announced publishing house Westland.

The book, which will be the sixth installment of the author's famous mythological 'Bharat series', will be released at the upcoming Jaipur Literature festival (JLF).

"'The Vault of Vishnu' is no different, just one difference that almost one half of the story is set in a land that I was not too familiar with -- China.
7. Shelley Morrison, 'Will and Grace' actor, dies aged 83.
Shelley Morrison, best known for her role as maid Rosario Salazar in the US comedy Will and Grace, has died at the age of 83 from heart failure following a short illness.

Born to Sephardic Jewish parents who emigrated to the US from Spain, Morrison appeared in 68 episodes of the pioneering LGBT comedy between 1999 and 2006.
8. Saudi Arabia recently became the first Arab Nation to assume the G20 Presidency.
Saudi Arabia became the first Arab nation to take over the G20 presidency as it seeks to bounce back onto the world stage following global uproar over its human rights record. The G20 presidency, which Saudi Arabia takes over from Japan, will see it host world leaders for a global summit in its capital next November 21-22.

Saudi Arabia will host more than 100 events and conferences in the run-up to the summit, including ministerial meetings, the agency said.
Foot Notes:
About Saudi Arabia
King: Salman of Saudi Arabia
Capital: Riyadh
Currency: Saudi riyal
9. Sub-lieutenant Shivangi becomes 1st woman of Indian Navy; to fly Dornier surveillance aircraft.
Shivangi Swaroop has become the first woman pilot to fly Indian Navy fixed-wing Dornier surveillance planes. She has joined the Indian Navy as the first female pilot on December 2, 2019. She will be involved in Operation Duty in Kochi.

Sub-lieutenant Shivangi is from Muzaffarpur in Bihar. She has done her studies from DAV Public School. After completing school education, Lieutenant Shivangi did B.Tech from Sikkim Manipal Institute of Technology.

Bhawna Kanth became the first woman pilot of the Indian Air Force this year after qualifying all the required tests.
10. Hornbill Festival begins in Nagaland
The Hornbill Festival was inaugurated on December 01 in Kohima, the capital of Nagaland.

Nagaland got a state status on 01 December 1963. Nagaland was the 16th state of India. The festival will conclude on 10 December.

The festival is named after a bird named Indian Hornbill. Cultural presentations, sports competitions, and food stalls, etc. are organized during this festival.
Foot Notes:
About Nagaland
Capital: Kohima
Governor: RN Ravi
Chief Minister: Neiphiu Rio

Read More :
Current Affairs 30 Nov - 01 Dec, 2019
Current Affairs 29 November, 2019