Current Affairs 03 December, 2019
Current Affairs 03 December, 2019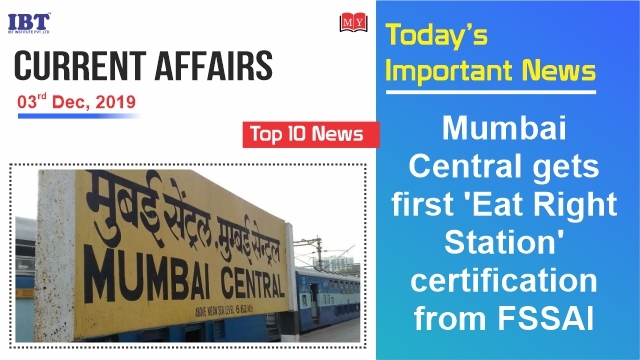 1.Hollywood actor Joaquin Phoenix named 2019 PETA Person of the Year
"Joker" star Joaquin Phoenix has been named 2019 Person of the Year by People for the Ethical Treatment of Animals (PETA).

According to The Hollywood Reporter, Phoenix is vegan since the age of three and has been a longtime supporter of the animal rights organisation.

He recently appeared in PETA's "We Are All Animals" billboards in Times Square and on Sunset Billboard as he promoted legislation to ban travelling wild-animal circuses.
Foot Notes:
About PETA
People for the Ethical Treatment of Animals
Founded: 22 March 1980
Headquarters: Norfolk, Virginia, United States
Motto: "Animals are not ours to eat, wear, experiment on, use for entertainment, or abuse in any other way."
President: Ingrid Newkirk

2. New Zealand win Christopher Martin-Jenkins Spirit of Cricket award for 2019
New Zealand cricket team was awarded the Christopher Martin-Jenkins Spirit of Cricket award for 2019. The Kane Williamson-led team's on and off-field display during the ICC Men's Cricket World Cup final at Lord's has earned them the award. New Zealand gained praise for their humility after losing the premier tournament.

The award, which was created in 2013, was the brainchild of the MCC and the British Broadcasting Corporation (BBC). It was created in memory of Martin-Jenkins, the former MCC president and BBC Test Match Special commentator, to honour his longstanding passion and desire to see the game played in the right spirit.

Williamson was presented with the award during the drawn second Test between his team and England. Kumar Sangakkara, the president of the Marylebone Cricket Club, one of the creators of the award, said New Zealand are worthy winners of the award.
3. International Day of Persons with Disabilities: 3 December
International Day of Persons with Disabilities is being observed on the

3rd of December every year.

This day is observed to promote the rights and well-being of persons with disabilities in all spheres of society and development and to increase awareness.

The theme this year is – Promoting the Participation of Persons with Disabilities and their leadership: Taking Action on the 2030 Development Agenda.
4. ISRO to launch second 'spy' satellite RISAT-2BR1 on December 11 to enhance India's surveillance capability
Indian Space Research Organisation (ISRO) is preparing to launch earth observation satellite RISAT-2BR1 that would enhance the country's surveillance capabilities, The Times of India has reported, citing sources in the space agency.

According to the report, ISRO is looking to launch the satellite with the help of PSLV-C48 rocket from Sriharikota on December 11.

This will the second in the RISAT-series satellites. The first in the bunch was RISAT-2B (Radar Imaging Satellite-2B), which was put into orbit on May 22. Dubbed as a 'spy' satellite, RISAT-2B was launched to replace its predecessor RISAT-2, which was used by India to monitor activities in terror camps across the border in Pakistan to thwart infiltration bids by terrorists.
Foot Notes:
About ISRO
Headquarters: Bengaluru
Founder: Vikram Sarabhai
Founded: 15 August 1969
Director: Kailasavadivoo Sivan

5. India's first maritime museum coming up at Lothal in Gujarat
Underwater or marine archaeology in India is all set to get a boost with the government deciding to establish a National Maritime Heritage Museum at Lothal, a Harappan site on the Saurashtra coast in Gujarat.

The museum will also be an independent research centre of underwater archaeology for reconstruction of maritime history, archaeology of boat building and materials traded.

Underwater archaeology is a specialized branch of archaeology that involves recovering submerged remains such as ports, shipwrecks and studying proxy records of maritime activity from archaeological excavations as well as archival and historical records.
Foot Notes:
About Gujarat
Chief Minister: Vijay Rupani
Capital: Gandhinagar
Governor: Acharya Devvrat
6. Finland's PM resigns after losing trust of coalition partner
Finnish Prime Minister Antti Rinne resigned after a member of the ruling coalition said it had lost confidence in him following a series of disruptive strikes.

The Center Party asked Rinne to step down after a more than two-week strike at Finland's state postal service, Posti, spread to the national airline, Finnair, and to other industries before being settled last week.
Foot Notes:
About Finland
Capital: Helsinki
Currency: Euro
7. Vice President launches 'Bharatiya Poshan Anthem'
Vice President M Venkaiah Naidu launched the "Bharatiya Poshan Anthem" which aims at taking the message of making India malnutrition free to all corners of the country.

The anthem has been penned by noted lyricist Prasoon Joshi and sung by Shankar Mahadevan.

Poshan Abhiyan was launched by Prime Minister Narendra Modi in March 2018 with an objective to make India malnutrition free by 2022.
8. India test-fires surface-to-surface nuclear-capable Prithvi-II missile of 350-km range off Odisha coast
India conducted a night trial of its indigenously developed, nuclear-capable surface-to-surface Prithvi-II missile off Odisha coast.

The Strategic Forces Command conducted the night trial of short-range ballistic missile Prithvi-II from launch complex-3 of Integrated Test Range in Chandipur, said defence sources.

The missile, which has a strike range of 350 km, was test-fired at 7.48 p.m. on Tuesday, the sources added. The last night time test of the Prithvi-II was on November 20 this year.Prithvi-II, which is capable of carrying 500 to 1,000 kg of warheads, is powered by liquid propulsion twin engines.It was inducted into the Indian defence forces in 2003.
9. VP Naidu presents Uttar Pradesh with National Award for Excellence for rehabilitation of persons with disabilities
Union Ministry of Social Justice and Empowerment conferred Uttar Pradesh with the National Award of Excellence, which was given by Vice president M Venkaiah Naidu, for doing a commendable job in the field of rehabilitation of persons with disabilities (Divyangjan).

The award was received by Uttar Pradesh Additional Chief Secretary (Empowerment of Persons with Disabilities) Mahesh Kumar Gupta on behalf of the state government. Besides, Shabina Saifi (Lucknow), Vidisha (Ghaziabad), Seema Tiwari (Jhansi) and Priyanka Devi (Lucknow) received national awards in different categories.
Foot Notes:
About Uttar Pradesh
Governor: Anandiben Patel
Capital: Lucknow
Chief Minister: Yogi Adityanath
10. Mumbai Central gets first 'Eat Right Station' certification from FSSAI
The Mumbai Central station of Railways was conferred with the 'Eat Right Station' certification with four stars rating by the Food Safety and Standards Authority of India (FSSAI), as a part of 'Eat Right India' movement launched last year.

According to a press note, the Mumbai Central Railway Station is the country's first "Eat Right Station."

"Mumbai Central station has been judged on the basis of compliance of food safety and hygiene, availability of healthy diet, food handling at preparation, transshipment and retail/serving point, food waste management, promotion of local and seasonal food and creating awareness on food safety and healthy diet," as per a press note.
Foot Notes:
About Maharashtra
Governor: Bhagat Singh Koshyari
Capital: Mumbai
Chief Minister: Uddhav Thackeray

Read More :
Current Affairs 02 December, 2019
Current Affairs 30 Nov - 01 Dec, 2019