Current Affairs 11 December, 2019
Current Affairs 11 December, 2019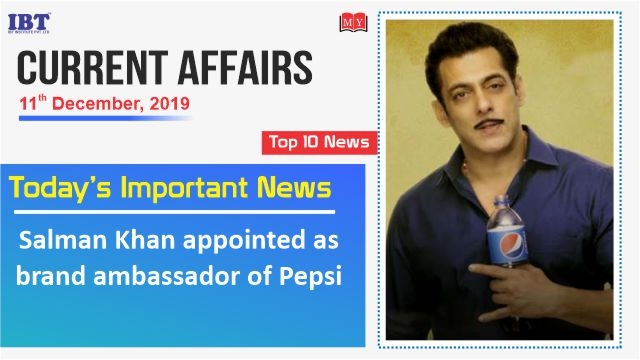 1. International Mountain Day observed on December 11; theme: 'Mountains Matter for Youth'
International Mountain Day is held every year on 11 December globally. This day was established by the UN General Assembly in 2003 to encourage sustainable development in mountains.

The theme for 2019 IMD is "Mountains Matter for Youth". International Mountain Day is a chance to highlight that for rural youth, living in the mountains can be hard.

This year, youth will take the lead and demand that mountains and mountain people become central in the national and international development agendas; receive more attention, investments and tailored research.
2. Suniel Shetty signed as anti-doping brand ambassador of NADA
Actor Suniel Shetty has been selected as the brand ambassador of National Anti-Doping Agency NADA. The country's anti-doping body is hoping that his celebrity status helps its efforts to clean up sports in the country from the menace.

More than 150 athletes have failed dope tests this year though bodybuilders make up more than one-third of these offenders. This is not a welcome sign with less than eight months to go for the Tokyo Olympic Games.

The suspension of National Anti-Doping Laboratory by the WADA earlier this year is another issue facing the country now that dope samples collected by the National Anti-Doping Agency from the athletes will have to be tested outside India.
Foot Notes:
About NADA
CEO: Navin Agarwal
Headquarters: Montreal, Canada
3. The youngest ever Time's Person of the Year : Greta Thunberg, the teen climate activist
Greta Thunberg, the Swedish teenager who became the voice of conscience for a generation facing the climate change emergency, was announced as TIME magazine's 2019 Person of the Year.

The 16-year-old first hit the headlines for her solo strike against global warming outside Sweden's parliament last year.

Speaker Nancy Pelosi, President Trump, the Ukraine whistle-blower and the Hong Kong protesters were all on the shortlist for this year's selection.
4. Russian navy ships arrive in India for joint exercise INDRA 2019
Three Russian navy ships have arrived in Goa to participate in the second edition of a tri-services exercise between the armed forces of India and Russia.

The aim of exercise INDRA 2019 is to enhance interoperability and develop an understanding in order to effectively tackle common security challenges, they said.

INDRA initially began as a bilateral naval exercise between the Indian and the Russian Federation navies in 2003. The exercise has now assumed a tri-service scope with corresponding maturity and gradual increase in complexity and level of participation.
Foot Notes:
About Russia
President: Vladimir Putin
Capital: Moscow
Currency: Russian Ruble
5. In PSLV's 50th mission, ISRO successfully launches RISAT-2BR1
India's space agency ISRO has successfully placed in orbit its latest RADAR imaging satellite and nine commercial satellites from other nations including the US and Israel in a PSLV launch.

History was made at Sriharikota space launch centre with the successful 50th mission of the Polar Satellite Launch Vehicle, the workhorse of the Indian Space Research Organisation (ISRO).

The satellite will be used in applications such as agriculture, forestry and disaster management support.
Foot Notes:
About ISRO
Headquarters: Bengaluru
Founder: Vikram Sarabhai
Founded: 15 August 1969
Director: Kailasavadivoo Sivan

6. United States shuts down World Trade Organisation appeal court.
The United States (US) decided to shut down the appeal court of WTO (World Trade Organisation) in response to WTOs decisions against the federal trade rules imposed by the US administration.

WTO's appeal court acts as a trade dispute settlement body for its member countries.

The appeal court which consisted of 7-member body was then cut down to a 3-member body in 2018. Recently, the terms of two of the last three judges on the WTO's appellate body ended on December 10,2019.
Foot Notes:
About United States
President: Donald Trump
Capital: Washington, D.C.
7. Salman Khan appointed as brand ambassador of Pepsi
On December 11, 2019 Food and beverage company PepsiCo has appointed Bollywood actor Salman Khan (born as Abdul Rashid Salim Salman Khan) as brand ambassador for its flagship Pepsi brand of carbonated beverage in India.

The commercial will be launched in 2020 and will take up the "SWAG" themed campaign which was launched in the summer of 2019.

Previously Salman Khan was the brand ambassador of Pepsico's rival company Coca-Cola's popular Thums Up and also as the brand ambassador of Parle Agro-backed soft drink Appy Fizz. He also previously endorsed PepsiCo's Mountain Dew drink.
Foot Notes:
About Pepsico
Founded: August 28, 1898.
Founder: Caleb Bradham.
Headquarters: New York, United States (US).
Chief Executive Officer (CEO): Ramon Laguarta.
8. World's First fully electric commercial Seaplane takes test flight in Canada
On 11th December 2019, the World's first fully electric commercial aircraft takes test flight in Vancouver, Canada.

It is manufactured by Harbour Air and Magnix and involves a six-passenger DHC-2 de Havilland Beaver with a 750-horsepower (560 kW) magni500 propulsion system, and was piloted by Greg McDougall, founder and Chief Executive of Harbour Air.

Civil aviation is one of the fastest growing sources of carbon emissions and the International Civil Aviation Organization (ICAO) has encouraged greater use of efficient Biofuel engines and lighter aircraft materials.
Foot Notes:
About Canada
Capital: Ottawa
Prime Minister (PM): Justin Trudeau
Currency: Canadian dollar
9. UNICEF Day observed on December 11,2019
On December 11, 2019, UNICEF (United Nations Children's Fund) day was celebrated. UNICEF was created by the United Nations General Assembly (UNGA) on December 11, 1946 as the United Nations International Children's Emergency Fund to provide emergency food ,nutrition, education to children in the country that had been devastated due to World War II.

In 1950, UNICEF's mandate was extended and it widen its mission & became a permanent part of the United Nations System in 1953.UNICEF has since then reached out to millions of children whose lives are endangered by poverty, inequality, among others.

Annual celebration of Universal Children's Day (November 20) is part of the work carried out by UNICEF to promote international togetherness and awareness among children worldwide.
Foot Notes:
About UNICEF
Headquarters: New York, United States
Executive Director: Henrietta H. Fore
10. Vakrangee joins hands with Union Bank of India (UBI) for 20,000 Banking BC Points
Vakrangee Finserve Limited, a wholly owned subsidiary of Vakrangee Limited (VL) has partnered with Union Bank of India (UBI) , one of the largest government-owned banks of India for 20,000 Banking Business Correspondent (BC) point for Nextgen Vakrangee Kendra.

A batch of 2,500 BC points will be allotted by UBI in which 70-80% of BC points would be in Tier 5 and 6 locations and which would include 5% of the outlets to be opened in aspirational districts and LWE (Left wing extremism) areas.
Foot Notes:
About Vakrangee
Formation: 1990
MD & Group CEO: Mr. Anil Khanna
It has planned target to reach 3,00,000 Nextgen Vakrangee Kendras by 2024.
About Union Bank of India (UBI)
Founded: 11 November 1919
Headquarters: Mumbai, Maharashtra
MD & CEO: Shri Rajkiran Rai G.
Tagline: Good People to Bank with.

Read More :
Current Affairs 10 December, 2019
Current Affairs 09 December, 2019
Current Affairs 07-08 December, 2019