Current Affairs 18 December, 2019
Current Affairs 18 December, 2019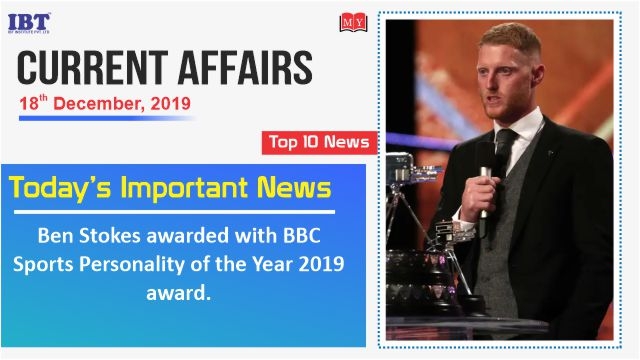 1. Minorities Rights Day observed on 18 December in India.
Minorities Rights Day is observed on 18 December in India. The day aims to remind about the rights of minorities and to educate people about it. It focuses on the religious harmony, respect, and better understanding of all minorities' communities in India.

The aim of the day is to advance and protect the privileges of the individuals to have a place with linguistic, religion, castes and color minority.

The Minorities Rights Day is celebrated by the National Commission for Minorities (NCM). On 18 December 1992, the United Nations adopted the Statement on the individual's Rights belonging to religious or Linguistic National or Ethnic Minorities.
Foot Notes:
About United Nations
Secretary general: António Guterres
Headquarters: New York, United States
Founded: 24 October 1945
2. CBI officer B. P. Raju wins 'India Cyber Cop of the Year 2019' award given by NASSCOM-DSCI.
CBI officer B P Raju has won the 'India Cyber Cop of the Year 2019' award by NASSCOM-DSCI for cracking a fraud case in an online entrance exam conducted by an engineering college in Rajasthan.

The award was given to Raju by Secretary, Ministry of Electronics and Information Technology, Ajay Prakash Sawhney, during the annual Information Security Summit held at Gurgaon.
Foot Notes:
About Central Bureau of Investigation
Headquarters: New Delhi
Crime branch executive: Rishi Kumar Shukla, IPS, Director General
Motto: Industry, Impartiality, Integrity
Founded: 1 April 1963
3. Complaints to banking ombudsman rise 20% to over 1.96L in FY'19: RBI.
Complaints to banking ombudsman rose by nearly 20 per cent to over 1.96 lakh during 2018-19, with non-adherence to fair practices accounting for the highest number of cases, RBI data released showed.

The complaints received at Offices of Banking Ombudsman (OBOs) rose by 32,311, taking the total to 1,95,901 complaints in 2018-19 over the previous year (1,63,590), recording a year-on-year increase of 19.75 per cent, the Reserve Bank said.

Even as complaints, related to unfair practices topped the list, the percentage share came down to 19.17 per cent in 2018-19 from 22.10 per cent a year ago.
Foot Notes:
About RBI
Bank rate: 5.40%
Headquarters: Mumbai
Governor: Shaktikanta Das
4. Amit Shah lays foundation stone of Bharat Vandana Park at New Delhi.
Union Minister of Home Affairs Shri Amit Shah presided over the foundation stone laying ceremony of development of Bharat Vandana Park at New Delhi.

The proposed park would be a major tourist attraction once constructed.

That proposed over an area of 200 acres and at the cost of 550 crore rupees, the park's proximity to the Indira Gandhi International Airport and metro station would only add to its attractiveness as tourist destination.

5. Shriram Lagoo: Greatest Marathi stage actors passes away at 92.
Shriram Lagoo, veteran film and theatre actor passed away after suffering a cardiac arrest at his Pune residence. He was 92.

Shriram Lagoo was considered as one of the greatest Marathi stage actors during the turn of the 20th century. The actor was also known to be very vocal and active about his progressive and rationalist beliefs.

Lagoo along with a GP Pradhan had undertaken a fast in support of Anna Hazare's anti-corruption movement in 1999.
6. MSME Minister Nitin Gadkari launches sale of 'Khadi Rumal'.
MSME Minister Nitin Gadkari launched the sale of 'Khadi Rumal', made by militancy-affected families of Kashmir. Khadi and Village Industries Commission (KVIC) Chairman Vinai Kumar Saxena said that in 2016, the KVIC started a napkin stitching centre at Nagrota for the families of militancy-affected areas in the Valley.

The minister said if people are provided job opportunities in their villages and home towns then there would not be any need for people to leave their homes.

"The napkins will be stitched at centres in Jammu and Kashmir and sold on pan-India basis. In the exercise, 15 lakh kg cotton will be consumed, 25 lakh man days will be required in spinning, 12.5 lakh in weaving, 7.5 lakh in cutting, stitching and packing,". At the event, an agreement was also signed between KVIC and digital payments firm Paytm to sell 2 crore Khadi napkins.
7. Ben Stokes awarded with Sports Personality of the Year 2019 award.
England cricketer Ben Stokes has been voted BBC Sports Personality of the Year 2019.

He has become the first cricketer since Andrew Flintoff in 2005 to win the prize.

Ben Stokes was Man of the Match as England won the 2019 World Cup for the first time with a dramatic super over victory against New Zealand at Lord's.
8. British PM Boris Jhonson re-elected as Prime Minister of UK.
British Prime Minister Boris Johnson has won the historic UK General Election as his Conservative Party crossed the magic number of 326 required for a majority in the Parliament.He is re-elected as a Prime Minister of UK.

Johnson won the historic election as his Conservative Party crossed the 326-mark required for a majority in Parliament.

The latest projections put the Johnson-led Conservatives at around 365, but the party can safely celebrate its victory as it comfortably crossed over the half-way finish line for the 650-member House of Commons.

The Opposition Labour party is projected to get 203 seats, a disastrous performance for the party which resulted in leader Jeremy Corbyn announced that he would be stepping down.
Foot Notes:
About United Kingdom
Capital: London
Currency: Pound sterling
9. Music festival 'Tansen Samaroh' begins in Gwalior.
In Madhya Pradesh, popular classical music festival 'Tansen Samaroh' began with traditional style in Gwalior with the recitations of Harikatha and Milad.The 5-day festival is celebrated every year in the memory of one of the most eminent singers of Indian history, 'Mian Tansen'.

Tansen Samaroh, the oldest and esteemed classical music festival in India is organised by Ustad Alauddin Khan Kala Evam Sangeet Academy, under the Madhya Pradesh culture department attracts thousands of musicians and aspiring singers from all over the country.

It is the 95th year of the festival. Artistes from Greece, USA, Iran and Belgium will perform in different sessions of Tansen festival.Noted vocalist Pandit Vidyadhar Vyas will be presented the National Tansen Award for 2019 today on the first day of Tansen Festival.

Instituted by the Madhya Pradesh government, Tansen award carries a cash prize of Rs 2 lakh and is given to outstanding exponents of Hindustani classical music.
Foot Notes:
About Madhya Pradesh
Chief Minister: Kamal Nath
Governor: Lal Ji Tandon
10. SBI inks $277 million pact with Germany based KfW bank.
State Bank of India (SBI) has signed a loan agreement worth of $277 million (about Rs 1,958 crore) with Kreditanstalt für Wiederaufbau (KfW) German development bank for establishing an energy-efficient housing programme in India.

The programme shall be part of the Indo-German Development Co-operation, guided by the 2030 Agenda for Sustainable Development.

Under the programme, both builders and homebuyers shall be financed for developing/purchasing energy-efficient residential projects that achieve at least 25 per cent energy savings in comparison to standard reference buildings. The arrangement of the loan and the grant facilities was facilitated by SBI's investment banking subsidiary SBI Capital Markets Ltd.
Foot Notes:
About SBI
SBI Chairperson: Rajnish Kumar
Headquarters: Mumbai
Founded: 1 July 1955

Read More:
Current Affairs 17 December, 2019
Current Affairs 16 December, 2019
Current Affairs 14-15 December, 2019