Current Affairs 23 December, 2019
Current Affairs 23 December, 2019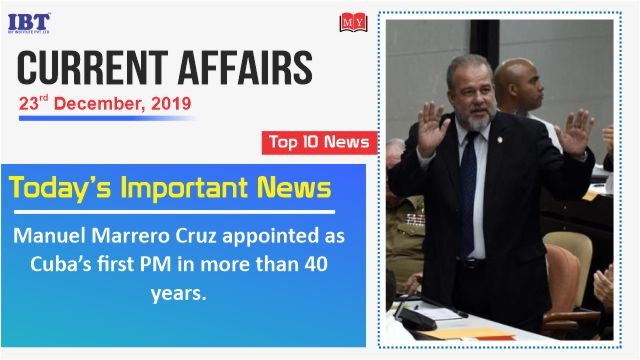 1. EChO Network launched to catalyze cross-disciplinary leadership in India.
EChO Network, a national program to provide a template for cross-disciplinary leadership in India with the specific focus of increasing research, knowledge, and awareness of Indian ecology and the environment was launched yesterday in New Delhi by Prof. K VijayRaghavan, Principal Scientific Adviser to the Government of India.

India recently took national-level efforts to promote ecological and environmental research on the subcontinent.

The program will train postdoctoral leaders in research and outreach on these topics incorporating current public and private efforts into a national network. International distributed institute comprising individuals housed within the industry, government, private, and academic sectors, combining their expertise and resources collectively to tackle significant scale problems.
2. Manuel Marrero Cruz appointed as Cuba's first PM in more than 40 years.
Cuban President Miguel Diaz-Canel has appointed Manuel Marrero Cruz as the country's first Prime Minister in more than four decades (40 years).

Marrero Cruz who was named Prime Minister for a five-year term, has served as Cuban tourism minister for 16 years. He is an architect by trade and has helped boost Cuba's economy by making tourism one of the engines of growth.

The post of Prime Minister was scrapped in 1976 by the then-revolutionary leader and Cuba's last Prime Minister Fidel Castro. In December 1976, Fidel Castro took the title of president of the State Council, which replaced the posts of President and Prime Minister.
Foot Notes:
About Cuba
Capital: Havana
President: Miguel Díaz-Canel
3. Chilai-Kalan: 40-day period of extreme cold begins in Kashmir.
The traditional 40-day period of harshest winter in Kashmir known in the local parlance as 'Chillai-Kalan' began with the upper reaches of valley receiving snowfall. Chillai-Kalan period which is known for sub-zero temperatures, frozen lakes and river, will end on 31 January 2020.

These 40 days are when the chances of snowfall are highest and the maximum temperature drops considerably.

During Chillai-Kalan, the weather in Kashmir valley continues to remain dry and cold with minimum temperatures hovering below freezing point and the snow during this 40-day period freezes and lasts longer.
4. Assam Cabinet nod to make Assamese the state language.
On December 23, 2019, the Assam Cabinet nodded to make Assamese language the state language of Assam. This will exclude BTAD (Bodoland Territorial Administrative Districts), Barak Valley and Hill districts of Assam.

The cabinet has also suggested that Assamese will be made compulsory in all schools of Assam. The move comes in the wake of rising insecurities among Assamese population in the state. After the passing of Citizenship Amendment Bill, there has been an increased wave of insecurity in the Brahmaputra Valley.

In order make the move successful, the Central Government will now have to amend Article 345. If amended, the article will remove fears of people fighting for their rights to culture and language in the region.
Foot Notes:
About Assam
Capital: Dispur
Chief minister: Sarbananda Sonowal

5. Eight West African countries rename common currency to Eco.
The eight West African nations have agreed to change the name of their common currency from 'CFA franc' to 'Eco', after they jointly severed the CFA franc's links to former colonial ruler France.

The announcement was made during a visit by French President Emmanuel Macron to Ivory Coast, who hailed the decision as a historic reform. Even though the deal took six months in making, common currency Eco will see the light of day in 2020.

The 8 West African countries namely- Ivory Coast, Mali, Burkina Faso, Benin, Niger, Senegal, Togo and Guinea-Bissau currently use CFA France as their currency. All these countries, except Guinea-Bissau, are former French colonies.
6. National Farmers Day celebrated on 23rd December.
India celebrates National Farmers Day on 23rd December to commemorate the birth anniversary of the 5th Prime Minister of India, Choudhary Charan Singh. He was a farmer's leader and he had introduced many policies to improve the lives of the Indian farmers. The day is being observed since 2001.

Kisan Diwas is being celebrated in several parts of the country in order to promote importance of farmers in the society. It also aims at establishing the fact that overall social and economic development of the country depends on the farmers. The day is widely celebrated in states such as UP, Haryana, Punjab and MP.

Choudhary Charan Singh served as the Prime Minister of India between 28 July 1979 and 14 January 1980. He is often referred to as the 'champion of India's peasants'.
7. Pat Cummins becomes most expensive overseas IPL player.
The Australian pacer Pat Cummins, with a base price of Rs.2 crore, became the most expensive overseas player in Indian Premier League (IPL) as he was sold to Kolkata Knight Riders (KKR) for a whopping Rs.15.50 crore($2.2 million).

Kolkata Night Riders shelled out Rs.15.5 crore, nearly 43% of their purse, for the New South Welshman at the auction for IPL 2020, the 12th edition of Indian Premier League tournament.

The 26-year-old is currently the number one ranked Test bowler in the world. He has previously played for Delhi Capitals or Delhi Daredevils (as they were known then) in 2017 edition and Kolkata Knight Riders in the 2014 edition.
8. India successfully test-fires Quick Reaction Surface to Air Missile (QRSAM) system.
Quick Reaction Surface to Air Missile System (QRSAM) developed by DRDO has been successfully flight tested from Integrated Test Range in Odisha's Chandipur.

The missile was flight tested with full configuration in deployment mode intercepting the target in mid-air and meeting mission objectives. The entire event was monitored by Ground Telemetry Systems, Range Radar Systems, Electro Optical Tracking System, etc.

QRSAM weapon system, which operates on the move, comprises of fully automated Command and Control System, Active Array Battery Surveillance Radar, Active Array Battery Multifunction Radar and Launcher. Both radars are four walled having 360-degree coverage with search on move and track on move capability. The system is compact with minimum number of vehicles for a firing unit. Single stage solid propelled missile has mid course inertial navigation system with two-way data link and terminal active seeker developed by DRDO
Foot Notes:
About DRDO
Foundation year: 1958
DRDO Chairman: Satheesh Reddy
9. Archaeologist R. Nagaswamy honoured at the Silver Jubilee International Conference of Art in Dhaka.
Archaeologist R. Nagaswamy was honoured at the Silver Jubilee International Conference of Art in Dhaka by Bangladesh culture minister K.M.Khalid for his contribution to art, archaeology, history and culture.

Ramachandran Nagaswamy is an Indian historian, archaeologist and epigraphist.He served as the founder-director of Tamilnadu Archaeology Department.In 2018 he was awarded India's third highest civilian award Padma Bhushan.
Foot Notes:
About Bangladesh
Capital: Dhaka
Currency: Bangladeshi taka
Prime minister: Sheikh Hasina
10. Aditya became 1st child from Kerala to receive Bharat Award for bravery.
Bharat award for bravery was announced. Aditya K. of Ramanattukara, Kozhikode, Kerala became the first child from the State to receive the highest honour award for bravery, the Bharat award. He was awarded for saving 20 people from a burning bus on the move.

The awards will be presented by Prime Minister Shri Narendra Modi at the Republic Day event in New Delhi on January

The national bravery award is given by the Indian Council for Child Welfare (ICCW) for the brave acts done by children neglecting their own safety. 1 Bharat Award, 5 special awards, and 15 general awards are announced annually by ICCW.
Foot Notes:
About Kerala
Chief Minister: Pinarayi Vijayan.
Governor: Arif Mohammad Khan.
Capital: Thiruvananthapuram.

Read More:
Current Affairs 21-22 December, 2019
Current Affairs 20 December, 2019
Current Affairs 19 December, 2019