Current Affairs 30 January, 2020
Current Affairs 30 January, 2020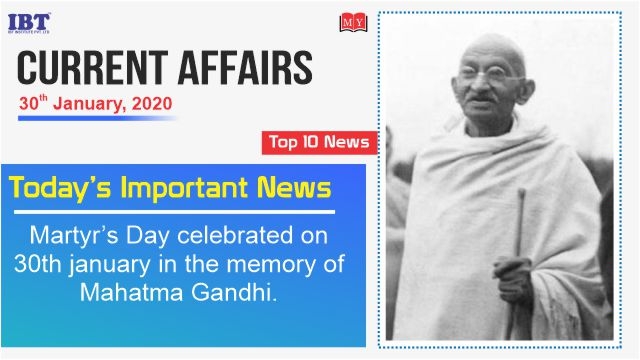 1. World's biggest meditation centre in Hyderabad.
To mark the 75th anniversary of the formation of Shri Ram Chandra Mission and Heartfulness Institute, unveiled the meditation centre slated to be the world's largest.

The centre that can accommodate one lakh meditation practitioners at a time.Built on 30 acres, the meditation centre with a central hall and eight peripheral halls to accommodate 1,00,000 people will offer meditation training free.

It is dedicated to the first guide of Heartfulness Lalaji Maharaj affectionately known as Daaji, the present guide of Heartfulness, in the presence of several dignitaries.
Foot Notes:
About Telangana
Chief Minister: K. Chandrashekar Rao.
Governor: Tamilisai Soundararajan.
2. Martyr's Day is celebrated on 30 January.
Five days are declared as Martyrs Day in India to honour those who laid down their lives for the nation. The first fall accordingly on January 30, the day when Mahatma Gandhi was assassinated by Nathuram Godse in 1948.

Mahatma Gandhi played a significant role in India's struggle for Independence.

He brought forth the awe-inspiring method of non-violent protests, Satyagraha and spread the word of peace and harmony even in dissent.
Foot Notes:
23 March: Day to remember the deaths of Bhagat Singh, Sukhdev Thapar, and Shivaram Rajguru.
21 October: Police Martyrs Day. This day marks the ambush of a Central Reserve Police Force (CRPF) patrol party at the Indo-Tibetan border in Ladakh by the Chinese forces.
17 November: The death anniversary of Lala Lajpat Rai.
19 November: It celebrates the birthday of Rani Lakshmibai and honours those who gave their lives in the rebellion of 1857.
3. S Jaishankar lays foundation stone of Sardar Vallabhbhai Patel Centre at Kevadia in Gujarat.
External Affairs Minister S Jaishankar laid the foundation stone of the Sardar Vallabhbhai Patel Centre for Empowerment and Livelihoods near the Statue of Unity at Kevadia in Gujarat. This will be a state-of-the-art skill Development centre in this tribal area.

This Residential Centre will have all modern infrastructure including accommodation for about 100 youth at a time. It will run several free of charge skill courses aligned to the National Skills Qualification Framework (NSQF).

To begin with, the majority of the courses will focus to meet the demand of tourism and hospitality requirements at Kevadia. This centre will prove to be a boon for empowering the local youth and women by their skill development and by providing them employment opportunities.
Foot Notes:
About Gujarat
Capital: Gandhinagar
Chief Minister: Vijay Rupani
Governor: Acharya Dev Vrat
4. Google announces $1 million grant to promote news literacy in India.
Technology giant Google announced a USD 1 million grant to promote news literacy among Indians. The money will be given to Internews, a global non-profit, which will select a team of 250 journalists, fact checkers, academics and NGO workers for the project.

The announcement, part of a USD 10 million commitment worldwide to media literacy, comes at a time when news publishers, especially on the digital front, have been found to have indulged in spreading misinformation.

A curriculum will be developed by a team of global and local experts, who will roll out the project in seven Indian languages.
Foot Notes:
CEO: Sundar Pichai

5. Harsh Vardhan Shringla takes charge as new Foreign Secretary.
Harsh Vardhan Shringla took charge as new foreign secretary succeeding Vijay Gokhale. Mr Shringla is a 1984-batch officer of the Indian Foreign Service.

In the course of a diplomatic career spanning 35 years, Shringla has held a variety of positions in New Delhi and abroad, and is considered an expert on India's neighbourhood.

He has also headed the United Nations Political and SAARC divisions in the ministry.
6. Shashi Kapoor's daughter Sanjana Kapoor got French honour for theatre artiste.
Well-known theatre person Sanjana Kapoor received the prestigious French honour of 'Chevalier dans lOrdre des Arts et des Lettres (Knight of the Order of Arts and Letters) for her outstanding contribution to the field of theatre.

French Minister of Culture Franck Riester conferred the insignia of the distinction on Kapoor in a special investiture ceremony.

L'Ordre des Arts et des Lettres is a French government distinction instituted in 1957 by the Ministry of Culture, and is conferred, regardless of nationality, on persons who have distinguished themselves by their creativity in the fields of art or literature, or for their contribution to promoting art and literature in France and throughout the world.
7. Indian Javelin thrower Neeraj Chopra qualifies for Tokyo Olympics.
Star Indian javelin thrower Neeraj Chopra has qualified for the Tokyo Olympics with a throw of 87.86 metres at the Athletics Central North East meeting in South Africa.

The 22-year-old Asian Games and Commonwealth Games gold medallist breached the Olympic qualification mark of 85 metres in his fourth attempt at Potchefstroom.

Neeraj had missed the IAAF World Championships, the Diamond League and the Asian Championships due to an elbow injury.

His last major international competition was the 2018 Jakarta Asian Games where he won gold with a national record of 88.06 metres.
Foot Notes:
About Tokyo
Capital: Japan
8. Cabinet approves Medical Termination of Pregnancy Amendment Bill to raise upper limit for termination of pregnancy to 24 weeks.
Union Cabinet has approved the Medical Termination of Pregnancy (Amendment) Bill, 2020. The bill will amend the Medical Termination of Pregnancy Act, 1971.

The limit of termination of pregnancy has been increased from 20 weeks to 24 weeks. For Medical termination of pregnancy, permission will be needed, from two doctors and one of them must be a government doctor.

The proposed amendments are a step towards the safety and well-being of the women and many women will be benefitted by this.
9. Indian Navy launches operation 'Vanilla' to provide disaster relief at Madagascar.
Indian Navy has launched operation Vanilla to provide humanitarian assistance and disaster relief at Madagascar.

Operation Vanilla has been launched to provide assistance to the affected population of Madagascar post devastation caused by Cyclone Diane.

The Indian Navy Ship is geared to set up medical camp and provide food, water and other necessary relief material
Foot Notes:
Chief of Indian Navy: Admiral Karambir Singh.
10. Nepal creates Guinness World Record for highest altitude fashion show event.
Nepal has created a new Guinness World Record for organizing highest altitude Fashion Show on the earth.

The Mount Everest Fashion Runway was held at 5340 meters (17515 feet) elevation at Kala Patthar, near Everest base camp. 18 supermodels from 10 different countries walked the ramp to create history.
Foot Notes:
About Nepal
Prime minister: KP Sharma Oli.
President: Bidhya Devi Bhandari.
Capital: Kathmandu
Currency: Nepalese rupee.

Read More:
Current Affairs 29 January, 2020
Current Affairs 28 January, 2020
Current Affairs 27 January, 2020