Current Affairs 28 January, 2020
Current Affairs 28 January, 2020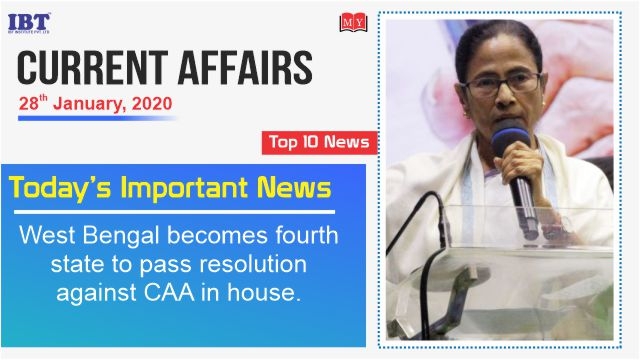 1. India celebrated 155th Anniversary of Lala Lajpat Rai on 28 January.
The year 2020 marks the 155th birth anniversary of Lala Lajpat Rai, one of the greatest freedom fighters of India. Lala Lajpat Rai was born on January 28, 1865 in a Jain Punjabi family in Dhudikae village of Punjab's Moga district. Rai was also known as Punjab Kesari. He played a pivotal role in the Indian freedom struggle.

He was part of the famous radical trio Lal Bal Pal, who advocated the Swadeshi movement in India, involving the boycott of all imported goods and the use of Indian made goods. To report the political situation of India, in 1928, the British government set up the Commission, headed by Sir John Simon.

When the Commission visited Lahore on October 30, 1928, Lajpat Rai led a non-violent march in protest against it.
2. Sunil Mehta takes over as Chief Executive of Indian Banks' Association.
Sunil Mehta took over as Chief Executive Officer of the Indian Banks Association. He succeeds V G Kannan, who stepped down on December 31, 2019.

Sunil Mehta was heading Punjab National Bank, PNB as an MD & CEO. While serving PNB, Mehta was also appointed as a chairman of IBA in 2018-19.

The term of the CEO of IBA is for three years while the chairman term is for only one year. IBA is the representative body of the India's banking sector and works for the development of the banking industry.
Foot Notes:
About Indian Banks' Association
Headquarters: Mumbai
Founded: 26 September 1946
3. ATF unanimously nominates Anil Khanna as life President.
Senior Sports Administrator Anil Khanna, who recently decided not to contest the President's post of the Asian Tennis Federation (ATF), was nominated Life President of the continental body.

Mr Khanna had served as ATF President from 2005 to 2019 and also ITF Vice President from 2015-19.

The ATF held the meeting of its Board of Directors in Melbourne and unanimously nominated Mr Khanna as Life President.

He was also appointed Chairman of the ATF Finance Committee.
4. Tamil Nadu Agricultural University Vice chancellor "Dr. N Kumar" gets 'Harit Ratna'Award.
Dr.N Kumar, Vice-Chancellor of Tamil Nadu Agricultural University, has been conferred ' 'Harit Ratna Award 2019' by the All India Agricultural Students Association.

He has been awarded for dissemination of 30-crore entrepreneurship project in agri-business and for motivating students to the agriculture sector in the State.

The award was conferred at the 5th National Youth Convention at Indira Gandhi Krishi Vishwavidyalaya in Raipur recently.
Foot Notes:
About Tamil Nadu
Chief Minister: Edappadi K. Palaniswami
Capital: Chennai
Governor: Banwarilal Purohit

5. PM Modi to inaugurate Biggest DefExpo 2020 in Lucknow.
The Defence Expo 2020 in Uttar Pradesh's Lucknow city is going to be by far the biggest expo. The number of international companies confirming their presence at the expo has also gone up as compared to previous expos.

The number of companies registered for participating in the 11th edition of the biennial mega defence exhibition, DefExpo 2020, to be held at Uttar Pradesh capital Lucknow between February 5-9, 2020; has reached 1,000.

In the DefExpo 2018, held in Chennai, 702 companies had participated. Thus, it has become by far the biggest ever DefExpo to be held in India.
6. Slovenian Prime Minister Marjan Sarec resigns.
Slovenian Prime Minister Marjan Sarec announced a step down and called for fresh elections, following weeks of rising tensions within his minority five-party coalition government.

Mr Sarec's resignation came almost at the same time as Finance Minister Andrej Bertoncelj announced that he too would quit in a row over health care funding.

Mr Sarec, is Slovenia's youngest-ever Prime Minister. He was previously best known as a comedian and political satirist before he launched himself as an anti-establishment politician.
Foot Notes:
About Slovenia
Capital: Ljubljana
Currency: Euro
7. Assam tableau won first prize at 71st Republic Day parade.
Defence Minister Rajnath Singh gave away Best Tableau awards for Republic Day Parade 2020. The event took place in New Delhi.

Assam's tableau, which portrayed the unique craftsmanship and culture of the state chosen as the best tableau, followed by Odisha and Uttar Pradesh tied for the second position. The Assam tableau showcased various dance forms of the country, especially the Bhortal dance of Assam.

Odisha's tableau depicted Lord Lingaraja's Rukuna Rath Yatra, whereas the tableau of Uttar Pradesh showcased the state's cultural and religious heritage. The tableau of National Disaster Relief Force and Jal Shakti Mission were chosen as the best among the Ministries and Departments. The Central Public Works Department got the Special Prize for their tableau, which based on the theme - Kashmir se Kanyakumari.
Foot Notes:
About Assam
Capital: Dispur
Chief Minister: Sarbananda Sonowal
Governor: Jagdish Mukhi
8. West Bengal becomes fourth state to pass resolution against CAA in house.
Chief Minister Mamata Banerjee urged the Party of India (Marxist) or CPI (M) and Congress to put aside with Bharatiya Janata Party (BJP) government at the Centre. West Bengal became the fourth state to pass an assembly resolution against the Citizenship (Amendment) Act (CAA).

The National Population Register (NPR) and the proposed pan-India National Register of Citizens (NRC) and the CAA are related. The amended citizenship law anti-people amid slogans like Didi-Modi are two sides of the same coin by members of the Opposition Congress and the CPI (M).

The Kerala and Congress-ruled Punjab passed similar resolutions on December 31 and January 17. The CAA was given last month to fast-track the citizenship process for non-Muslims who have entered India from Afghanistan, Pakistan, and Bangladesh before 2015, and triggered protests across the country.
Foot Notes:
About West Bengal
Governor: Jagdeep Dhankhar
Capital: Kolkata
9. India's first underwater metro project to start soon in Kolkata.
India's first underwater metro train, passing through Kolkata's iconic Hooghly river, will begin service in 2022 March.

The East-West Metro project, connecting the twin cities Kolkata and Howrah is being constructed by Kolkata Metro Rail Corporation (KMRC), which launched India's fist metro project in 1984 with a North-South service.

The 16.6 km route with six stations on the way is having its terminal stations at Salt Lake Sector V and the Howrah Maidan. It is expected that 9,00,000 people will be travelling by this new line daily.

The project cost is funded by Japan International Cooperation Agency (JICA), which provided a soft loan of Rs 41.6 billion. KMRC will repay the JICA loan over a period of 30 years after an initial six-year moratorium.
10. GRSE set to deliver ASW corvette INS Kavaratti to Navy soon.
Defence PSU Garden Reach Shipbuilders and Engineers (GRSE) is set to deliver anti-submarine warfare stealth corvette INS Kavaratti to the Navy.

'Kavaratti' is the last of the four Anti-Submarine Warfare (ASW) stealth corvettes built by the GRSE for the Indian Navy under Project P28.

Three of the four corvettes, INS Kamorta, INS Kadmatt and INS Kiltan were commissioned in 2014, 2016 and 2017 respectively.The new technology will mean that the warship, which has 90 per cent indigenous components, will also require lower maintenance.
Foot Notes:
Chief of the Naval Staff: Admiral Karambir Singh
Chairman-cum-Managing Director: Rear Admiral V K Saxena

Read More:
Current Affairs 27 January, 2020
Current Affairs 25-26 January, 2020
Current Affairs 24 January, 2020