Current Affairs 25-26 January, 2020
Current Affairs 25-26 January, 2020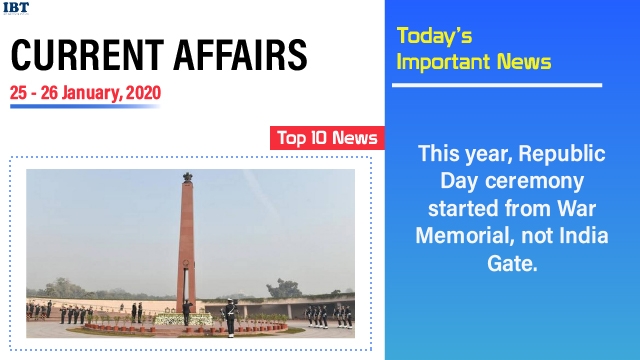 1. Lebanon announces formation of new Government headed by Prime minister "Hassan Diab".
Lebanon, which has been rocked by anti-government protests for the last several months, finally has a new government. The presidency announced the formation of the new government after Hezbollah and its allies clinched a deal on a cabinet that must tackle the country's worst economic crisis in decades.

The new government headed by Prime Minister Hassan Diab, a 60-year old professor at the American University of Beirut, will consist of 20 ministers-technocrats.

The country has been hit by protests since October last year against the ruling political class.
2. Nepal invites PM Modi for Sagarmatha dialogue.
Nepal has invited Prime Minister Narendra Modi to attend the first Sagarmatha Sambaad forum to be held here in April. The first edition of the Sagarmatha Sambaad' is scheduled to be held from April 2 to 4 on the theme "Climate Change, Mountains and the Future of Humanity".

SAARC countries, including Pakistan Prime Minister Imran Khan have been invited.

The Sambaad (dialogue) is named after the world's tallest mountain Sagarmatha (Mt. Everest) which is also a symbol of friendship.
Foot Notes:
About Nepal
Capital: Kathmandu
Currency: Nepalese rupee
Prime minister: KP Sharma Oli
3. National Voters' Day was celebrated on 25th January.
The Government of India observes 25 January every year as "National Voters' Day".

It started on January 25, 2011 to mark the Election Commission's foundation day. The theme for National Voters Day this year is "Electoral Literacy for Stronger Democracy".

The purpose of this day is to make people aware of their voting rights and to attract more people, mostly the newly eligible younger generation, to vote and contribute to the electoral political process.
Foot Notes:
Chief Election Commissioner of India: Sunil Arora
4. This year, Republic Day ceremony was started from War Memorial, not India Gate.
Changing a decades-old tradition, the 71st Republic Day ceremony was not began from India Gate, where the Prime Minister commemorates soldiers who had died in combat for India. Prime Minister Narendra Modi laid a wreath at the National War Memorial, which was opened on February 25, 2019.

Chief of Defence Staff (CDS) General Bipin Rawat, Army chief General M M Naravane, Navy chief Admiral Karambir Singh and Air Force chief Air Marshal R K S Bhadauria stood behind Modi when he paid homage to the dead soldiers.

On March 27 last year, India became only the fourth country to successfully fire an Anti-Satellite (A-SAT) missile under a project named Mission Shakti . Demonstrating this power, the A-SAT missile featured in the parade on this Republic Day.

5. Vodafone m-pesa's Certificate of Authorization cancelled by RBI.
The Certificate of Authorization (CoA) of Vodafone m-pesa has been cancelled by Reserve Bank of India.

Vodafone Idea closed the m-pesa after getting merged with the Aditya Birla Idea Payments Bank Limited in 2019.
Foot Notes:
About Vodafone M-pesa Limited
Formation: 13 September 2014.
Headquarters: Mumbai, Maharashtra.
About RBI
Governor: Shaktikanta Das
Headquarters: Mumbai
Deputy Governor: N S Vishwanathan, B P Kanungo, M K Jain and Michael Debabrata Patra
6. Dipa Chaudhury & Puneet Gupta awarded Romain Rolland Prize for Translation for their Hindi translation of French cartoon series "Asterix".
The Hindi translation of French cartoon series "Asterix" was declared the winner of the 3rd Romain Rolland Prize for Translation at the ongoing Jaipur Literature Festival (JLF).

"Dipa Chaudhury and Puneet Gupta of Om Books, who have translated the first three volumes of the 1953 comics series are awarded this year's Romain Rolland prize for translation.
7. India's foreign exchange reserves touch a life-time high of USD 462.16 billion.
The country's foreign exchange reserves rose USD 943 million to touch a life-time high of USD 462.16 billion according to the latest data from the RBI.

In the previous week, the reserves had increased by USD 58 million to USD 461.21 billion.

Expressed in dollar terms, the foreign currency assets include the effect of appreciation or depreciation of non-US units like the euro, pound and yen held in the foreign exchange reserves.
8. Scholars from India and Russia participate in the first Ganga-Volga Dialogue of Civilizations held in New Delhi.
Eminent scholars from India and Russia participated in the first Ganga-Volga Dialogue of Civilizations earlier wherein they deliberated upon the existing and emerging spheres of bilateral cooperation between the two countries, the Ministry of External Affairs.

As many as 15 scholars from Russia and India spoke at the dialogue upon the four broad themes in the context of India-Russia bilateral cooperation, namely, education, culture and civilization; entrepreneurship and innovation; trade routes including inland navigation; India, Russia and Greater Eurasia.
Foot Notes:
Minister of External Affairs: Subrahmanyam Jaishankar
9. European Commission's President "Ursula von der Leyen" and European council's President "Charles Michel", signed the Withdrawal Agreement ahead of BREXIT day.
The heads of the European Commission and Council, Ursula von der Leyen and Charles Michel, signed the Withdrawal Agreement of the UK.

The move comes ahead of the UK's exit from the EU on 31 January 2020. Brexit ended 47 years of run in the European Union partner.

Queen Elizabeth II gave her assent to the Brexit on 23 January. It was also signed by UK Prime Minister "Boris Johnson" on 25 January.
10. India took over the chairmanship of FEMBoSA from Bangladesh.
Chief Election Commissioner (CEC) Sunil Arora assumed Chairmanship of the Forum of the Election Management Bodies of South Asia (FEMBoSA) on 24 January for the year 2020. India took over the Chair of FEMBoSA from KM Nurul Huda, CEC of Bangladesh.

Mr.Huda handed over the Logo of FEMBoSA to Mr. Arora at the 10th Annual Meeting of FEMBoSA held in New Delhi

FEMBoSA was established at the 3rd Conference of Heads of Election Management Bodies of South Asian Association for Regional Cooperation (SAARC) Countries held at New Delhi in May 2012. FEMBoSA is a regional association Election Management Bodies (EMBs) of SAARC Countries. The forum has eight members. FEMBoSA is an active regional association of EMBs.

Read More:
Current Affairs 24 January, 2020
Current Affairs 23 January, 2020
Current Affairs 22 January, 2020