Current Affairs 27 January, 2020
Current Affairs 27 January, 2020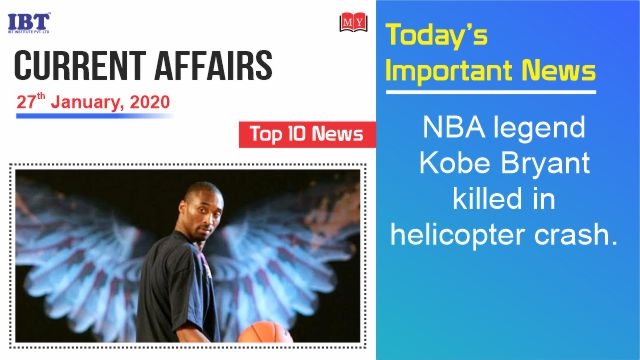 1. Switzerland mints smallest gold coin featuring image of Einstein
The smallest gold coin in the world featuring legendary scientist Albert Einstein has been recently minted by Switzerland.

The gold coin of about 0.12 inches of diameter has been made by state-owned Swissmint and features the scientist sticking out his tongue.The size of the coin weighing 1/500th of an ounce is so small that it comes along with a magnifying glass for observing Einstein's cheeky image.

The price of each gold coin has been pegged at USD 205 and only 999 of these have been made by producers.Famed physicist Einstein was granted Swiss citizenship in the year 1901 and he was also a recipient of the 1921 Nobel Prize for physics.
Foot Notes:
About Switzerland
Currency: Swiss franc
Capitals: city of Bern
2. U.K introduces new fast-track visa to attract scientists
British Prime Minister Boris Johnson introduced a new fast-track visa to attract more of the world's best scientists to the U.K. in hopes of creating a global science "superpower."Johnson paired the announcement of the Global Talent route program with a pledge of 300 million pounds ($392 million) for research into advanced mathematics.

The money will help fund researchers and doctoral students whose work in math underpins myriad developments such as safer air travel, smartphone technology and artificial intelligence.The new visa route will have no cap on the number of people able to come to the U.K. under the program.

Britain is facing its biggest immigration shake-up in decades after it leaves the EU.
Foot Notes:
About U.K
Prime minister: Boris Johnson
Capital: London
Currency: Pound sterling
3. Country's first Super Fab Lab inaugurated in Kerala
The country's first Super Fab Lab was launched at the Integrated Startup Complex of the Kerala Startup Mission (KSUM).

The lab will give a major push to the hardware industry in the country and the only such facility outside the U.S.

The Super Fab Lab will function in collaboration with the Massachusetts Institute of Technology (MIT).
Foot Notes:
About Kerala
Governor: Arif Mohammad Khan
Capital: Thiruvananthapuram
4. NBA legend Kobe Bryant killed in helicopter crash
Kobe Bryant, one of the NBA's all-time greatest players whose international stardom transcended basketball, was killed at age 41 in a helicopter crash near Los Angeles.

His daughter Gianna, 13, were among the nine killed when the aircraft came down in Calabasas.

Bryant rocketed to fame as an 18-year-old rookie and played 20 years for the Los Angeles Lakers, winning five NBA championships.

The cause of the crash was unknown, and an investigation by the Federal Aviation Administration and the National Transportation Safety Board could take months.

5. Eminent Journalist N Ram honoured by Kerala media Academy.
The chairman of The Hindu Group N. Ram has been selected as the outstanding media person in a national award instituted by Kerala Media Academy.

The award was instituted for fearless and brilliant journalistic work at a national level.

The award carrying a cash prize of 1 lakh, citation and sculpture were announced as part of the academy's 40th-anniversary celebration.
6. Noted artist and sculptor Sher Singh Kukkal passes away
Noted artist and sculptor Sher Singh Kukkal passed away. He was awarded Senior Fellowship in Visual Art Photography by Union Ministry Of Culture during 2008-09.
7. 'Innovation Festival' begins at Science Centre in Itanagar
In Arunachal Pradesh, the two-day 'Innovation Festival' kicked off at the Science Centre.The festival is being organized by the Arunachal Pradesh State Council for Science & Technology in collaboration with the National Innovation Foundation.

More than 50 innovations are put on display by students from various educational institutions, grassroots innovators, artisans and entrepreneurs from Arunachal Pradesh, Assam and other states.

The Innovation Festival, a first of its kind in the state, aimed to foster the culture of innovation among all people of the state, especially in all the educational institutions.
Foot Notes:
About Arunachal Pradesh
Chief Minister: Pema Khandu.
Governor: B. D. Mishra.
8. Tribal Affairs Ministry proposes 6th Schedule Area status to Ladakh
Union Tribal Affairs Ministry has proposed 6th Schedule Area status to Union Territory of Ladakh.

Tribal Affairs Minister Arjun Munda said that his ministry has sent the proposal to the Union Home Ministry to declare the 6th Schedule status to Ladakh. Environmentalist Sonam Wangchuk had last month appealed to Prime Minister Narendra Modi to preserve the culture and identity of Ladakh.

The Sixth Schedule of the Constitution deals with the administration of the tribal areas in the four northeastern states of Assam, Meghalaya, Tripura and Mizoram.
Foot Notes:
Lieutenant Governors: R. K. Mathur
9. Government announces 141 Padma Awards for this year on occasion of 71st Republic Day
The government has announced 141 Padma Awards for this year on the occasion of 71st Republic Day.The list comprises 7 Padma Vibhushan, 16 Padma Bhusan and 118 Padma Shri awards.

Former Union Ministers George Fernandes, Sushma Swaraj and Arun Jaitley will be awarded Padma Vibhushan posthumously.Pejavara math seer late Vishveshateertha Swamiji will be awarded Padma Vibhushan posthumously.

Former Prime Minister of Mauritius Anerood Jugnauth, Hindustani classical vocalist Chhannulal Mishra and Boxer MC Mary Kom will also get Padma Vibhushan.Prime Minister Narendra Modi has congratulated all those who have been selected for Padma Awards.
10. Government announces sale of 100% stake in debt-laden Air India
The government issued the preliminary information memorandum for 100 per cent stake sale in national carrier Air India.

As part of the strategic disinvestment, Air India would also sell 100 per cent stake in low cost airline Air India Express and 50 per cent shareholding in joint venture AISATS.Management control of the airline would also be transferred to the successful bidder.

The government has set March 17 as the deadline for submitting the Expression of Interest (EoI).

Read More:
Current Affairs 25-26 January, 2020
Current Affairs 24 January, 2020
Current Affairs 23 January, 2020