Current Affairs 29 January, 2020
Current Affairs 29 January, 2020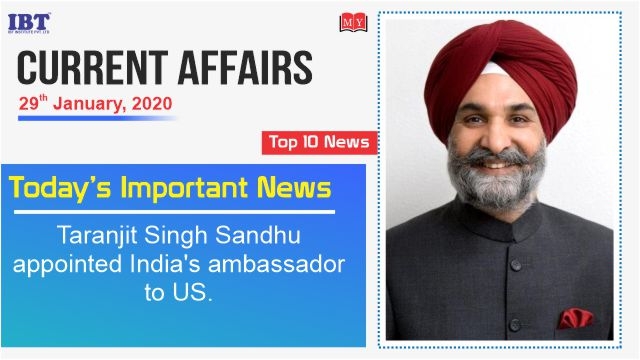 1. Oxford University Press (OUP) named 'Samvidhaan' (Constitution) the Oxford Hindi Word of 2019.
OUP said that it received widespread attention in the year which was witness to the spirit of the Indian Constitution being embraced across segments of the society.

The Oxford Hindi Word of the Year is a word or expression that has attracted a great deal of attention and reflects the ethos, mood, or preoccupations of the past year.

In November 2019, Oxford Dictionaries has named "climate emergency" as its 2019 Word of the Year.
2. Qatar names Sheikh Khalid bin Khalifa bin Abdelaziz Al Thani new PM.
Qatar appointed Sheikh Khalid bin Khalifa bin Abdelaziz Al Thani as the new Prime Minister. He will replace Sheikh Abdullah bin Nasser bin Khalifa Al Thani.

The earlier Prime Minister has submitted his resignation. The state-run Qatar News Agency reported that no reason for the change has been specified.
Foot Notes:
About Qatar
Capital: Doha
Currency: Qatari riyal
3. Taranjit Singh Sandhu appointed India's ambassador to US.
Senior diplomat Taranjit Singh Sandhu has been appointed as India's Ambassador to the US. Sandhu, a 1988-batch Indian Foreign Service officer, is currently posted as High Commissioner of India in Sri Lanka.

He replaces Harsh Vardhan Shringla as India's envoy in Washington.

Shringla has been named as India's next foreign secretary.
Foot Notes:
About United States
Capital: Washington, D.C.
President: Donald Trump
4. India's Esow Alben bags gold in men's Keirin individual event of Six Day Berlin Tournament.
In Cycling, India's Esow Alben has bagged a gold in the men's Keirin individual event of the Six Day Berlin Tournament.

Czech Republic's Tomas Babek, who won a silver in the 2017 World Championship, came in second while Maximilian Lev of Germany took home the bronze.

Keirin event is a six-day track cycling race. Each cyclist competes on every day of the competition.

5. Coast Guard Ship 'Annie Besant' reaches base harbour at Chennai.
The recently inducted Indian Coast Guard Ship Annie Besant has reached its base harbour at Chennai. It was received with pomp and splendour by the staff and their family members of the Coast Guard Chennai office.

The ship Annie Besant is the third Fast Patrol Vessel of the 'Priyadarshini' class. The ship has been indigenously designed and built and was commissioned at Khidderpore Dock, Kolkata.

The ship ICGS Annie Besant is fitted with modern navigational and communication equipment and sensors. It is capable of undertaking multi-faceted maritime operations such as Surveillance, Search and Rescue and Interdiction.
6. SC allows centre to introduce African cheetah to suitable habitat in India.
The Supreme Court allowed the Centre to introduce the African cheetah to suitable habitat in India.The apex Court's decision followed a petition filed by National Tiger Conservation Authority (NTCA) seeking permission for the introduction of the African cheetah as rare Indian cheetah is almost extinct in the country.

The government's plan is to import the Cheetah from African countries like Namibia and reintroduce them in India.

In 2013, the top court had declined the plea seeking relocation of African Cheetah at Kuno National Park.
Foot Notes:
CJI: Sharad Arvind Bobde
7. NABARD pegs credit potential at Rs 90,000 crore for Odisha.
The National Bank for Agriculture and Rural Development projected a credit potential of Rs 90,395.69 crore for Odisha under priority sector for 2020-21 fiscal. The projection was made in the State Focus Paper released by Finance Minister Niranjan Pujari at the annual State Credit Seminar organised by NABARD for 2018-19 here.

Inaugurating the seminar, Pujari emphasized the need for increasing agriculture term loan finance in other allied sector activities such as animal husbandry, poultry and fisheries leading to asset formation and diversification of farmers' income.

Pujari advised regional banking heads to increase their outreach in un-banked areas of the State to help in effective implementation of various developmental programmes while increasing the scope of digital banking and financial inclusion across the State. The Finance Minister also highlighted the need for a coordinated support from all the stakeholders to make Odisha a leading State in Indian economy.
Foot Notes:
About NABARD
Founded: 12 July 1982
Headquarters: Mumbai
Chairperson: Harsh Kumar Bhanwala
8. BSE signs licensing agreement with ICE for the rupee-denominated Brent futures contract.
The Bombay Stock Exchange (BSE) has signed a licensing agreement with Intercontinental Exchange (ICE) Futures Europe, an operator of global exchanges and clearing houses. India is one of the largest consumers and importers of crude oil in the world, and Brent crude is highly co-related with the Indian crude oil market.

This agreement will serve the needs and interests to the Indian energy commodities space and market participants to access Rupee-dominated Brent benchmark prices.

It will also help Indian commodity markets by providing convenient and cost-effective onshore hedging products and enable the price discovery of Brent crude prices in the Indian time zone.
Foot Notes:
About Bombay Stock Exchange (BSE)
Headquarters: Mumbai, Maharashtra.
Founded: 9 July 1875.
Chairman: Vikramajit Sen.
Managing Director(MD) & Chief Executive Officer(CEO): Shri Ashishkumar Chauhan.
9. Sahityacharya Dr Golok Chandra Goswami passes away.
Eminent scholar, linguist and litterateur Sahityacharya Dr Golok Chandra Goswami passed away.

Dr Goswami attended a number of national and international seminars on linguistics, representing Assam and India. He was the founder president of Assam Bhasha Bigyan Samiti.

Goswami pursued his master's degree in Assamese language in Gauhati University, Assam. In 1985 he retired from Gauhati University as head of the Assamese department. In 2018, he was awarded with Hemchandra Barua Bhasha Sahitya Sadhana award by Satin-Pratidin group.
10. Maharashtra CM Uddhav Thackeray inaugurates Nagpur Metro's Aqua line.
The Chief Minister of Maharashtra Uddhav Thackeray inaugurated 18.5 kilometre-long stretch of Nagpur Metro Aqua line of Maha Metro Rail Network.
Foot Notes:
Governor of Maharashtra: Bhagat Singh Koshyari;
Capital: Mumbai.

Read More:
Current Affairs 28 January, 2020
Current Affairs 27 January, 2020
Current Affairs 25-26 January, 2020