Current Affairs 25 December, 2019
Current Affairs 25 December, 2019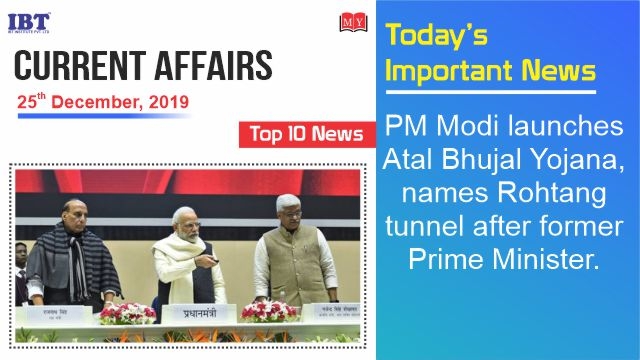 1. Cabinet approves creation of the post of Chief of Defence Staff in the rank of four star General
The Cabinet approved creation of post of Chief of the Defence Staff, CDS which was announced by Prime Minister Narendra Modi during his Independence Day address this year.

The post of Chief of Defence Staff will be the rank of 4-Star General with salary equivalent to Service Chiefs and will head the Department of Military Affairs to be created under Ministry of Defence and will function as its Secretary.

The Cabinet also gave ex-post facto approval for official amendments to the Arms (Amendment) Bill, 2019 moved and passed by the Lok Sabha.
Foot Notes:
Chief of Army Staff: General Bipin Rawat
2. India-Brazil MoU on Bio energy Cooperation gets Cabinet approval.
Union Cabinet has given its approval for signing of Memorandum of Understanding (MoU) between Republic of India and Federative Republic of Brazil on Bio energy Cooperation.

In 2016, during the meeting between Prime Minister Narendra Modi and President of Brazil in India, the two sides agreed to cooperate on research and development (R&D) of renewable energies, and in field of 2nd-generation biofuels.

Therefore, in this regard, an MoU was also signed between two sides to provide a framework to cooperate as well as to promote investment in biofuel, bioelectricity and biogas supply-chains including industrial conversion, feedstock, distribution and end use sectors.
Foot Notes:
About Brazil
President: Jair Bolsonaro
Capital: Brasilia
Currency: Brazilian real
3. PM Modi launches Atal Bhujal Yojana, names Rohtang tunnel after former Prime Minister.
Prime Minister Narendra Modi launched the Atal Bhujal Yojana, a scheme aimed at improving groundwater management, on the occasion of 95th birth anniversary of former prime minister Atal Bihari Vajpayee. He said this scheme will help in supplying water to every house hold by 2024.

Under Atal Bhujal scheme, the government will promote Panchayat led ground water management and behavioural change with primary focus on demand side management.

The central government scheme stresses on the need to use technology to prevent wastage of water in various spheres, including agriculture.

The Cabinet also approved a decision to honour the contribution of ex-PM Atal Bihari Vajpayee by naming the strategic tunnel under Rohtang Pass after him.
4. Russia 'only country in world' with hypersonic weapons: Prez Putin.
President Vladimir Putin that Russia is the only country in the world that has hypersonic weapons. Speaking at a meeting with top military brass, Putin said that for the first time in history Russia has an edge in designing a new class of weapons unlike in the past when it was catching up with the United States.

He said that the first unit equipped with the Avangard hypersonic glide vehicle is set to go on duty this month, while that the air-launched Kinzhal hypersonic missiles already have entered service.

Putin said that the missile flies 10 times faster than the speed of sound, has a range of more than 2,000 kilometers (1,250 miles) and can carry a nuclear or a conventional warhead.
Foot Notes:
About Russia
Capital: Moscow
Currency: Russian ruble
President: Vladimir Putin

5. CM of Delhi Arvind Kejriwal introduced a new policy to make Delhi the capital of Electric vehicles.
CM of Delhi Arvind Kejriwal introduced a new policy to make Delhi the capital of Electric vehicles. Under the policy, the government has planned to provide subsidies to electric vehicles.

The goal of the policy is to ensure that 25% of new vehicles registered are electric by 2024. Along with electric vehicles, the government has also planned to construct 250 charging stations. It also includes 20% of the parking enabled for electric vehicles.

The policy has been drafted after feedback from UNEP (United Nations Environment Programme) experts, International Transport Council. The draft of the policy was already made public in November 2018.
Foot Notes:
About Delhi
Lieutenant Governor of Delhi: Anil Baijal
6. NPL scientists develop ink to stop fake passports and currency notes.
The Council of Scientific and Industrial Research (CSIR) and National Physical Laboratory (NPL) developed an ink to combat the problem of fake printing of passports and counterfeiting of currency notes. The ink has a new security feature of protecting itself against duplicity.

The ink was produced based on single excitable dual emissive luminescent pigment. It was developed based on the concept of fluorescence and phosphorescence phenomena. Currently, the currency notes display only one color with the emission of wavelength. However, in the ink developed by the scientists, features change in pigment color after the notes are printed.
Foot Notes:
About Council of Scientific and Industrial Research
Head: Shekhar C. Mande
Founder: Shanti Swaroop Bhatnagar
Founded: 26 September 1942
About National Physical Laboratory
Founded: 4 January 1947
Headquarters location: New Delhi
Director: Dr. D.K. Aswal
7. Gross NPA ratio improves to 9.1% at Sept end from 11.2% y-o-y: RBI.
As the bad loan recognition process nears completion, the health of the banking system has improved with the gross non-performing loan ratio remaining stable at 9.1 per cent as of September-end, the same level as in FY19, according to the RBI.

However, the numbers indicate major improvement on a full-year basis, as in FY18 the ratio stood at a high of 11.2 per cent and slipped to 9.1 per cent in FY19, the RBI said in its annual report on trends and progress of banking in 2018-19.

"The gross NPA (Non Performing Asset) ratio of all banks declined in FY19 (to 9.1 per cent from 11.2 per cent in FY18) after rising for seven consecutive years, as recognition of bad loans has neared completion," RBI said in the report.
Foot Notes:
About RBI
Headquarters: Mumbai
Founded: 1 April 1935, Kolkata
Governor: Shaktikanta Das
Deputy Governor: N S Vishwanathan, B P Kanungo and M K Jain.
8. WHO for 1st time approved Biosimilar of "Trastuzumab" for breast cancer treatment.
The World Health Organization (WHO) announced that for the 1st time it had approved a "biosimilar" medicine of Trastuzumab named "Ontruzant" to make cheaper breast cancer treatment at an affordable rate to women globally.

The medicine is derived from living sources rather than chemicals. The biosimilar medicine of the Trastuzumab drug was supplied by Samsung Bioepis co Ltd.
Foot Notes:
About WHO
Headquarters: Geneva, Switzerland.
Director general: Tedros Adhanom.
9. Ravi Mohan appointed as the new chairman of ESAF SFB.
P R Ravi Mohan was appointed as the new chairman of ESAF Small Finance Bank (SFB). Ravi has replaced R Prabha, whose tenure as chairman has ended.

Ravi previously worked as chief general manager Department of Banking Operations and Development (DBoD) of the Reserve Bank of India (RBI). He also previously headed the Banking Supervision.

ESAF Stands for Evangelical Social Action Forum.
Foot Notes:
About ESAF small Finance Bank:
Fact: ESAF started its operations as an NGO (Non-Governmental Organization) in 1992 as Evangelical Social Action Forum.
Former name: ESAF Microfinance.
Incorporated: May 5, 2016.
Headquarters: Thrissur, Kerala.
10. Telangana's Kamareddy district awarded by UNICEF for effective implementation of Swachh Bharat Mission 2019.
United Nations International Children's and Education Fund (UNICEF) has awarded Kamareddy district of Telangana for effective implementation of Swachh Bharat Mission in water sanitation and hygiene sectors for the year 2019.

This award was given under the categories like construction of individual sanitary lavatories, swachh darpan wall paintings, swachh survekshan, swachh sundar shouchalay and other activities.

Satyanarayana who was Collector of Kamareddy said that this award could be possible due to the concerted efforts of district rural development organisation, district panchayat office, mandal praja parishads, panchayat secretaries, sarpanches and field assistants.
Foot Notes:
About Unicef
Headquarters: New York, United States.
Head: Henrietta Fore
About Telangana:
Chief Minister: Chandrasekhar Rao
Governor: Tamilisai Soundararajan
Capital City: Hyderabad

Read More:
Current Affairs 24 December, 2019
Current Affairs 23 December, 2019
Current Affairs 21-22 December, 2019