Current Affairs 21 January, 2020
Current Affairs 21 January, 2020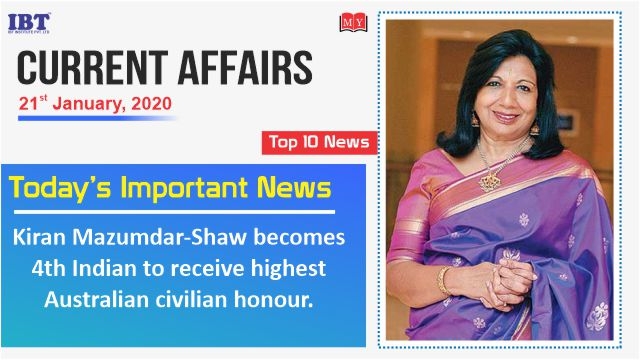 1. Social Mobility Index: India ranks low at 76th place; Denmark tops.
India has been ranked very low at 76th place out of 82 countries on a new Social Mobility Index compiled by the World Economic Forum. Denmark has topped the charts.

The report, released ahead of the 50th Annual Meeting of the WEF, also lists India among the five countries that stand to gain the most from a better social mobility score.

The top five are all Scandinavian, while the five economies with the most to gain from boosting social mobility are China, the United States, India, Japan and Germany.
Foot Notes:
About Denmark
Capital: Copenhagen
Currency: Danish Krone
2. Delhi CM launches 'Guarantee card' of upcoming assembly elections in the national capital.
Aam Aadmi Party national convener and Delhi Chief Minister Arvind Kejriwal launched party's Guarantee Card ahead of upcoming assembly elections in the national capital.

This card lists 10 promises that AAP will deliver on if it is elected to rule Delhi again.

The card, '10 guarantees of Kejriwal', also promised to continue the scheme for free electricity up to 200 units, free health facilities and to plant two crore saplings in the national capital over the next five years.
3. Two-day SQAY competition kicks off in Madhya Pradesh.
The two-day SQAY competition is being organized at Sports Authority of India (SAI) in Bhopal, Madhya Pradesh.

The under-21 category tournament is organized under the 'Ek Bharat Shreshtha Bharat' campaign.

SQAY is a martial art form of Central Asia, in which the players show the skills of fencing. Experts say that the martial art form originated in Kashmir.

In this competition, teams from eight states across the country including Uttarakhand, Karnataka, Goa, Jharkhand, Madhya Pradesh, Manipur, Bihar and Tripura will participate.
Foot Notes:
About Madhya Pradesh
Governor: Lalji Tandon
Capital: Bhopal
Chief Minister: Kamal Nath
4. Ratchanok Intanon lifts Indonesia Masters 2020 title.
Thailand's Ratchanok Intanon lifted the Indonesia Badminton Masters 2020 women's singles title after defeating Carolina Marin in the summit clash.

Intanon defeated Marin 21-19, 11-21, 21-18 in one hour and twenty minutes long match. The clash went into three-games and both the shuttlers tried their 100 per cent to turn things in their favour.

Despite losing the first game, the Spanish shuttler made a comeback in the second game and claimed the game by 21-11.Intanon won the match by claiming the third game by 21-18.

5. Sania Mirza wins women's doubles title of WTA International trophy at Hobart.
In Tennis, Sania Mirza and her Ukrainian partner Nadiia Kichenok have won the women's doubles title of the WTA International trophy at Hobart in Australia.

In the final, they beat Shaui Peng and Shuai Zhang of China 6-4, 6-4.

It is Sania's 42nd WTA doubles title and first since Brisbane International trophy in 2007 with American partner Bethanie Mattek-Sands.
6. Veteran Odia Hindustani vocalist Sunanda Patnaik passes away at 85.
Eminent Indian classical singer and daughter of noted Odia poet Baikunthanath Patnaik, Sunanda Patnaik passed away.

Singer of Gwalior gharana of classical music, Sunanda was referred to as 'Guruma' in the classical music circle.Her popular devotional Odia song 'Jeevana Patra Mo Bhariccha Kete Mote' that was penned by her father, still holds a special place in the hearts of Odias.

For her contribution to Hindustani classical music, Sunanda was honoured with the Odisha Sangeet Natak Akademi award in 1970 and 1971 and the Central Sangeet Natak Akademi Award for the year 2012.
7. Indian Air Force inducts BrahMos-armed Sukhoi-30MKI fighter squadron at Tamil Nadu's Thanjavur.
The Sukhoi-30MKI fighter aircraft was inducted at Thanjavur airbase equipped with 'special weapon' BrahMos supersonic cruise missile that will manage the requirements in the Indian Ocean.

The integration of the air-launched version of the BrahMos missile with the SU-30MKI fighter has been done fully indigenously by BrahMos Aerospace, HAL and the Air Force.The Su-30 MKI is a state-of-the-art all-weather multi-role fighter aircraft capable of undertaking varied air defence, ground attack and maritime missions.
Foot Notes:
Chief of Air Staff: Air Chief Marshal R.K Bhadauria
8. For the 1st time, Govt to collect data including families headed by transgenders for census 2021.
According to the Ministry of Home Affairs (MHA), the central government, for the 1st time, will collect data on households headed by a transgender and members living in the family for census 2021. Previously, the choice of the head of the household was gender – male or female.

The census 2021 will be done through a mobile phone application, deviating from the traditional pen and paper.

The census has been conducted in India since 1872 without outbreak. It is conducted every 10 years. 2021 is not only the 16th census but also 8th after independence. The Census Act, 1948 and the Census Rules, 1990 provide the legal framework in conducting the Census.
Foot Notes:
About Ministry of Home Affairs
Founded: 15 August 1947
Headquarters: New Delhi
Union minister: Shri Amit Shah
Minister of State (MoS): G.Kishan Reddy and Nityanand Rai
9. Ashish Garg elected President of the Institute of Company Secretaries of India (ICSI).
The Company Secretaries Institute has a new President in Ashish Garg for the year 2020. Nagendra D Rao, a fellow member of ICSI, has been elected Vice-President of the Institute of Company Secretaries of India (ICSI).

Garg is a Post Graduate in Economics (M A), Commerce (M Com) and a graduate in law (LLB). He was elected to the central council of ICSI for the term 2015-18 and re-elected for the term 2019-22.
10. Kiran Mazumdar-Shaw becomes 4th Indian to receive highest Australian civilian honour.
Australia has conferred its highest civilian honour, the Order of Australia honour to Kiran Mazumdar-Shaw, founder and chairperson of biopharmaceutical company Biocon and appointed as an honorary member in the general division of the Order of Australia by Australia's High Commissioner to India Ms. Harinder Sidhu at a ceremony in Leela Palace, Bengaluru, Karnataka. She is the fourth Indian citizen to be awarded Australia's highest civilian honour.

The award is given to foreign nationals who have extraordinarily contributed to Australia or for humanity.

The Australian civilian honours from India are star batsman Sachin Tendulkar in 2012, Former Attorney General of India Soli Jehangir Sorabjee in 2006 and Mother Teresa (Agnes Gonxha Bojaxhiu) of Kolkata in 1982.

Read More:
Current Affairs 20 January, 2020
Current Affairs 18-19 January, 2020
Current Affairs 17 January, 2020