Current Affairs 17 January, 2020
Current Affairs 17 January, 2020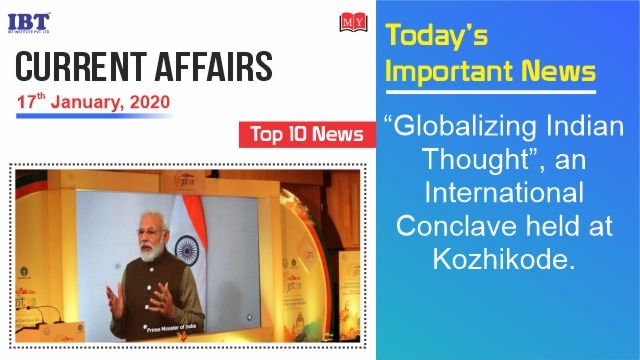 1. CSIR partners with DRDO to develop the Saras engine.
The Council for Scientific and Industrial Research (CSIR) has partnered with the Defence Research and Development Organisation (DRDO) to develop the Saras engine.

CSIR will take up the project jointly designing and developing an aero-engine which is a highly complex task.

All major systems of the Saras engine, except the power plants, are indigenous. The prototype version of the Saras is being developed by the CSIR's National Aeronautical Laboratory (NAL).
Foot Notes:
About CSIR
Director-General: Ashutosh Sharma
Founder: Arcot Ramaswamy Mudaliar
Headquarters: New Delhi
2. Historic Bru-Reang Refugee agreement signed; 34,000 displaced to settle in Tripura.
Government of India, Bru-Reang representatives, Government of Tripura and Mizoram signed an agreement in New Delhi to end the refugee crisis of Bru-Reang community. Home Minister Amit Shah presided over the event.

Under the agreement, around 34,000 Bru Refugees are to settle in Tripura. The Centre will offer their rehabilitation helps with an allocated budget of Rs 600 crores. With this, the refugees are now eligible to enjoy social welfare schemes of state and central governments.

According to the agreement, the displaced families are to be provided with land of 40 by 30 square feet. The land is to be provided by the Tripura Government. The Centre will provide aid of Rs 1.5 lakhs to build their houses. The Centre will also provide fixed deposit of Rs 4 lakhs and Rs 5,000 cash aid per month and free ration for 2 years.
Foot Notes:
About Tripura
Capital: Agartala
Governor: Ramesh Bais
Chief Minister: Biplab Kumar Deb
3. Department of Industries and Commerce organized food processing summit in Ladakh.
Department of Industries and Commerce, functioning under Ministry of Food Processing Industries organized food processing summit in Ladakh. The other stakeholders of the summit include Invest India and National Investment Promotion and Facilitation agency.

The Summit was attended by food producers of Ladakh. It included producers of milk, barley, meat, organic vegetables, apples and apricots. The Ladakh Action Plan for Food Processing to promote food processing was presented at the summit.

The summit focused on chain mapping of food processing and recommended strategies to integrate local population towards agriculture and food processing. It also focused primarily on Leh and Kargil regions.
Foot Notes:
Governors: R. K. Mathur
4. "Globalizing Indian Thought", an International Conclave held at Kozhikode.
On January 17, 2020, the International Conclave on "Globalizing Indian Thought" was held in IIM, Kozhikode. PM Modi addressed the conclave. The conclave aimed at revealing India's thoughts in becoming one of top three economies of the world.

India is stepping towards the goal of becoming a 5 trillion Dollar economy by 2025. This will make India one of the top three economies in the world after US and China. It is essential for India to reveal its path while it is achieving such goals. The Conclave is an initiative to achieve this.
The Conclave focuses on India's thought on development. The thoughts are as follows
Satyam-Truth

Nithyam-Sustainability

Purnam-Wholeness.
Foot Notes:
About Kozhikode
Kozhikode is a coastal city in the south Indian state of Kerala
Governor: Arif Mohammad Khan
Capital: Thiruvananthapuram
Chief minister: Pinarayi Vijayan

5. First Session of India-Norway Dialogue held in New Delhi.
First session of India-Norway trade and investment dialogue was held in New Delhi. It was the first meeting of the countries after they signed an agreement in 2019.

India and Norway signed Dialogue of Trade and Investment when Norway Prime Minister visited India in 2018. Based on the agreement, the countries held their first meeting to discuss industrial trade.

The discussions included on various areas such as renewable energy, ICT, fisheries, MSME, maritime, shipping. The countries exchanged their views on investment opportunities.
6. Reliance Jio emerges as largest telecom with 36.9 cr users; Vodafone loses 36 mn customers.
Reliance Jio has become the largest telecom player with 36.9 crore mobile subscribers 2019, according to the data published by telecom regulator Trai. Vodafone Idea reported a total mobile subscriber base of 33.62 crore and Bharti Airtel at 32.73 crore customers for November 2019.

Mobile subscriber base, which dominates overall telecom connections, declined by 2.43 per cent to 115.43 crore in November from 118.34 crore in October with Vodafone Idea losing the highest number of subscribers.
Foot Notes:
About Reliance Jio
Chairman and Managing director: Mukesh Ambani
7. Henley Passport Index launched: Japan has the world's strongest passport.
Recently, Henley Passport Index was launched. The index was launched based on the data collected from International Air Transport Association (IATA). Around 199 different passports and 227 different travel destinations were considered to launch the index.

The Index is based on the number of destinations their holders can access without visa. Japan was followed by Singapore, Germany, South Korea at second, third and fourth places respectively. US and UK have been falling places for two year are now in eighth position.

India ranked closer to the bottom at rank 84.
Foot Notes:
Capital: Tokyo
Currency: Japanese yen
Prime Minister: Shinzō Abe
8. Bipul Behari Saha has been elected by IUPAC as its bureau member.
Bipul Behari Saha has been elected as the bureau member of International Union of Pure and Applied Chemistry (IUPAC) for the tenure of 2020-23.

He has become the 2nd Indian after CNR Rao to hold the position.
Foot Notes:
About IUPAC
Headquarters: Research Triangle Park Headquarters, North Carolina, United States
Founded: 1919
President: Zhou Qifeng
Motto: Advancing Chemistry Worldwide
9. RBI directs issuers to provide a facility to switch on, off cards.
The Reserve Bank of India (RBI) has directed banks and other card-issuing companies to provide a facility to customers to switch on and off their debit or credit cards.

The move by RBI aims to enhance the security of digital transactions. It assumes significance amid rising instances of cyber fraud. RBI observed the volume and value of transactions made through cards have increased manifold.

It stated that all cards at the time of issue or re-issue, physical and virtual, should be enabled for use only at contact-based points of usage, ATMs, and Point-of-Sale (PoS) devices, within India.
Foot Notes:
About RBI
Governor: Shaktikanta Das
Headquarters: Mumbai
Founded: 1 April 1935
There are four deputy governors
B. P. Kanungo, N. S. Vishwanathan, Mahesh Kumar Jain, and Michael Patra.
10. 7th Conference of Commonwealth Parliamentary Association, India Region starts.
The 7th Conference of Commonwealth Parliamentary Association (CPA) India Region started at the legislative assembly building in Lucknow, Uttar Pradesh.

Lok Sabha Speaker Om Birla inaugurated the Conference in the presence of Chief Minister Yogi Adityanath.

Around 100 Delegates of 15 state assemblies and representatives of some foreign countries have reached Lucknow to take part in the 7th Conference of CPA India Region. The main theme of the conference is 'ROLE OF LEGISLATORS'.

Read More:
Current Affairs 16 January, 2020
Current Affairs 15 January, 2020
Current Affairs 14 January, 2020