Current Affairs 14 January, 2020
Current Affairs 14 January, 2020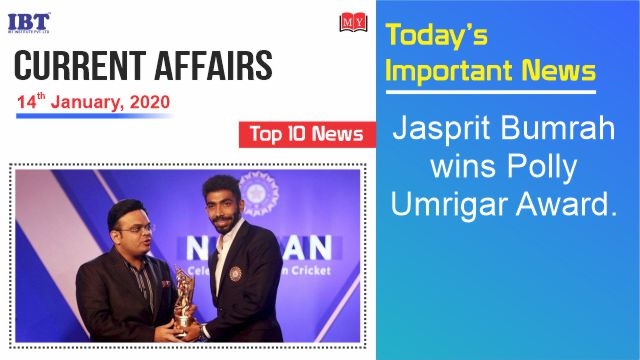 1. Armed Forces Veterans Day celebrated on January 14.
Every year, Armed Forces Veterans Day is celebrated on January 14. The day is being celebrated since 2017. The day was initially called Armistice Day.

The Day began its journey as Armistice Day in order to reflect upon heroism of those who died in country's service. Armistice Day is celebrated on November 11 all over the world.

The first Armistice Day was celebrated on November 11, 1919 marking the anniversary of the end of World War I and celebrating the brave soldiers who were part of World War I. However, in India the day was first marked through a resolution passed by the Congress in 1926.
2. Statue of Unity included in 8 Wonders of SCO; SCO heads meet to be in India.
The Statue of Unity that was inaugurated by PM Modi in October 2018 has been included in 8 wonders of SCO (Shanghai Cooperation Organization). The statue was a monumental tribute to Sardar Vallabhai Patel.

The Statue was inaugurated on the 143rd birth anniversary of Sardar Vallabhai Patel. It is the world's tallest statue. In one year, since its inauguration, it attracted 2.9 million tourists and earned 82 crores of rupees.

For the first time, India is hosting heads of Government meet of SCO countries. All the government heads of eight SCO countries India, Russia, China, Kazakhstan, Tajikistan, Kyrgyzstan, Uzbekistan and Tajikistan will attend the meeting. However, there are possibilities for Pakistan to skip the meet.
Foot Notes:
About Statue of Unity
The Statue of Unity is a colossal statue of Indian statesman and independence activist Sardar Vallabhbhai Patel, who was the first Deputy Prime Minister and Home Minister of independent India and the chief adherent of Mahatma Gandhi during the non-violent Indian Independence movement.
About Gujarat
Capital: Gandhinagar
Governor: Acharya Devvrat
Chief minister: Vijay Rupani
3. Indian Space Research Organization will launch GSAT-30 satellite on the launch vehicle Ariane-5.
On January 17, 2020, the Indian Space Research Organization will launch GSAT-30 satellite on the launch vehicle Ariane-5. It is to be launched in Ariane Launch Complex at Kourou. Kourou is a French territory that if located along the north eastern coast of South America.

The GSAT-30 is a communication satellite. It is to replace INSAT-4A. The mission life of GSAT-30 is 15 years. ISRO has designed GSAT-30 in such a way to increase the number of transponders. A transponder is a device that transmits and responds to signals.

The satellite will help in supporting VSAT network, teleport services, DTH televisions services, cellular backhaul connectivity and digital news gathering services
Foot Notes:
About ISRO
Founder: Vikram Sarabhai
Founded: 15 August 1969
Headquarters: Bengaluru
Director: Kailasavadivoo Sivan
4. Australian Koalas become endangered in bush fires.
The Australian Koalas population suffered an extraordinary hit in the bush fires of Australia. It took 3 months for the firemen to control the fires.

Australia recorded 2019 as its hottest year on record. Around 1.25 billion animals are believed to be dead in bush fires. It has also destroyed more than 10 million hectares of land.

The Australian Koalas are to be put under "endangered" from "vulnerable" as 30% of their habitat were destroyed by the fires. The Australian Government has announced 50 million Australian Dollars emergency fund to save the wildlife affected due to the fires.

5. Dhaka International Film Festival begins in Bangladesh.
The 18th edition of the Dhaka International Film Festival (DIFF) began on 11 January 2020. The festival will be held from 11-19 January. The program was inaugurated by the Minister of Foreign Affairs Dr. AK Abdul Momen. The theme for the DIFF festival is Better Film, Better Audience, and Better Society.

DIFF aims to create a better understanding of the films of the world in an atmosphere that appreciates film culture. The festival focuses to move towards excellence in the motion picture art and industry in Bangladesh.

Rainbow Film Society is being organized the Dhaka International Film Festival since 1992.
Foot Notes:
About Bangladesh
Capital: Dhaka
Currency: Bangladeshi taka
Prime minister: Sheikh Hasina
6. Captain Tania Shergill to be the first woman parade adjutant for the Republic Day parade.
Captain Tania Shergill has been selected to be the first woman parade adjutant for the Republic Day parade. The parade adjutant is responsible for the parade. In the 2019 Republic Day parade. Captain Bhavna Kasturi was the first woman officer to lead an all-men contingent.

Captain Tania Shergill is an officer with the Army's Corps of Signals. She was commissioned in March 2017 from the Officer Training Academy, Chennai.

She is an electronics and communications graduate. Her father, grandfather and great-grandfather have also served in the Indian Army.
7. Indian Navy gets Fuel HFHSDIN 512, a special NATO class diesel.
M/s Indian Oil Corporation Limited (IOCL) launched the new fuel High Flash High-Speed Diesel (HFHSD) – IN 512, with revised technical specifications. India will be able to ensure interoperability amongst foreign navies during fleet exercises.

It will provide fuel of quality better than that mandated to all foreign navies under bilateral/ multi-national logistics support pacts including Logistics Exchange Memorandum of Agreement (LEMOA).

This fuel will be the key enabler in the Indian Navy's 'Mission Based Deployment' on a global scale.
Foot Notes:
Chief of the Naval Staff (CNS): Admiral Karambir Singh
8. Jasprit Bumrah wins Polly Umrigar Award.
Jasprit Bumrah bagged the Polly Umrigar Award, the highest award of Indian Cricket. He received this award for the best international cricketer (2018-19) at the BCCI Annual Awards event. Bumrah made his Test debut against South Africa in 2019.

Poonam Yadav was given the Best International Cricketer (Female) Award at the same function. It is the top award from the BCCI in the women's category.

Jasprit Bumrah was also given the Dilip Sardesai Award. The Polly Umrigar Trophy is given to the best male international cricketer by BCCI.
Foot Notes:
BCCI Awards: Full List of Winners
Kris Srikanth: Col. CK Nayudu Lifetime Achievement Award
Jasprit Bumrah: Polly Umrigar Award Best International Cricketer (Men)
Anjum Chopra: BCCI Life Time Achievement Award For Women
Poonam Yadav: Best International Cricketer (Women)
Dilip Joshi: BCCI Special Award
Mayank Agarwal: Best International Debut (Men)
Jasprit Bumrah: Dilip Sardesai Award for Highest Wickets in Test Cricket- 2018-19
Cheteshwar Pujara: Dilip Sardesai Award for Highest Run Getter in Test Cricket- 2018-19
Shafali Verma: BCCI Best International Debut (Women)
Jhulan Goswami: Highest Wickets in One Day Internationals (2018-19) Women
Shivam Dube: Lala Amarnath Award For the Best All-Rounder in the Ranji Trophy
Smriti Mandhana: Highest Run Getter in One Day Internationals -2018-19 (Women)
Vidarbha Cricket Association: Best Performance in BCCI Domestic Tournaments (2018-19)
Virendra Sharma: Best Umpire in Domestic Cricket (2018-19)
Shafali Verma: Jagmohan Dalmiya Trophy for Best Woman Cricketer
9. Drone registration compulsory by January 31 to avoid legal action.
The Directorate General of Civil Aviation (DGCA) has asked all the people possessing and flying drones to register their gadgets by January 31, 2020.

Ministry of Civil Aviation (MoCA) said in a public notice that if they violate the rules then appropriate action will be taken against them under the Indian Penal Code (IPC) and the Aircraft Act.

The ministry said in a notice that it has come to the notice of the government that there are some drones and drone operators who do not comply with the Civil Aviation Requirements (CAR) standards. Drone registration started on January 14, 2020.
Foot Notes:
Civil Aviation Minister: Suresh Prabhu
10. Noted Kerala Cartoonist Thomas Antony passes away at 62.
Kerala Cartoonist and Secretary of Kerala Cartoon Academy Thomas Antony passed away at Kottackal town in Malappuram district, Kerala after suffering from heart attack. He was 62. He was born in kottayam District Kerala India.

He worked as a cartoonist in Deepika daily and served as the executive artist with Malayalam daily 'Metro Vaartha'.

In 2007 he won United Nations Political Cartoon Award and the World Press Cartoon Award, instituted by an organization based in Lisbon, Portugal, in 2018.
Foot Notes:
About Kerala
Governor: Arif Mohammad Khan
Capital: Thiruvananthapuram
Chief Minister: Pinarayi Vijayan

Read More:
Current Affairs 13 January, 2020
Current Affairs 11-12 January, 2020
Current Affairs 10 January, 2020