Current Affairs 10 January, 2020
Current Affairs 10 January, 2020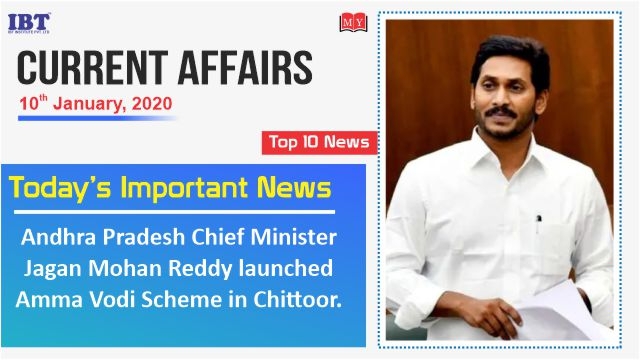 1. India Declared 5th Biggest Geopolitical Risk Of 2020.
India under Narendra Modi is the fifth biggest geopolitical risk of 2020, said Eurasia Group, world's leading political risk consultancy.

Eurasia's annual 'Top 10 Risks' of the year list is considered one of the foremost geopolitical indicators among global investors, multinational firms and various financial and business consultancies.

The list that is topped by-elections in the US and followed by events and developments like the US-China technology tug of war on 5G as well as the trade war between Beijing and Washington.
Foot Notes:
The Top 10 Risks of 2020 are as followed:
1. RIGGED!: WHO GOVERNS THE US?
2. THE GREAT DECOUPLING
3. US/CHINA
4. MNCS NOT TO THE RESCUE
5. INDIA GETS MODI-FIED
6. GEOPOLITICAL EUROPE
7. POLITICS VS. ECONOMICS OF CLIMATE CHANGE
8. SHIA CRESCENDO
9. DISCONTENT IN LATIN AMERICA
10. TURKEY
The Eurasia Group releases its 'Top 10 Risks' of the Year report annually considering one of the principal geopolitical indicators among global investors, multinational firms and various financial and business consultancies.
2. "Pariksha Pe Charcha 2020", will be held at Talkatora Stadium on 20th Jan.
Over 2000 students, parents and teachers will be participating from all over India in this event. The Human Resource Development Ministry in partnership with MyGov last month launched a 'short essay' competition for students of classes 9 to 12 for the third edition of Prime Minister's Interaction with school students.

The themes given this time for PPC 2020 are 'Gratitude is Great', 'Your future depends on your aspirations', 'Examining Exams', 'Our duties, you take' and 'Balance is Beneficial'.

The first edition of Pariksha Pe Charcha was held on 16th February, 2018 and second on 29th of January last year.
3. Budget to be presented on Feb 1; Economic Survey on Jan 31.
Union Budget will be presented on 1st of next month and the Economic Survey on 31st January. The Budget Session of Parliament will begin on the 31st of this month.

The first Union budget of independent India was presented by R. K. Shanmukham Chetty on 26 November 1947.

Until 2016, the budget of the Indian Railways was presented separately to Parliament and dealt with separately.
Foot Notes:
Finance Minister: Nirmala Sitharaman.
4. Jasbinder Bilan wins UK children's book award.
India-born author Jasbinder Bilan has bagged a coveted UK children's book award for her debut novel.

Her novel, 'Asha and the Spirit Bird', aimed at readers aged nine years and above, beat competition from three other shortlisted books to be named the winner of the 2019 Costa Children's Award this week.

Bilan will receive 5,000 pounds as the winner of the award. The award is open to authors resident in the UK and Ireland and presented annually across five categories of First Novel, Novel, Biography, Poetry and Children's Book.
Foot Notes:
About the United Kingdom
Queen: Queen Elizabeth II
Capital: London
Prime minister: Boris Johnson

5. World Hindi Day observed on 10 January.
World Hindi Day is observed every year on 10th January 2020. The day ensures to promote the Hindi language around the world. World Hindi Day is different from National Hindi Day.

The day aims to create a suitable environment to promote Hindi worldwide and to present Hindi as the prevalent language of the world.

On this day, Indian Foreign Ministries located abroad organize various programs. People of Indian origin living abroad organize various programs and celebrate the day. Unique programs for Hindi on various subjects are organized in all government offices.
Foot Notes:
National Hindi Day: 14 September
6. Women weightlifter Sarbjeet Kaur banned for 4 years by NADA.
Indian women weightlifter Sarbjeet Kaur has been banned for 4 years from the sport by the National Anti Doping Agency (NADA).

This ban was imposed on her for involving in doping violation. The sample of Sarbjeet was collected during 34th Women Senior National Weightlifting Championship held at Vishakhapatnam.

The Agency found her guilty of anti-doping rule violation.
Foot Notes:
About NADA
CEO: Navin Agarwal.
Founded: November 24, 2005.
Headquarters: New Delhi.
7. Andhra Pradesh Chief Minister Jagan Mohan Reddy launched Amma Vodi Scheme in Chittoor.
Andhra Pradesh Chief Minister Jagan Mohan Reddy launched Amma Vodi Scheme in Chittoor. It is one of the nine flagship programmes of the Andhra Government. The programmes are called Navratanalu. The scheme is first of its kind in the country.

The scheme aims at benefitting school students studying in classes I to XII. It includes both public and private schools. Under the scheme, these students belonging to Below Poverty Line will get Rs 15,000 per annum.

However, the guardian or mother of the child should ensure 75% attendance of the child.
Foot Notes:
About Andhra Pradesh
Governor: Biswabhusan Harichandan
Chief Minister: Y. S. Jaganmohan Reddy
8. Supreme Court: Access to Internet-a fundamental right.
Supreme Court of India said that Right of access to internet is a fundamental right. The Court had asked the administration of Jammu and Kashmir to review the curbs on internet in a week.

Lately the Indian Government had been using internet shut down as a tool to control protest in the country against the Citizenship Amendment Bill. It was predominant in the north eastern states.

The bench pronounced that freedom of speech and expression and freedom to practice any business or trade over internet is constitutionally protected under Article 19 (1).
Foot Notes:
Chief Justice of India: Sharad Arvind Bobde
9. India-Germany sign MoU on Zero Budget Natural Farming.
Andhra Pradesh Government signed Memorandum of Understanding with a German firm to implement Zero Budget Natural Farming in the state.

The state Government will take a loan of Rs 1015 crores to spend towards climate resilient Zero Budget Natural Farming. The project aims to cover 2.39 lakh farmers in 600 villages. The project was included in the Budget presentation of 2019. Along with ZBNF implementation, the Government will also implement Pradhan Mantri Fasal Bima Yojana.

It is a chemical-free agricultural farming practice. The Government of India is promoting ZBNF through Paramparagat Krishi Vikas Yojana and Rashtriya Krishi Vikas Yojana since 2015-16.
Foot Notes:
About Germany
President: Frank-Walter Steinmeier
Capital: Berlin
Currency: Euro
10. Railways: First Solar Power and other plans to Link J&K with rest of India.
Indian Railways announced that it will source 1000 MW of solar power and 200 MW of wind power to zonal railways by 2021-22. Also, Kashmir is to be linked with the rest of India through railway network by December 2021.

In order to implement the solar and wind power in Indian Railways, GoI has planned to install 500 MW of solar plants on the roof top of Railway buildings to meet non-traction loads.

It has also planned to install another 500 MW of land-based solar plants whose energy will be used to meet both non-traction and traction load requirements.
Foot Notes:
Minister of Railways: Piyush Goyal

Read More:
Current Affairs 09 January, 2020
Current Affairs 08 January, 2020
Current Affairs 07 January, 2020