Current Affairs 08 January, 2020
Current Affairs 08 January, 2020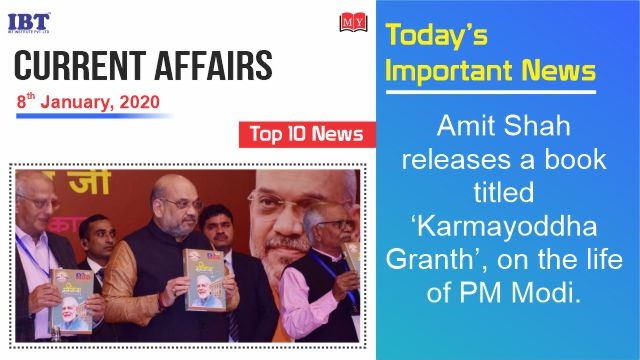 1. Indian Army begins its work on the GOCO (Government Owned Contractor Operated) Model.
Indian Army began its work on the GOCO (Government Owned Contractor Operated) Model. The model is extended to base workshops and ordnance depots. The workshops play vital role as they ensure the Indian Army is operationally prepared all the time.

The workshops are assigned the role of overhauling (testing and repairing) of weapons. They also manufacture spares. The workshops have an annual turnover of Rs 10,000 crores.

Though, the GOCO model in army workshops helps reducing government expenditure on armed forces and increase combat capability of the army, there are certain issues associated with the model.
Foot Notes:
Chief of Army Staff: Manoj Mukund Naravane
2. NITI Aayog: List of high export potential medical devices created.
The Government Think Tank Niti Aayog draws up list of medical devices that have high export potential. It has come up with 10 devices to provide priority subsidies. It includes surgical blades, orthopaedic implants, catheters, syringes and needles, X-ray machines, blood bags, MRI machines and CT scan.

The devices included in the list are to be prioritized in order to boost their domestic manufacturing. Also, in order to boost their exports, GoI will create a framework to accelerate their standardization and certification.

In December 2018, NITI Aayog announced that all medical devices will be brought under one regulatory regime. This will aid in boosting the exports as well as it will fasten the certification process
Foot Notes:
About NITI Aayog
CEO: Mr. Amitabh Kant
Formed: 1 January 2015
Headquarters: New Delhi
3. Amit Shah releases a book titled 'Karmayoddha Granth', on the life of PM Modi.
The Union Minister for Home Affairs Amit Shah released a book titled Karmayoddha Granth in New Delhi. In his book, Amit Shah has shared the life of Prime Minister Shri Narendra Modi.

The book talks about the three parts of PM Modi's life: The first part talks of Modi dedicating his life to an ideology. The second about him entering politics on the ideals of the Sangathan. The third about him Upholding the tenets of Parliamentary Democracy and the Constitution of India to construct an ideal State
Foot Notes:
Home Minister: Amit Shah
4. NSO estimated India's GDP growth rate as 5 percent for the current fiscal.
National Statistical Office (NSO) has estimated India's GDP growth rate for 2019-20 estimated at 5% on 7 January 2020. It has seen dipping to an 11-year low of 5% in the current fiscal. This is mainly due to poor showing by the manufacturing and construction sectors. The previous low economic growth was recorded at 3.1% in 2008-09.

As per the first advance estimates of the national income released by NSO, the estimated growth of the Indian economy of 5% in 2019-20 as against 6.8% in the previous fiscal.

The report also states that the output of the manufacturing sector is expected to decelerate to 2% in 2019-20 from 6.2% in the previous fiscal. The reduction was also witnessed in sectors like construction and electricity, agriculture, gas and water supply.

5. Famous artist Akbar Padamsee passed away.
One of India's best-known artists, Akbar Padamsee passed away in Coimbatore. He was 91 years old.

Akbar Padamsee was born in Mumbai in 1928. He earned a Diploma in Painting from Sir JJ School of Art. He was one of the pioneers of modern Indian art along with S.H. Raza, F.N. Souza, and M.F. Husain.

He was also part of the Progressive Artists' Group. He was renowned for his famous artworks like metascape, Syzygy, Portrait of Husain, Jeune femme aux Cheveux noirs, la tête inclinée, Metascape - III. He won many honours, including a gold medal from the Lalit Kala Akademi, and the Padma Bhushan in 2010.
6. RBI allows select banks in India to offer forex rates 24X7 to Indian Clients.
The Reserve Bank of India (RBI) has permitted the select banks in India can offer forex rates to Indian clients round the clock, which is 24X7. Now the select banks can work beyond the inter-bank market hours, which now run from 9 am to 5 pm.

The move will allow the Indians to hedge their foreign exchange risks at any time of the day. It will make the offshore currency markets in Dubai and Singapore less attractive for Indian investors.

RBI has also decided to accept the recommendation of the task force on the offshore rupee market. Hence it permits the authorized dealers Category-I banks to offer foreign exchange prices to users at all times either by a domestic sales team or through their overseas branches.
Foot Notes:
About RBI
Headquarters: Mumbai
Founded: 1 April 1935, Kolkata
Governor: Shaktikanta Das
7. Lt Gen PN Hoon, who secured Siachen for India in 1984, dies at 90.
Lt Gen Prem Nath Hoon, who served the army for four decades before hanging up his boots as chief of the Western Command in 1987, died in Panchkula. He was 90.

His son Ronny Hoon said the General died after suffering a brain haemorrhage at 6:30 pm. The last rites will be performed at the electric crematorium in Sector 25 at 3:30 pm on Tuesday.

Commissioned into the Sikh regiment two years after the Partition, Lt Gen Hoon led the Operation Meghdoot — as the commander of Srinagar-based 15 Corps — to capture the Siachen glacier in 1984.
8. IBBI notifies — Insolvency and Bankruptcy Board of India Regulations, 2020
The amendment clarifies that a person, who is not eligible under the Code to submit a resolution plan for insolvency resolution of the corporate debtor, shall not be a party in any manner to a compromise or arrangement of the corporate debtor under section 230 of the Companies Act, 2013.

It also clarifies that a secured creditor cannot sell or transfer an asset, which is subject to the security interest, to any person, who is not eligible under the Code to submit a resolution plan for insolvency resolution of the corporate debtor.

The amendment provides that a secured creditor, who proceeds to realise its security interest, shall contribute its share of the insolvency resolution process cost, liquidation process cost and workmen's dues, within 90 days of the liquidation commencement date.
Foot Notes:
About IBBI
Chairperson: M. S. Sahoo
Founded: 1 October 2016
Headquarters: New Delhi
9. Shivalik Mercantile became 1st urban cooperative bank to convert to SFB.
RBI gave approval to Uttar Pradesh based Shivalik Mercantile Co-operative Bank Ltd to convert to a small finance bank (SFB).

With this, Shivalik Mercantile became the 1st urban cooperative bank (UCB) to be converted into an SFB since the release of reformed RBI guidelines which came out 2 years ago. The RBI will grant a licence to Shivalik Mercantile bank for the commencement of banking business under Section 22 (1) of the Banking Regulation Act, 1949 as an SFB.

RBI granted transition of a UCB into an SFB under the scheme on the voluntary transition of urban co-operative bank into a small finance bank issued on September 27, 2018.
Foot Notes:
About Shivalik Mercantile
CEO: Suveer Gupta
About RBI
Headquarters: Mumbai
Founded: 1 April 1935, Kolkata
Governor: Shaktikanta Das
10. Arun Kumar Sahu concurrently accredited as India's Next Envoy to Dominica.
Ministry of External Affairs (MEA) has concurrently accredited Arun Kumar Sahu as the next ambassador of India to the mountainous Caribbean island of Dominica, with residence in Port of Spain. He succeeded Madhu Sethi.

Sahu is a 1996 batch IFS (Indian Foreign Service) officer, who serves presently as the High Commissioner of India to the Republic of Trinidad and Tobago.
Foot Notes:
About Ministry of External Affairs:
Headquarters: New Delhi.
Minister of External Affairs: Subrahmanyam Jaishankar.
Minister of state: V.Muraleedharan.

Read More:
Current Affairs 07 January, 2020
Current Affairs 06 January, 2020
Current Affairs 04-05 January, 2020