Current Affairs 06 January, 2020
Current Affairs 06 January, 2020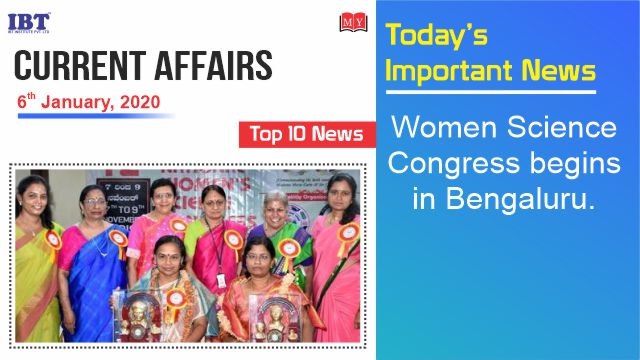 1. Iran takes final step by abandoning JCPOA restrictions.
In Iran, the Cabinet announced the country's decision to take the final step to reduce commitments to the Joint Comprehensive Plan of Action (JCPOA), popularly referred to as the 2015 nuclear deal.

Iran will observe no restrictions in operational areas including enrichment capacities, enrichment percentage, and the volume of enriched material as well as research. However, Iran will continue cooperation with the International Atomic Energy Agency as before.

Under the 2015 accord, Iran had agreed to limit its sensitive nuclear activities and allow in international inspectors in return for the lifting of crippling economic sanctions.
Foot Notes:
About Iran
President: Hassan Rouhani
Capital: Tehran
Currency: Iranian Rial
Supreme leader: Ali Khamenei
2. MECOS-3, 2020: Global Marine Ecosystem Meet in Kochi.
Kochi will host the third international symposium on marine ecosystems challenges and opportunities (MECOS-3) from January 7 to 10. Organised by the Marine Biological Association of India, MECOS-3 will serve as a platform for discussions on a range of topics, including the impact of the climate crisis on marine ecosystems and an unusual warming of the Arabian Sea.

The meet will also focus on the UN's sustainable development goal-14 (life under water), development of small-scale fisheries, recent developments in aquaculture, eco-labelling and green fishing technologies.

The symposium is aimed at reviewing the concerns involved in marine ecosystem and formulating strategies for the better and sustainable utilisation of marine wealth.
3. Government of India's UJALA & Street Lighting National Programme complete five successful years.
UJALA and Street Lighting National Programme (SLNP) of the central government completed five successful years of illuminating the country. Over 36.13 crore LED bulbs have been distributed across the country through the UJALA initiative.

This has resulted in an estimated energy savings of 46.92 billion kilowatt-hour per year. Unnat Jyoti by Affordable LEDs for All (UJALA) project brought the market transformation in the energy efficiency sector.

More than 1.03 crore smart LED streetlights have been installed till date under the Street Lighting National Programme.
4. MP govt starts Mukhyamantri Karmachari Swasthya Bima Yojana.
The Madhya Pradesh government has given its 12.55 lakh employees a new year bonanza by approving a health insurance scheme, 'Mukhyamantri Karmachari Swasthya Bima Yojana'.

The scheme will be effective from April 1 and will make government employees and their families eligible for medical treatment worth Rs 5 lakh annually. For some critical diseases, the eligibility will be enhanced to Rs 10 lakh.

All permanent and contractual employees, teachers, retired employees, home guards and others getting salary from contingency fund will reap the benefits of this scheme.
Foot Notes:
About Madhya Pradesh
Governor: Lalji Tandon
Capital: Bhopal
Chief Minister: Kamal Nath

5. India's Forex reserves touch all time high of 457.468 billion.
India's foreign exchange reserves swelled by 2.520 billion USD to touch a record high of 457.468 billion USD in the week that ended on 27th December 2019.

An RBI press release has informed that foreign currency assets, a major part of the overall reserves rose by 2.203 billion USD to 424.936 billion USD.

India's special drawing rights with the International Monetary Fund, however dipped by 2 million USD to 1.441 billion USD, while the country's reserve position increased by 58 million USD to 3.7 billion USD.
Foot Notes:
About RBI
Headquarters: Mumbai
Founded: 1 April 1935, Kolkata
Governor: Shaktikanta Das
6. India Russia to sign MoUs on AK-203 assault rifles.
The Army is likely to sign a Memorandum of Understanding (MoU) for the procurement of over 7.5 lakh AK-203 assault rifles with Russia. About 1 lakh rifles will come directly from Russia and the remaining will be manufactured by the JV in India.

The rifles will be manufactured by the Indo-Russian Rifles Private Limited (IRRPL) at Korwa in Uttar Pradesh.

The Army has been looking to replace the indigenous INSAS (Indian National Small Arms System) rifles in use with a modern rifle.
Foot Notes:
About Russia
President: Vladimir Putin
Capital: Moscow
Currency: Russian ruble
7. GoI to confer first "Antarrashtriya Yoga Diwas Media Samman".
On January 7, 2020, the Ministry of Information and Broadcasting will confer "Antarrashtriya Yoga Diwas Media Samman" to 30 media houses. The award is being presented for the first time.

The aim of the award is to acknowledge positive role of media in disseminating outreach of Yoga.

The awards are to be provided in the categories of Best Media Coverage of Yoga in Television (8 awards), Best Media Coverage of yoga in Radio (11 awards), Best Media Coverage of Yoga in Newspapers (11 awards).
Foot Notes:
Yoga Day: 21 June
8. Women Science Congress begins in Bengaluru.
The Women Science Congress was inaugurated at the ongoing Indian Science Congress in Bengaluru.

DRDO Aeronautical Systems Director General Dr.Tessy Thomas who is known as Missile Woman of India graced the occasion as the Chief Guest.

Recalling the contribution of women in different spheres, she said, the status of women in the country is changing as their growing presence is seen in many areas of expertise.
Foot Notes:
About DRDO
Headquarters location: New Delhi
Founded: 1958
Motto: बलस्य मूलं विज्ञानम्; "Strength's Origin is in Science" (Sanskrit)
Chairman: Dr. G. Satheesh Reddy
9. Former Karnataka Governor T N Chaturvedi passes away.
Former Governor of Karnataka T N Chaturvedi passed away. T N Chaturvedi served as Comptroller and Auditor General of India from 1984 to 1989.

He was awarded the Padma Vibhushan in 1991. He was the Governor of Karnataka from the year 2002 to 2007.
Foot Notes:
About Karnataka
Chief Minister: B. S. Yediyurappa
Capital: Bengaluru
10. Saurabh Chaudhary wins gold at the 63rd National Shooting Championship.
The 17-year-old ace shooter from Uttar Pradesh Saurabh Chaudhary has won the men's 10 metres air pistol gold at the 63rd National Shooting Championship in Bhopal on 4 January 2020. Chaudhary shot a 246.4 to finish on top.

Sarabjot Singh of Haryana secured second and scored 243.9 and Abhishek Verma won bronze in a high-quality final.

Read More:
Current Affairs 04-05 January, 2020
Current Affairs 03 January, 2020
Current Affairs 02 January, 2020