Current Affairs 04-05 January, 2020
Current Affairs 04-05 January, 2020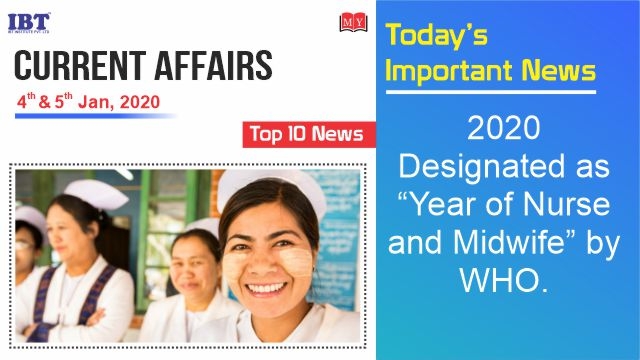 1. Iran names Esmail Qaani new Quds chief of IRGC.
Iran's supreme leader Ayatollah Ali Khamenei named Esmail Qaani as the Deputy Head of the Revolutionary Guards foreign operations arm to replace Qasem Soleimani as its commander. Soleimani killed in a pre-dawn US strike in Baghdad.

Qasem Suleimani regarded as the second most powerful figure in Iran after Supreme Leader Ayatollah Ali Khamenei was killed in an overnight attack by the US. Top Iraqi militia commander Abu Mahdi al-Muhandis, an adviser to Soleimani killed in the attack.

The Qaani was one of the most decorated commanders of the Guards during the 1980-88 Iran-Iraq war. The orders for the force remain precisely as they were during the leadership of Soleimani. The members of the force to cooperate with General Qaani.
Foot Notes:
About Iran
President: Hassan Rouhani
Capital: Tehran
Currency: Iranian rial
Supreme leader: Ali Khamenei
2. World Braille Day observed on January 4th.
World Braille Day observed on January 4th. The day is marked remembering the birth anniversary of Louis Braille, the inventor of Braille for people with visual disabilities.

Louis Braille was born on 4th January 1809 in the town of Coupvray in northern France. The invention of the language of 6 dots is popularly known as Braille. The 17 years long tradition prepared in Braille Script with a special typewriter.

This initiative aims to spread awareness among society about the plight and cause of people with visual disabilities.
3. Gujarat CM unveils world second tallest statue of Sardar Vallabhbhai Patel.
Gujarat Chief Minister Vijay Rupani unveils the second tallest statue of Sardar Vallabhbhai Patel in the world at Ahmedabad.

Around 50 feet tall bronze statue with a weight of 70 thousand kilograms unveiled at the Sardardham campus near the Vaishnodevi Circle in Ahmedabad. It is the second-highest statue of India's first home Minister after the Statue of Unity of the legendary leader situated at Kevadiya in the Narmada district of Central Gujarat. Statue of Sardar Patel is designed by Padma Bhusan Ram V. Sutar..
Foot Notes:
About Gujarat
Capital: Gandhinagar
Governor: Acharya Devvrat
Chief Minister: Vijay Rupani
4. US army kills Iranian Commander Soleimani.
US army killed Iran's most powerful military commander General Qasem Soleimani. He was killed at Baghdad airport.

In a drone strike held by the US force at Baghdad airport, the Iranian Commander was killed along with other Iran supported militia heads.

Under his leadership Iran had expanded its military presence in Syria and Iraq.
Foot Notes:
About United States
President: Donald Trump
Capital: Washington, D.C.

5. First Silk Processing plant in Gujarat to boost "PATOLA SAREE" production.
Khadi and Village Industries Commission (KVIC) inaugurated the first "Patola Saree" production unit in Gujarat. This will help to cut down the cost of silk yarn production and also will increase the sale of raw material for Patola sarees.

The silk production plant has employed 90 local women of which 70 belong to Muslim community. The installation cost of the plant was Rs 75 lakh and the KVIC operating under Ministry of MSME has contributed Rs 60 lakhs.

The plant has been built in a backward district of Gujarat (Surendranagar district). The aim of the plant is to make silk readily available to Patola saree manufacturers to boost its production.
Foot Notes:
About Gujarat
Capital: Gandhinagar
Governor: Acharya Devvrat
Chief Minister: Vijay Rupani
6. 2020 Designated as "Year of Nurse and Midwife" by WHO.
In the honour of 200th birth anniversary of Florence Nightingale, WHO designated the year 2020 as the "Year of Nurse and Midwife".

This year, WHO is to focus on nursing and midwifery in order to achieve Universal Health coverage. WHO will launch the reports prior to 73rd session of WHO which is to be held in Geneva between February 3 and 8, 2020.

Every year, the International Nurses Day day is celebrated on May 12. The day is celebrated by the International Council of Nurses.
7. Ritualistic festival 'Lai Haraoba' begins in Tripura.
In Tripura, Lai Haraoba, a ritualistic festival observed by Manipuri meitei communities since ancient times, began in Agartala. Lai Haraoba is celebrated through oral literature, music, dance and rituals.

This festival is jointly organised by Department of Information and Cultural Affairs, Government of Tripura, Puthiba Lai Haraoba Committee and Puthiba Welfare & Cultural Society, Agartala.

The five-day long festival was inaugurated by Speaker of state legislative Assembly, Rebati Mohan Das. The festival aims to uphold tradition and cultural values of Meitei community.
Foot Notes:
About Tripura
Capital: Agartala
Governor: Ramesh Bais
Chief Minister: Biplab Kumar Deb
8. UPSRTC launches women's special helpline Damini.
UP State Road Transport Corporation (UPSRTC) launched a dedicated women helpline, Damini, a calling and a WhatsApp service.

A unique number, "81142-77777", has been subscribed for the helpline which was launched by transport minister Ashok Kataria. Women officers from UPSRTC will monitor this service from 9 a.m to 6 p.m everyday. After 6 p.m complaints can be lodged using general helpline number 1800-180-2877.

The helpline is an extension of "Nirbhaya Yojana" of the Centre.
Foot Notes:
UP State Road Transport Minister: Ashok Kataria
About UP
The United Provinces of Agra and Oudh during British rule, and was renamed Uttar Pradesh in 1950.
About Uttar Pradesh
Chief Minister: Yogi Adityanath
Governor: Anandiben Patel
Capital: Lucknow
9. 5th IHAI National Ice Hockey Championship-2020 begins in Leh.
The 5th Ice Hockey Association of India (IHAI) National Ice Hockey Championship -2020 has begun in Leh. The tournament is being organized at the Karzoo Ice Hockey Rink located in the largest city of the union territory of Ladakh.

6 Teams from hosts Ladakh, Indian army, Chandigarh, Maharashtra, Haryana, and Delhi are participating in the boy's U-20 category.

In the girl's category, 4 teams from Ladakh, Chandigarh, Delhi, and Maharashtra are participating in the 5th edition of the tournament. Since April 1989, the Ice Hockey Association of India is a member of the International Ice Hockey Federation (IIHF).
Foot Notes:
About Ice Hockey Association of India
President: K. L. Kumar
10. Abhinav Kumar gets extension as BSF IG.
The Appointments Committee of the Cabinet approved the proposal of Ministry of Home Affairs for extending the deputation tenure of IPS Abhinav Kumar, Inspector General, Border Security Force (BSF), up to June 27, 2021, in relaxation of IPS Tenure Policy.
Foot Notes:
About BSF
Formed: 1 December, 1965
Motto of BSF: Duty Unto Death
DG BSF: V K Johri

Read More:
Current Affairs 03 January, 2020
Current Affairs 02 January, 2020
Current Affairs 01 January, 2020