Current Affairs 03 January, 2020
Current Affairs 03 January, 2020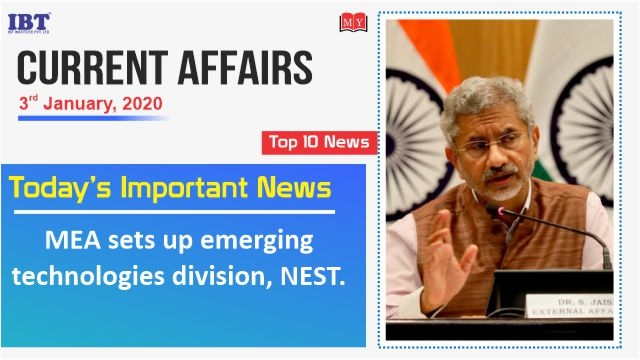 1. MEA sets up emerging technologies division, NEST.
The external affairs ministry on Wednesday announced the setting up of new, emerging and strategic technologies (NEST) division. The development comes close on the heels of the government allowing all network equipment makers, including Huawei, to participate in 5G trials.

NEST will act as the nodal division within the ministry for issues pertaining to new and emerging technologies. It will help in collaboration with foreign partners in the field of 5G and artificial intelligence.

NEST will negotiate technology governance rules, standards and architecture, suited to India's conditions, in multilateral and plurilateral frameworks.
Foot Notes:
Minister of External Affairs: S Jaishankar
Foreign Secretary: Vijay Keshav Gokhale
2. Nepal launches 'Visit Nepal Year 2020' campaign.
President of Nepal launched the "Visit Nepal Year 2020" during the ceremony held at historic Dasaratha Rangashala in Kathmandu. Mythical creature Yeti has been selected as mascot of the campaign.

The ambitious campaign is aimed to promote tourism in Nepal and to attract 2 million tourists in 2020. The Visit Nepal 2020 campaign was launched in all the seven provinces of Nepal.

Nepal is one of the World's fascinating tourist destinations and the government has a goal of making tourism one of the key pillars of the Nepali economy.
Foot Notes:
About Nepal
Prime Minister of Nepal: K P Sharma Oli
Capital: Kathmandu.
President of Nepal: Bidhya Devi Bhandari
Currency of Nepal: Nepalese Rupee.
3. Palau becomes 1st nation to ban 'reef toxic' sun cream.
The Pacific nation of Palau has become the first country to ban sun cream, which is harmful to corals and sea life. The ban prohibits sun cream containing any of the 10 ingredients, which include oxybenzone and octinoxate that absorbs ultraviolet light.

A lagoon in Palau's Rock Island is a UNESCO World Heritage site. Palau is renowned for its marine life and is regarded as one of the world's best diving destinations.
Foot Notes:
About Palau
President of Palau: Tommy Remengesau
Capital: Ngerulmud
Currency: US Dollar.
4. Nagaland Assembly Speaker Vikho-o Yhoshu passes away.
The Nationalist Democratic Progressive Party (NDPP) leader and Nagaland Assembly Speaker Vikho-o Yhoshu passed away. Yhoshu was elected to the state Assembly thrice from Southern Angami-1 constituency in Kohima district.

He had won the seat as a candidate of the Naga People's Front (NPF) in 2008 and 2013 and served as Advisor and Parliamentary Secretary of various departments. He was elected as Speaker of the state Assembly in 2018 assembly election.
Foot Notes:
About Nagaland
Chief Minister of Nagaland: Neiphiu Rio
Governor: R. N. Ravi.

5. 28th World Book Fair to focus on Gandhi as writer, to be held in New Delhi.
The New Delhi World Book Fair organized by the National Book Trust is being held for 42 years now. The trust is an apex body of Government of India functioning under Ministry of Human Resource Development.

The World Book Fair is to be held between January 4, 2020 and January 12, 2020. The fair is organized jointly by National Book Trust and India Trade Promotion Organization. More than 800 exhibitors and 40 foreign exhibitors are to participate in the fair.

The fair also acts as a gateway to the intellectual world of South Asia. The theme of the fair is Theme: Gandhi, the Writers' Writer
6. Assam state zoo first to breed endangered Hargila.
The Assam State Zoo cum Botanical Garden and Aaranyak has jointly attained a landmark achievement by successfully hatching a pair of Greater Adjutant or Hargila chicks in an artificial platform within the zoo enclosure, in the first-ever experiment of its kind.

This rarest of storks, the Hargila is currently on the brink of extinction due to habitat loss stemming from indiscriminate felling of big trees and dwindling wetlands. The Endangered Greater Adjutant stork is one of the rarest species of Storks out of twenty species of Storks in the world.

In India, eight species of residential storks are found, out of which Greater Adjutant is one of them. Once abundantly distributed in Southeast Asia, this stork is now restricted to a few isolated pockets in Assam and Bihar in India and PrekToal in Cambodia.
Foot Notes:
About Assam
Governor: Jagdish Mukhi
Chief Minister: Sarbananda Sonowal
Capital: Dispur
7. Dr Kritika Shukla and IPS officer M Deepika, appointed as Special Officers for implementing the Andhra Pradesh Disha Act 2019.
The state government-appointed Indian Administrative Service (IAS) official Dr. Kritika Shukla and Indian Police Service (IPS) official M Deepika, as Special Officers for implementing the Andhra Pradesh Disha Act 2019.

The Act is intended for speedy trial and faster execution in cases of sexual offences against women in the state.The AP Disha Bill prescribes life imprisonment for other sexual offences against children and includes Section 354 F and 354 G in IPC.

To ensure a speedy trial, the state will set up exclusive special courts in all the 13 districts to deal with cases of offences against women and children including rape, acid attacks, stalking, voyeurism, social media harassment of women, sexual harassment and all cases under POCSO Act. The state will also employ special Public Prosecutors and Special Police force dedicated to such crimes only.
Foot Notes:
Capital: Hyderabad • Amaravati
Governor: Biswabhusan Harichandan
Chief Minister: Y. S. Jaganmohan Reddy
8. Hillary Clinton appointed as new chancellor of Queen's University Belfast in Ireland.
Former US Secretary of State Hillary Clinton has been appointed the new chancellor of Queen's University in Belfast, Ireland.

Clinton became the university's first female chancellor. She will serve as chancellor for a five-year term.

The position of chancellor has been vacant since the death in 2018 of Thomas J Moran, Chairman, President, and Chief Executive of Mutual of America Life Insurance Company.
9. 14 scientists awarded Swarna Jayanti Fellowships.
The Union Ministry of Science and Technology have awarded Swarna Jayanti Fellowships to 14 scientists to pursue basic research in frontier areas of science and technology.

The fellowship covers all the requirements for performing the research and includes a fellowship of 25 thousand rupees per month. A research grant of five lakh rupees for five years is also being provided in addition to their salary.

Instituted to commemorate India's 50th year of independence, Swaran Jayanti Fellowships are awarded to young and brilliant scientists to pursue unfettered research with financial freedom and flexibility.
Foot Notes:
Union Ministry of Science and Technology: Dr. Harsh vardhan
10. India to set strict restrictions on non-essential imports from China.
Ministry of Commerce and industry has announced that 371 items from China will get strict restriction from March 2020. The move aims at curbing imports of non-essential items such as plastic goods, toys, furniture, sports.

The rules are to be framed by the Ministry in coordination with BIS (Bureau of Indian Standards). Though the rules focus on Chinese imports, it will also be applicable to Indian producers in order to make the regulations WTO-compliant.

The imports from China that are categorized as non-essential amount to 4 trillion USD. Also, trade deficit with China is widening and it currently stands at 53.6 billion USD. The step will help in reducing India's dependence on China and will also help in curbing low quality imports from China. This is the main reason why India refused to join RCEP.
Foot Notes:
Union Minister of Commerce and Industry & Railways: Piyush Goyal
About China
Capital: Beijing
President: Xi Jinping
Currency: Chinese Yuan

Read More:
Current Affairs 02 January, 2020
Current Affairs 01 January, 2020
Current Affairs 31 December, 2019