Current Affairs 09 January, 2020
Current Affairs 09 January, 2020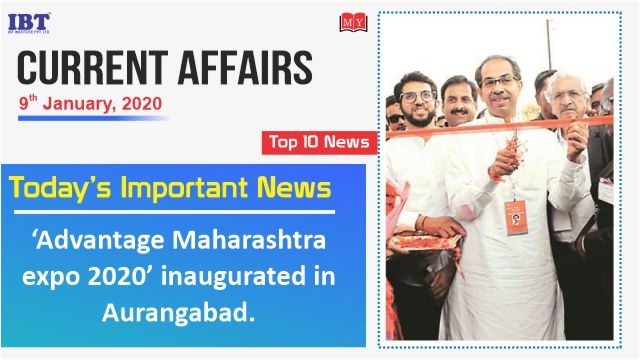 1. World's highest railway bridge to be built by 2021 December.
The government has set a fresh deadline for the completion of the world's highest railway bridge that connects Kashmir to the rest of India by December 2021. It is the most challenging project in the post-independent history of the Indian Railways.

The Udhampur-Srinagar-Baramulla rail link project is important in order to provide an alternative and reliable transportation system to Jammu and Kashmir.

It will connect Kashmir Valley to the Indian Railways network. This project will provide seamless and hassle-free connectivity in Jammu and Kashmir.
2. Pravasi Bhartiya Divas: 09 January
Pravasi Bharatiya Divas is celebrated every year to mark the contribution of the overseas Indian community in the development of India. It also commemorates the return of Mahatma Gandhi from South Africa to India on 9 January 1915.

Established in 2003 the celebratory event is organised by the Ministry of External Affairs every year on this day.

On the occasion of Pravasi Bharatiya Divas, External Affairs Minister Dr S Jaishankar interacted with Indian Diaspora across the globe through a digital video conference.
Foot Notes:
Minister of External Affairs of India: Subrahmanyam Jaishankar
3. Leh-Ladakh's boys & girls teams win 5th IHAI National Ice Hockey Championship 2020.
In Leh-Ladakh, the home teams won the 5th Ice Hockey Association of India (IHAI) National Ice Hockey Championship -2020 in both Boys and Girls categories.

Ladakh Scouts Regiment Centre (LSRC) won the bronze medal, in the Under-20 Boys category. Maharashtra girls stood 3rd in the championship.

Ice Hockey National teams will be shortlisted from the Championship and teams will be selected after a coaching and conditioning camp. The Under-20 boys will be playing in the Asia Challenge Cup between 10th and 15th of next month in Thailand.
4. SBI announces 'residential builder finance with buyer guarantee' scheme.
Country's largest public sector bank, State Bank of India has announced a 'residential builder finance with buyer guarantee' (RBBG) scheme.

It aims at giving a push to residential sales and improving home buyers' confidence. Under this scheme, the SBI will issue a guarantee for completion of select residential projects to customers who have availed home loans from it.

The scheme will focus on affordable housing projects priced up to 2.50 crore rupees in 10 cities initially.
Foot Notes:
About State Bank of India
Chairperson: Rajnish Kumar
Headquarters: Mumbai
Founded: 1 July 1955
Managing director: Anshula Kant

5. Institutions at Gujarat Ayurved University to get status of Institution of National Importance.
The Cabinet approved conferring the status of Institution of National Importance to a cluster of Ayurvedic institutions at Gujarat Ayurved University campus in Jamnagar.

The elevation of the status of institution will provide it with the autonomy to upgrade the standard of Ayurveda education, frame various courses in Ayurveda as per national and international demand. It will help the institute to develop tertiary care in Ayurveda and to secure interdisciplinary collaborations to give a contemporary thrust to Ayurveda.

The status of National Importance will boost the role and importance of Ayurveda in Public Health.
Foot Notes:
About Gujarat
Capital: Gandhinagar
Governor: Acharya Devvrat
Chief Minister: Vijay Rupani
6. 'Advantage Maharashtra expo 2020' inaugurated in Aurangabad.
Maharashtra Chief Minister Uddhav Thackeray inaugurated the Advantage Maharashtra expo 2020 in Aurangabad.

The four-day mega industrial exhibition has been organised by the Marathwada Association of Small Scale Industries and Agriculture (MASSIA).

Growth of Marathwada industries in technology and innovation and the products produced and exported from the region will be showcased in this exhibition. Over 450 exhibitors from within the state as well as outside the state are participating in this exhibition.
Foot Notes:
About Maharashtra
Governor: Bhagat Singh Koshyari
Capital: Mumbai
7. President Kovind lays foundation stone to Lakshadweep's first Super Specialty Hospital at Kavaratti.
President Ram Nath Kovind laid foundation stone to Lakshadweep's first Super Specialty Hospital at Kavaratti. President who is on two days visit to the union territory assured special focus for the development of Lakshadweep and directed Lakshadweep Administrator to give special attention for the completion of Super Specialty Hospital.

Lakshadweep Administrator Dineshwar Sharma received the President at Agatti Airport. President received guard of honour from a joint group of 160 different forces.
8. 4th 'Buxa Bird Festival' started in West Bengal.
The 4th edition of 'Buxa Bird Festival' has started in Buxa National Park in West Bengal's, district Alipurduar.

More than 50 birdwatchers from pan India and abroad have registered in the festival.

Over 300 rare species including the Sultan Tit, Greater Spotted Eagle and Great Hornbill visit the national park during this festival.
Foot Notes:
About West Bengal
Governor: Jagdeep Dhankhar
CM: Mamta Banerjee
9. Indian Navy start 1st 'Maha-Navy Connect 2020'.
Indian Navy starts 1st Maha-Navy Connect 2020 Tri-Dimensional Expedition started from Mumbai, Maharashtra.

The aim of the expedition is to promote the maritime heritage of India and spread awareness about Coastal Security amongst the coastal communities in Maharashtra.

The tri-dimensional expedition consisting of yachting, running and cycling teams of 50 naval personnel. This expedition will cover more than 555kms from Maharashtra's northernmost fort Arnala to its southernmost Sindhudurg fort.
Foot Notes:
Chief of Naval Staff: Admiral Karambir Singh.
10. Indian High Commission organizes "Art Exhibition" in Bangladesh.
The Indian High Commission has organized the "Art Exhibition" in Dhaka, Bangladesh.

The "Art Exhibition" has been organized to commemorate the 150th birth anniversary of Mahatma Gandhi.

The art exhibition constituted unique photographs of Mahatma Gandhi from his initial days in South Africa to numerous movements he participated in India.
Foot Notes:
About Bangladesh
Prime Minister of: Sheikh Hasina
Capital: Dhaka
Currency: Taka.

Read More:
Current Affairs 08 January, 2020
Current Affairs 07 January, 2020
Current Affairs 06 January, 2020