Current Affairs 13 January, 2020
Current Affairs 13 January, 2020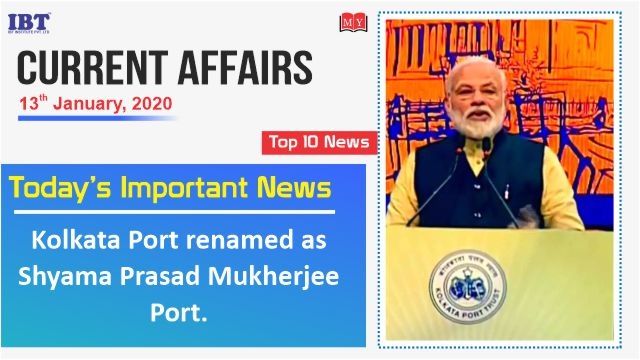 1. World Future Energy Summit began on 13 January in Abu Dhabi.
The World Future Energy Summit begins in Abu Dhabi. 33,500 participants from 170 countries and 800 specialist exhibitors are expected to attend the four-day annual event.

The theme for this year's summit is "Rethinking Global Consumption, Production, and Investment."

The World Future Energy Summit is the Middle East's largest future energy and sustainability event.
Foot Notes:
About UAE
Capital: Abu Dhabi
Currency: United Arab Emirates dirham
President: Khalifa bin Zayed Al Nahyan
2. Taiwan President Tsai Ing-wen secures second term in landslide victory.
Taiwan's President Tsai Ing-wen secured a landslide victory in presidential elections with voters resoundingly handing its first female leader a second term.

Her main rival, Han Kuo-yu of the China-friendly Kuomintang (KMT) party, has conceded defeat.

As per official results, Tsai was ahead with 57 per cent. In her victory speech, President Tsai Ing-wen expressed hope that Beijing authorities understand that democratic Taiwan, and its democratically elected government, will not concede to threats and intimidation.
Foot Notes:
About Taiwan
President: Tsai Ing-wen
Capital: Taipei
Currency: New Taiwan dollar
3. DRDO's Naval variant of Light Combat Aircraft makes its first successful landing.
The naval version of indigenous Light Combat Aircraft, LCA, made its first successful landing on the aircraft carrier INS Vikramaditya.

This aircraft is developed by the Defence Research and Development Organization, DRDO. Congratulating the DRDO and Navy for this achievement, Defence Minister Rajnath Singh said that he is extremely happy to learn about the maiden landing of naval variant of LCA on INS Vikramaditya.

With the successful landing of Light Combat Aircraft, LCA on aircraft carrier INS Vikramaditya, India has entered into the club of selected nations having the capability to design a fighter jet which can land on an aircraft carrier.LCA is the smallest and lightest Multi-Role Supersonic Fighter Aircraft of its class.
Foot Notes:
About DRDO
Headquarters location: New Delhi
Founded: 1958
Motto: बलस्य मूलं विज्ञानम्; "Strength's Origin is in Science" (Sanskrit)
Chairman: Dr G. Satheesh Reddy
4. Japan's Kento Momota wins Malaysia Masters.
World number one Kento Momota won the Malaysia Masters after easily defeating Denmark's Viktor Axelsen 24-22, 21-11.

The victory in Malaysia lends credence to Momota's drive to win the gold in July's Tokyo Olympics.

The reigning world champion told reporters that he eyes more success in 2020.

Momota, currently the best player on the planet, won a record 11 titles last year.
Foot Notes:
About Japan
Prime minister: Shinzō Abe
Capital: Tokyo
Currency: Japanese yen

5. Kolkata Port renamed as Shyama Prasad Mukherjee Port.
The Kolkata Port has been renamed as Shyama Prasad Mukherjee Port. The Prime Minister Mr Narendra Modi announced this in Kolkata on the occasion of 150th-year celebrations of the Kolkata Port Trust.

Mr Modi launched several Port led development projects worth Rs 600 cr rupees to mark the day.

On the occasion the Prime Minister released a commemorative stamp on 150th years of the Kolkata Port Trust.
6. India finish 2019 as number one shooting nation in world.
According to International Shooting Sport Federation's (ISSF), With its sparkling show through 2019, India finished the year as the top shooting nation in the world, leaving behind Olympic heavyweights China and the USA.

In terms of overall medals, the tally stood at 21 gold, six silver and three bronze as India topped all the Rifle-Pistol World Cups and Finals in an unforgettable year.

While India leads the standings with 30 medals overall, China is second with 11 gold, 15 silver and 18 bronze for a total of 44 podium finishes. The USA is placed third with 15 medals including six gold six silver and three bronze.
7. Hyderabad Scientist Dr.Saha elected as IUPAC bureau member.
Dr.Bipul Bihari Saha of Hyderabad, India has been elected as a bureau member of the IUPAC(International Union of Pure and Applied Chemistry) for the period 2020-23.Saha is the only second Indian after "Bharat Ratna" Professor Chintamani Nagesa Ramachandra Rao (CNR Rao),to be elected(1979) for this position in a century.

IUPAC is the largest global organization of Chemistry professionals and comprises of 12 Committees and 8 Divisions.The Bureau Member are elected considering his/her scientific contribution in the field of Chemistry,his leadership qualities etc.,

Saha is a Chief Director of R&D (Research and Development) L.R Research Laboratories is a wholly-owned subsidiary of NACL(Nagarjuna Agrichem Limited) Industries Limited, Hyderabad.Saha has been closely associated with the IUPAC as the Executive Committee Member of "IUPAC Committee on Chemistry and Industry"(First Indian to hold this position),National Representative of India in "IUPAC Division of Chemistry and Environment" and member of "IUPAC Inter-Divisional Committee on Green Chemistry for Sustainable Development".
Foot Notes:
About IUPAC(International Union of Pure and Applied Chemistry):
Headquarters: Research Triangle Park, North Carolina, United States.
Founded: 1919.
Motto: Advancing Chemistry Worldwide.
President: Professor Qi-Feng Zhou (China).
8. Lt Col Yuvraj Malik appointed as director of National Book Trust.
Lt Col Yuvraj Malik was appointed as the director of National Book Trust (NBT) on deputation. Malik succeeds Sahitya Akademi-awardee writer Rita Chowdhury.

Previously Malik has served with the Ministry of Defence (MoD), Ministry of Home Affairs (MoHA), Raj Bhawan in Jammu & Kashmir(J&K), United Nations Missions in Africa and also in several operational assignments.
Foot Notes:
About National Book Trust(NBT)
Founded: 1 August 1957.
Headquarters: New Delhi.
Parent Organisation: Ministry of Human Resource Development (MHRD).
Chairman: Govind Prasad Sharma.
9. Nitin Gadkari confer National Highways Excellence Awards.
The National Highways Excellence Awards will be conferred by the Union Minister for Road Transport & Highways and Micro, Small and Medium Enterprises (MSMEs) Shri Nitin Gadkari in New Delhi on 14 January 2020.

The award by the Ministry of Road Transport & Highways acknowledges the exceptional work that is done in various aspects of highway management.

The award instituted in 2018. The award aims to create a spirit of healthy competitiveness amongst all stakeholders involved in the development of highway infrastructure in the country. It encourages to contribute to the larger goal of expanding the road network in the country.
10. Centre promulgated Ordinance to amend coal mining laws.
The Central government announced the promulgation of the ordinance for amendment in the Mines and Minerals (Development and Regulation) (MMDR) Act, 1957 and the Coal Mines (Special Provisions) Act, 2015.

Union Cabinet approved the promulgation of Mineral Laws (Amendment) Ordinance 2020. The ordinance aims to ease the auction of coal mines, allow Foreign direct investment (FDI) and enhance ease of doing business.

The amendments Coal Mines (Special Provisions) Act, 2015 will offer unexplored and partially explored coal blocks for mining through prospecting license-cum-mining lease (PL-cum-ML).It will enable any India-registered company to invest in the coal mining sector and develop coal blocks. The companies must have prior experience of mining in India to bid for the blocks. It will allow FDI in the coal mining sector by removing the restrictions and eligibility criteria for participation.
Foot Notes:
Minister of Coal: Shri Pralhad Joshi

Read More:
Current Affairs 11-12 January, 2020
Current Affairs 10 January, 2020
Current Affairs 09 January, 2020