Current Affairs 16 January, 2020
Current Affairs 16 January, 2020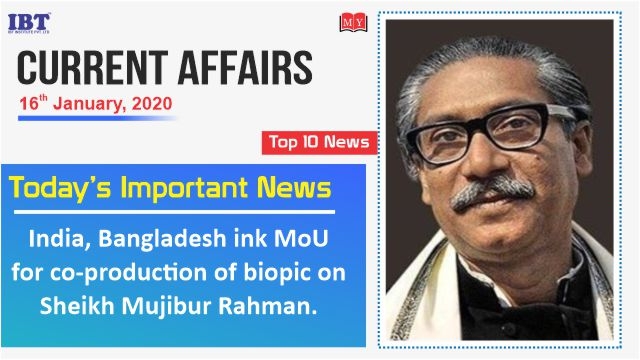 1. India, Bangladesh ink MoU for co-production of biopic on Sheikh Mujibur Rahman.
India and Bangladesh signed a Memorandum of Understanding (MoU) for the co-production of a biopic on Bangladesh's founding father Sheikh Mujibur Rahman.

The biopic will be directed by acclaimed filmmaker Shyam Benegal and will be released in March 2021 as part of centenary celebrations of Banga Bandhu. Sheikh Mujibur Rahman is often called the father of Bengali nation.

He served as the first President of Bangladesh and later as the Prime Minister of Bangladesh from 17 April 1971 until his assassination on 15 August 1975.
Foot Notes:
About Bangladesh
Capital: Dhaka
Currency: Bangladeshi Taka
Prime minister: Sheikh Hasina
2. Fox 'jallikattu' organisers in Tamil Nadu warned of punishment.
Forest Department officials in Salem, Tamill Nadu are gearing up to prevent an unusual jallikattu, one that uses foxes (Bengal Fox) instead of bulls.

The "Wanga" breed of foxes is tied using ropes and chased across the streets by the villagers on 'Kaanum Pongal'. The villagers observe this practice as they believe the Wanga foxes bring good fortunes and copious rains.

Another forest official said the "wanga" foxes are a rare breed and found in dense forest areas in the district.
Foot Notes:
About Tamill Nadu
Chief Minister: Edappadi K. Palaniswami
Capital: Chennai
Governor: Banwarilal Purohit
3. Inscriptions confirm presence of two medieval monasteries at Moghalmari, West Bengal.
Recently, a study of inscriptions on clay tablets excavated from Moghalmari have confirmed the presence of two monasteries.

Moghalmari is a Buddhist monastic site of the early medieval period in West Bengal's Paschim Medinipur district.

The inscriptions are in Sanskrit and the script is a transitional phase between later north Indian Brahmi and early Siddhamatrika.
4. Rani Rampal to lead Indian Women's Hockey squad for New Zealand tour.
Striker Rani Rampal will lead the 20-member Indian Women's Hockey team for the upcoming New Zealand tour.

Hockey India also said that Savita will be the vice-captain of the team for the forthcoming tournament, which will begin from 25 January 2020 in Auckland, New Zealand.

India will take on New Zealand on January 27 and 29 followed by a match against Great Britain on February 4.

5. Janak Raj to be the third internal member of the Monetary Policy Committee.
Janak Raj is expected to be appointed as the third internal member of the central bank in the monetary policy committee (MPC). He is currently serving as Reserve Bank of India's principal adviser in the monetary policy department.

He will replace Michael Patra, the executive director of the monetary policy department, who was elevated as Deputy Governor. The MPC consists of 6 members, out of which three are RBI's internal members and three are external experts

As per the law, by default, the Governor and the Deputy Governor of RBI who are in-charge of monetary policy are the two RBI internal members of MPC. The third member could be any RBI officer. Therefore, RBI Governor Shaktikanta Das and Deputy Governor Michael Patra are the two RBI internal members of MPC.
Foot Notes:
About monetary policy committee
Founded: October 2016
6. Raisina Dialogue: India-Finland sign MoU; Russia reiterates for India's UNSC membership.
The Raisina Dialogue was held at New Delhi for four days recently. Leaders from several countries participated in the dialogue.

It included foreign ministers from 13 countries including Iran, Australia and Russia. During the Raisina Dialogue, India and Finland signed a defence agreement.

Also, Russia announced that it supports India for the latter's permanent membership at the UNSC (United Nations Security Council).
Foot Notes:
About Finland
Capital: Helsinki
Currency: Euro
Prime minister: Sanna Marin
7. First digital exhibition on Indian Heritage inaugurated in New Delhi.
State of Culture and Tourism minister launched a month long exhibition on Indian Heritage in New Delhi. The exhibition was launched in digital space and will stay online till February 15, 2020.

This exhibition is first of its kind in the country. The visitors of the exhibition will find architectural and conjectural reconstructions, recreations of socio-cultural traditions and life of Hampi and also many more murals.

Through this, the exhibition will take heritage to wider population. It has overcome the barrier that heritage was restricted only to research. When the reach of significance of heritage increases, accountability of citizens increases. This will help to protect age old structures and monuments in a better way.
Foot Notes:
State of Culture and Tourism Minister: Shri Prahlad Singh Patel
8. Russia's government resigns as Putin moves to change the constitution.
The principal ministers of the Russian government, from Prime Minister Dmitry Medvedev on down, resigned in a move designed to ease a constitutional overhaul recently proposed by President Vladimir Putin.

The president accepted Medvedev's resignation and said he would appoint his longtime loyalist to the Russian Security Council.

Putin also nominated Mikhail Mishustin, head of the Federal Tax Service, to replace Medvedev as prime minister, according to Russia's state-run Tass news agency. The rest of the ministerial Cabinet is expected to remain until their replacements are determined.
Foot Notes:
About Russia
Capital: Moscow
Currency: Russian Ruble
President: Vladimir Putin
9. China's first and oldest female tractor driver Liang Jun, whose image features on Renminbi currency notes, dies at 91.
China's first and oldest female tractor driver Liang Jun, whose image features on Renminbi currency notes, has died. Liang was 90.

She died of illness in Harbin, the capital of northeastern province Heilongjiang. Liang was the first female tractor driver of New China. Her image was featured on the one-Yuan note of the third set of the Chinese currency Renminbi.
Foot Notes:
About China
President: Xi Jinping
Capital: Beijing
Currency: Renminbi
10. Shri Dharmendra Pradhan to launch 'Saksham', conservation on mega campaign of PCRA on 16th January, 2020.
'Saksham', an annual one-month long, people-centric fuel conservation mega campaign of Petroleum Conservation Research Association (PCRA) under the aegis of Ministry of Petroleum and Natural Gas is going to be launched on 16th January by Minister of Petroleum & Natural Gas and Steel Shri Dharmendra Pradhan in a function to be held in Delhi.

PCRA and Oil & Gas companies shall carry out various interactive programs during this month-long campaign. Activities like 'Saksham' Cycle Day, Cyclothons, Workshops for drivers of commercial vehicles, Seminars for housewives/cooks on adopting simple fuel saving measure, Nationwide campaign through Radio, TV, Digital Cinemas, Outdoor etc. are planned with an aim to reach the nook and corner of the country with the message of fuel conservation, Greener Environment and better Health.

Read More:
Current Affairs 15 January, 2020
Current Affairs 14 January, 2020
Current Affairs 13 January, 2020